There's no sugar-coating the fact that sugar consumption is having a massive impact on our health and wellbeing. From reports that slashing the amount of sugar in sweetened drinks by 40% could prevent 300,000 cases of Type 2 diabetes, to news that the average five year old consumes the equivalent of their own body weight in sugar in a year, reducing the white stuff has become something of a national priority.
Here to help is cookery writer Susanna Booth, who used her polymer chemistry degree to create sugar-free goodies that don't sacrifice taste, sweetly displayed in her new book, Sensationally Sugar Free.
The key to getting used to less sweet treats, explains Susanna, is to accept sugar-free deserts will taste different to sugar-laden equivalents. "If you put my carrot cake next to one made with sugar, you'd notice how much less sweet it is," she says. "But actually… you don't really want loads of sweetness. I think you just become accustomed to it.""
Although not completely sugar-free, Booth cooks from scratch so she can keep track of how much sugar she and her family eat.
"I think it's better to try and reduce as much as you can," she says. "Any step is a step in the right direction because I think, as a population, we're eating too much sugar… so I hope people find it helpful to try baking in a new way."
If you'd like to give low-sugar cooking a whirl, here are two recipes from Susanna's book to try at home.
Chocolate Tea Cake
(Makes about 12 slices)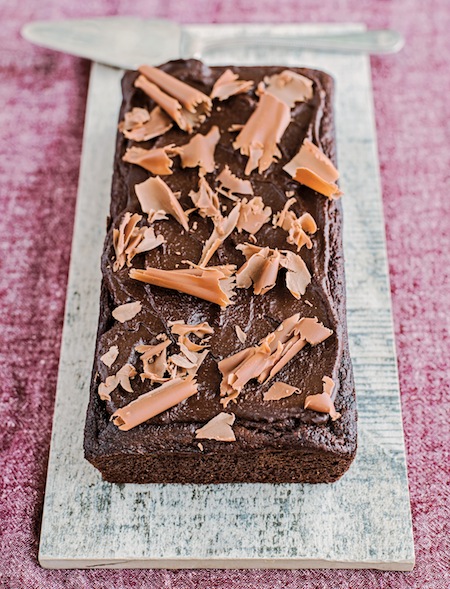 1 Earl Grey teabag
110g pitted dried dates
75g wholemeal plain flour
25g cocoa powder
100g unsalted butter, very soft, plus extra for greasing
2 eggs
2tsp baking powder
Pinch of ground cloves
Pinch of salt
50g no-added-sugar plain dark chocolate, plus extra for decorating
Using about 150ml boiling water, use teabag to make a pot of tea. Brew for five minutes. Soak dates in 125ml tea for at least four hours or overnight, reserving remaining tea.
When dates are softened and have absorbed most of the tea, preheat oven to 180C/160C fan/gas mark 4. Lightly grease a 22 x 11 x 7cm/1kg loaf tin.
Place dates and soaking liquid in a food processor. Process until smooth. Add flour, cocoa, butter, eggs, baking powder, cloves and salt. Process for three to four seconds or until combined.
Scoop mixture into tin. Smooth with a spatula. Bake for 30 minutes until well-risen and a skewer comes out clean. Leave to cool in the tin. Place on serving plate.
Meanwhile, make the ganache. Break up the chocolate into small pieces. Place in a small saucepan over a low heat with reserved tea until chocolate has melted. Stir well. Pour into a bowl. Chill in fridge for 30 minutes or until set. Spread it on the cooled cake. Use a vegetable peeler to create curls of chocolate to decorate. Eat within two to three days.
Strawberry Scones
(Makes 8)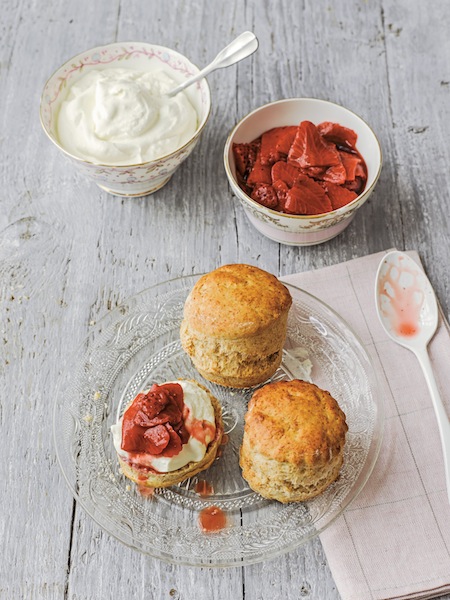 225g plain flour, plus extra for dusting
75g wholemeal plain flour
1tbsp baking powder
50g chilled unsalted butter, diced, plus extra for greasing
125ml rice milk
85ml milk
For the topping:
500g fresh strawberries, hulled and thinly sliced
2tsp balsamic vinegar
¼ tsp ground black pepper
300ml whipping cream
Preheat oven to 220C/200C fan/gas mark 7. Lightly grease a baking sheet with butter.
Mix flours and baking powder in a large bowl. Add butter. Rub in until it resembles fine breadcrumbs (or pulse in a food processor). Pour in the milks. Stir to combine, then knead into a dough.
Dust a worktop with flour then roll out the dough to about 3cm think. Using a 6cm cookie cutter, cut out eight rounds, re-rolling trimmings as necessary. Place on baking sheet. Bake for 15 minutes or until well-risen and browned.
For topping, stir strawberries, vinegar and pepper in a saucepan over a medium heat for five minutes, taking care not to boil.
Once strawberries are soft, juicy and translucent, remove pan from heat. Leave to cool. Whip cream until it forms soft peaks.
To serve, cut scones cut in half, top with a dollop of whipped cream and a serving of strawberries.
Sensationally Sugar Free by Susanna Booth is published in hardback by Hamlyn, priced £20.