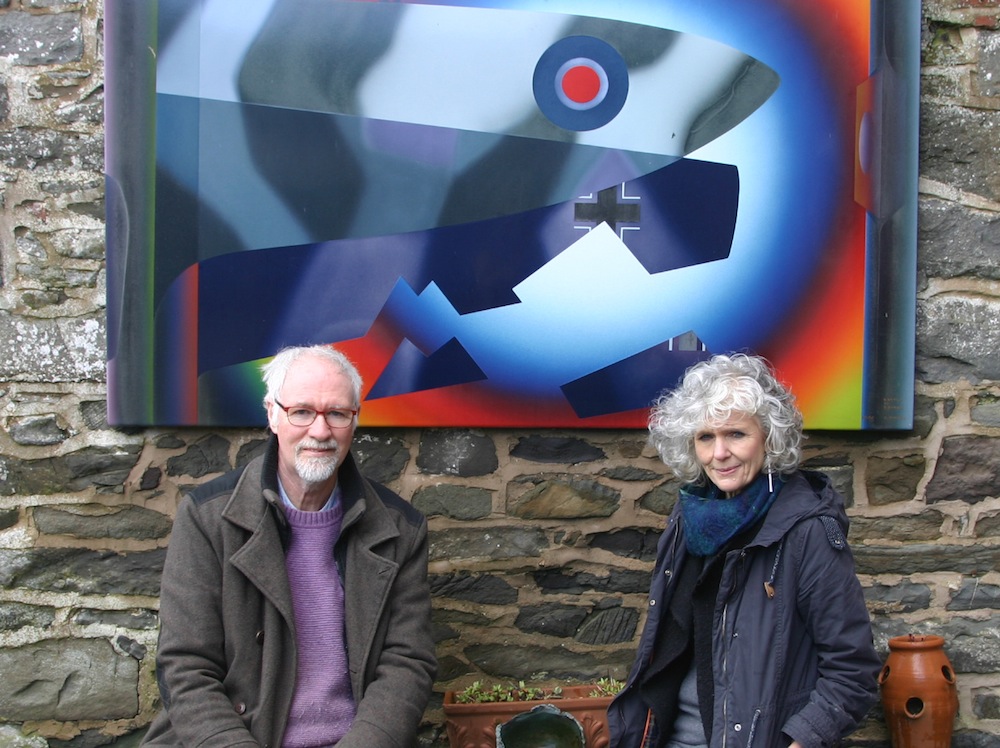 Make it Big
The Big Arts Show is the largest event of its kind in the West Midlands – and it's still growing. It was established in 2014 and this year it takes place at the Greenhous West Mid Showground from 1 to 3 July. The show's aim is to provide a showcase for a wide diversity of artists working in a range of formats and presentation including paint, sculpture, jewellery, glass, ceramics, furniture design, photography and performance art.
The family-friendly event will include over 150 exhibitors, as well as workshops and talks given by the artists, a real ale bar, eateries, poetry and live music.
The show's patron is world-renowned artist Andrew Logan, who'll be exhibiting his work as well as holding once of his famous jewellery shows. Last year there were demonstrations from glass blowers, wood turners, silversmiths, forge workers, chainsaw sculptors, ceramicists, throwers, stone masons and painters, as well as art classes in oils, watercolour, pastels and acrylics; a photography exhibition, film and animation area and a poetry area – and this year's event is set to be even better.
To commemorate 20 years since his passing, Cathy Knapp, director of Mid Wales Arts and widow of renowned enamellist and 60s pop artist Stefan Knapp, has agreed to lend a selection of his colourful painted enamels for an exhibition at the Shrewsbury show.
The Big Arts Show is for everyone with an interest in art and crafts, from the student to the serious collector… and families are also very welcome. Tickets are £7.50 or £6.60 from wegottickets.com/thebigartshow, with under 16s free.
Festival breaks new ground
This year's Much Wenlock Festival is packed to the rafters with thrilling plays, shows and dances, with virtually all the main events taking place in a huge weatherproof marquee on the church green, with seating for over 400, and state-of-the-art sound and lighting – the trees that pepper the green will also be lit to atmospheric effect.
There are performances to delight everyone, from a 60s night featuring a talented Midlands band to a showcase of young local talent brought together by the Wenlock Olympian Live Arts team; from a stirring Gilbert and Sullivan Gala featuring all the best-loved arias to a magical night of folk music from local performers.
Other highlights of the festival, which runs in the town from Saturday 4 to Saturday 18 June, include a literary evening featuring Andrew Fusek Peters, an evening with gardener Chris Beardshaw, and a an evening of traditional songs by the Much Wenlock Male Voice Choir and guest soprano Beth Langford. And, as chair Peter Wright explains, the Bard himself hasn't been missed out in this the 400th year since his death: "There was a rumour there was to be no Shakespeare this Festival – but we have not one play, but two. Oddsocks, an innovative and upbeat theatre company from Derby, will be performing a steampunk-flavoured version of 'Macbeth', as well as a high-octane musical version of 'Much Ado About Nothing' – this is Shakespeare for the 21st century for all ages to enjoy."
The festival fringe will take place in the Square, the Priory Hall and the Corn Exchange and includes Learn to Draw workshops with Broseley artist Maggie Humphry on Saturday 4 June, a food fayre on Saturday 11 June, and an introduction to wine tasting on Friday 17 June, run by Robert Toft.
Children from Much Wenlock Primary will be designing scarecrows for the festival with the winner announced at the Festival Café Bar on Saturday 18 June.
Find full details at muchwenlockfesatival.co.uk.
Bridgnorth is 'festival central'!
Two music festivals are visiting Bridgnorth in the next couple of months. First is the Bridgnorth jazz Festival, which runs from 20 to 22 May at a variety of venues in town and features performers such as Tina May at the Down Inn on Friday 20 May, Enrico Tomasso with Roy Williams and Peter Simkins oat the Black Boy on 21 May, and the Dixie Strollers on 22 May. Meanwhile, Tanners on the High Street will be getting in the spirit of things by dressing as characters from Casablanca and offering samples of jazz-inspired cocktails… See bridgnorthjazz.co.uk for more information.
The music carries on as the renowned Haydn Festival runs from 8 to 12 June, bringing world-famous violinist Alina Ibragimova, one of the stars at last year's Proms at the Royal Albert Hall, to perform two quartet concerts. Popular trumpeter Crispian Steele-Perkins also returns, and, in addition to his concert on Wednesday 8 June, he'll be performing at local schools to demonstrate the difficulties of playing the valveless 18th century trumpet. More details can be found at haydn.org.uk.
Bridgnorth duo break record
WW! were delighted to be part of the media frenzy following the progress of Bridgnorth cajon and guitar duo Guitar Cubed as they broke the world record for busking, playing for precisely 25 hours and five minutes over the night of Friday April 1 into Saturday. Crowds gathered to watch teenagers Louis Briggs and Tom Barras as they played through the night outside Starbucks in Shrewsbury to raise money for Shrewsbury Ark, entertaining shoppers, delighting passengers waiting for buses, and capturing the hearts of music lovers across the county – they even made it onto BBC Midlands weather report, as the presenter reassured viewers the boys weren't going to be frozen solid overnight. Local musicians popped by to help keep their spirits up – "the worst bit was around 4am!" Tom told WW! while Louis's dad Steve, who admitted to some emotional moments during the musical marathon, said, "The support and goodwill have been astounding… I think they've both been a bit overwhelmed. An elderly lady with walking sticks got the bus in to town to see them – and another passenger told us he'd missed three buses because he was enjoying their performance so much!"
Sadly, the record won't be officially recorded due to the boys being under 16 – but as well as raising over £4,000 and making numerous TV and radio appearances, the duo have scored a slot at Farmer Phil's Festival which runs from Friday 12 to Sunday 14 August – visit farmerphilsfestival.com to find out more.
Priscilla queens it at the Grand
Duncan James of the pop band Blue is set to star in a lavish production of the international smash hit musical 'Priscilla Queen of the Desert' at Wolverhampton Grand Theatre from 2 to 7 May. His stage credits include playing Warner Huntington III in the West End production of 'Legally Blonde' and Billy Flynn in 'Chicago'.
Based on the much-loved film, this heartwarming tale tells the story of three friends who hop aboard a battered old bus searching for love and friendship and end up finding more than they could have ever dreamed of. With a dazzling array of outrageous costumes and a hit parade of dance-floor favourites including 'Say a Little Prayer', 'Go West' and 'Always on My Mind', this wildly fresh and funny new musical is a brash and bawdy journey you'll never forget. Visit grandtheatre.co.uk for further details.
Goya's visions on display
Francisco Goya's powerful vision and technical brilliance makes him one of the most admired and revered artists in the world, and his genius is revealed in a new film, Goya: The Portraits, which enjoys exclusive access to the National Gallery's exhibition of his works. Not only a brilliant observer of everyday life and Spain's troubled past, Goya was a gifted social commentator. Through extensive location footage, Goya's revealing letters and a unique exhibition of masterpieces from great collections across the world, this film offers a fresh, new portrait of a wonderful artist. It's appearing at The Edge Arts centre on Thursday 5 May at 7pm, with tickets priced at £10-11. See edgeartscentre.co.uk for details.
Severn Singers for Severn Valley
Popular singing group the Severn Singers appear at the Severn Valley Country Park Visitor Centre on Friday 20 May to perform a range of melodies. They'll be joined by the Random Brass Ensemble, and the show starts at 7.30pm – ticket price includes a glass of wine or a soft drink; adults are £8 and children £5. Call 01746 781192 to book your place.
Little laughs
Theatre Severn's comedy club for kids carries on, with its third session on Sunday 22 May at 4pm at the Shrewsbury venue. This fun-filled family show is perfect for kids, parents and anyone who enjoys zany comedy without the dodgy subject matter or rude words. MC Dan Nightingale will lead proceedings and the afternoon features comedians Harriet Dyer, who tells bafflingly weird (and sometimes true) stories, and Liverpudlian Chris Cairns, who looks funny, sounds funny and says funny things. Tickets are £7.50 or £25 for a family ticket; the show is suitable for age 6 and above – visit theatresevern.co.uk or call 01743 281281.
Whole lotta Zep…
Led Zeppelin fans won't want to miss a fabulous show at Bridgnorth's Theatre on the Steps on 27 and 28 May – the powerfully authentic Hats Off to Led Zeppelin will be taking the stage for two consecutive nights. Having played with Queen, Ray Davies, Edwin Starr, Iron Maiden and Gerry and the Pacemakers, these four rockers are a truly professional outfit guaranteed to give you a night to remember. Led Zep's biographer Dave Lewis says the quartet have "a refreshing no nonsense approach… this band delivers every time!" Find out more at hatsofftoledzeppelin.co.uk and book at theatreonthesteps.co.uk or call 01746 766477. Tickets are £14 and both shows start at 8pm.
Shore thing
On June 24, some of the biggest names in poetry will visit Wenlock Books for as part of a national tour to coincide with the 10th anniversary of Independent Bookshop Week. Picador and Wenlock Books present Poet Laureate Carol Ann Duffy performing alongside three of the poets she most admires: Gillian Clarke, Imtiaz Dharker and Jackie Kay. The evening will be accompanied by music from John Sampson, plus a special guest poet. Find details at carolannduffyandfriends.com.
Wenlock Books is also celebrating the success of apprentice Jasmine Denholm, whose eye-catching displays have been stopping shoppers in their tracks. Jasmine has made the six-person shortlist for Young Retailer of the Year at the British Book Industry Awards 2016, which recognises exceptional booksellers under 30. Jasmine, 20, who lives in Cressage, started her apprenticeship in 2014 after a period of ill health led to mental health problems. She says, "Working in the shop gave me a purpose when I felt the most useless I've ever felt. Being given responsibility for real things (like social media, young adult fiction and working with local schools) made me feel important, which in turn made me feel confident and proud of my achievements. I'm so grateful for everything Anna [Dreda, founder of Wenlock Books] has taught me and I'm so excited to attend the awards ceremony in London in May!"
A Moody evening
Visit Oakengates Theatre @ The Place on Saturday 18 June to enjoy the music of the Moody Blues in the company of five legendary musicians, singers and songwriters. The legendary band's hit include 'Nights in White Satin', 'Go Now', and 'Tuesday Afternoon', and this show features Moody Blues drummer Gordy Marshall and keyboard player Paul Bliss as well as current 10cc lead singer Mick Wilson. Tickets for the show, which takes place at 7.30pm on Saturday 18 June, are on sale now for £21 each, or you can buy 10 tickets and get two free. Visit theplacetelford.com or call 01952 382382. You can also enjoy a pre-show meal, with two courses at just £9.75 per person.
Fresh air theatre
In an outdoor production at Severn Valley Country Park on Friday 3 June, meddling, judgmental Emma Woodhouse is challenged with the task of untangling the romantic web she's spun. This darkly comical tale of manners from Hotbuckle Productions has twists and turns aplenty, as well as some of the richest characters in English literature. Bring your own picnic and seating. Adults £12, concessions £10, children £6 – doors open at 6.45pm; show starts 7.20pm. Call 01746 781192 to book.
Live Arts round-up
Wenlock Olympian Society's Live Arts Festival was a resounding success, with lively performances across all speaking, singing and dancing categories. More than 200 entrants treated the audience to pieces ranging from a Beethoven Piano Sonata to music by Adele and Amy Winehouse. There were classes for all abilities including young musicians just beginning; for some this was the first time they performed in public. The young members of Bridgnorth ladies' choir Concordia won a gold medal and trophy for their three-part harmonies, while young Ben Norbury picked up a silver medal for his speaking. Annabel Rockett, a Y11 student at Bridgnorth Endowed and also a member of Concordia, entered seven categories and was placed in each one, including winning the prestigious secondary singer of the year.
'Punkfolk' hits Broseley
According to the Guardian, 'the Jar Family are, roughly speaking, what Pete Doherty might sound like busking with the Band and Chas and Dave…' Variously described as punkfolk and industrial folk the Jar Family, who visit Broseley's Birchmeadow on Saturday 4 June, hale from Hartlepool, and have supported the Charlatans, Babyshambles and Jake Bugg. Prepare for a night of raucous fun with the band who take their name from the donations jar they passed around at early gigs. Tickets are £12 from Downes' or E Davis on Broseley High Street or visit birchmeadow.org.uk.
Say hello to the Hoodies
The tale of Robin Hood has a twist this June as 'Robin and the Sherwood Hoodies' visit Bridgnorth. The musical comedy, performed by Bridgnorth Stage Academy, takes the audience a riotous romp through the medieval mayhem of Merry England in a tale splattered with shocks and surprises, crazy characters and comic capers, with a score full of catchy, show-stopping songs and a wonderfully witty script. The show appears at Bridgnorth Endowed Leisure Centre at 7pm on Saturday 25 June and 2pm on Sunday 26 June 2016 – for more details, BSA@yahoo.co.uk or call 07944 255072.
Sketches revealed
A new hardback book presents illustrations from the sketchbooks of Much Wenlock water-colourist Catherine Downes. Catherine worked at Thomas Webb, the famous glassworks in Stourbridge and moved on to a career in retail before returning to her creative calling by opening her own glass engraving studio on her Staffordshire farm. Catherine later moved to Much Wenlock and focused on her artwork after she lost her husband to Parkinson's in 2008. Catherine has been selected by Church Stretton festival as the featured artist for their 50th anniversary exhibition, and some of her works are now available in this book published by Tracey Swain. Catherine Downs – The Sketches is available at Wenlock Books and there's a book signing at Church Stretton's Burway Books on Thursday 23 June. For more information about the Church Stretton Festival, which runs from 30 July to 13 August, visit strettonfestival.org.uk.
Shropshire secrets
Discovered in the Shropshire Archives, a book of letters sent from 1917 to 1920 between six young women in the county reveals their everyday lives as farmers, office workers, factory hands, nurses and teachers, and the heart and soul of the letters has been transformed into this warm, witty and tender performance by Francesca Millican Slater. 'My Dearest Girls' features gossip and hint of scandal, reprimands and reprisals, tales of dancing for royalty, fiancés on the frontline and tips on how to feed 100 chickens while on rations. The show visits Bridgnorth Library on Wednesday 18 May at 7.30pm – call 01746 763358 or visit francescamillicanslater.co.uk.
Brick on show
Around 30 years ago, all the WIs in Shropshire were asked to contribute a craft 'brick' for a wall hanging which was then hung in the meeting room at the main county office. However, when the WI moved to a new permanent office at Shrewsbury's Battlefield Enterprise Park, the artwork was hung in the hallway and can now be viewed by anyone. The piece has been embellished over the years, with Bridgnorth WI craft group member Gwyneth Keeling making a beautifully embroidered contribution.
Rockers at bike fest
Rock band Toseland will be dropping in to play a set at the Bike4Life festival at RAF Museum Cosford on Sunday 8 May. The band are led by James Toseland, who also happens to be a former motorbike racing champ and the bike-fixated event, which last year welcomed thousands of biking enthusiasts, is in support of the Midlands Air Ambulance. Find out more at bike4lifefest.com.
Bard on tour
The Bridgnorth players are taking their 'Shakespeare Revue' on tour around the area, with collaboration with the JVR Trio. The show is visiting Broseley's Birchmeadow on Friday 24 June, Bridgnorth's Low Town Community Hall on Saturday 25 June, Parish Hall Chelmarsh on Friday 1 July and Castle Hall in Bridgnorth on 2 July. For tickets, call 01746 764514 or email bridgnorthplayers@yahoo.co.uk – tickets are £6.50 and £8.
Detective dads
Blists Hill Victorian Town will be testing dads' sleuthing skills on Fathers' Day on Sunday 19 June, when families can follow in Sherlock Holmes' footsteps at a detective-themed event. Costumed actors from Sundial Theatre Company will perform scenes from their own version of a Sherlock Holmes mystery at 11.30am and 2.30pm; you can then put your grey matter to the test by following a cryptic trail set by criminal mastermind Professor Moriarty to solve the clues and win a prize. Dad can also take part in a tug of war on The Green at 1.30pm, or why not buy him a pint and pork pie and join in the singalong in the New Inn pub? For more details, visit ironbridge.co.uk – dads come in free with another fee-paying adult. Visit ironbridge.org.uk for details.
Royal showing
National Theatre Live's broadcast of the smash-hit West End production of The Audience featuring Helen Mirren as Queen Elizabeth II returns to cinemas in celebration of the monarch's 90th birthday. This award-winning presentation was directed by Stpehpen Daldry of Billy Elliott fame, and a very special screening on Thursday 9 June at The Edge in Much Wenlock features an exclusive Q&A with Mirren and Daldry.
The story revolves round the meetings held by Queen Elizabeth with each of her prime ministers for over 60 years, including Churchill, Thatcher, Blair and Cameron. Through these private audiences, we see glimpses of the woman behind the crown and witness the moments that shaped a monarch. Tickets are £10-11 and the show starts at 7.30pm – find details at edgeartscentre.com or call 0333 6663366.