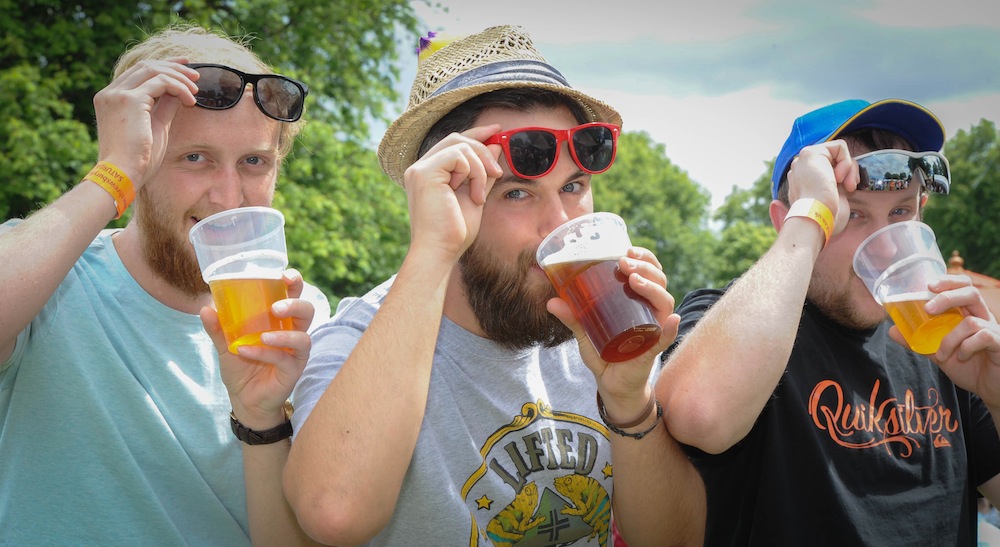 Food festival news
The 2016 Ludlow Spring Festival promises to be a corker, bringing together the best regional beer, food and music to the town from 14 to 15 May. There will be over 180 glorious beers from more than 60 local brewers available to taste over the weekend – as well as ciders, perry, fruit-flavoured liqueurs and local wines. Artisan food producers will also be showcasing their wares, with live music from jazz and blues to Latin and rock, and there's also a classic car show. Friday 13 May sees a special event when guests can talk to a master brewer and sample their full selection. Visit ludlowspringfestival.co.uk to find out more.
Closer to home, the Shrewsbury Food Festival is set to spill out of its home at the Quarry Park and onto the streets of the county town, with events taking place from 25 to 26 June. There will be over 250 stalls and exhibitors as well as a 'food fight' between top-end chefs from Shropshire and Wales. The event also features workshops, a cocktail masterclass, and a vegan fringe. For tickets or to find out more, visit shrewsburyfoodfestival.co.uk.
Pub's winning ways
Situated halfway up Cartway with a distinctive black and white painted frontage, the Black Boy is one of Bridgnorth's best-loved pubs – so it was little surprise when it recently won two prizes at this year's regional CAMRA awards. The inn picked up gongs for Bridgnorth Pub of the Year as well as Telford and East Shropshire Pub of the Year.
Delighted landlord Stephen Illidge says, "The pub was closed for seven months before we took it on two years ago, so we've come a long way. We totally revamped it, revealing some of the original features that now help to give the pub such character. We owe these awards to our staff and customers – we couldn't have done it without them."
Hats off to new beer
Shropshire brewer Hobsons has created a new 'Hat Collection' – but staff at the Cleobury Mortimer-based company haven't turned their hands to millinery; the new range of canned beers features different types of headwear. The Skimmer (with a straw boater) is an easy, light and fruity pale ale; then there's the Explorer (sporting a pith helmet) a bold, amber and tropical IPA; while the Stove Pipe (featuring an elegant top hat) is a smooth, dark and malty stout.
Hobsons recruited Harper Adams student Clare Kerby to help with the project; she explains, "I've been providing-market based advice on branding, product development, range, target customer base and routes to market."
Animal-friendly fare
The organisers of a Shrewsbury food fair are inviting people to come and try vegan food for themselves. The Vegan Food Fair will take place at the Wightman Theatre in the Square from 10am until 3pm and will include stalls from Bridgnorth's Mex It Up as well as Nature's Kitchen, who will be offering energy balls and vegan cakes and muffins. The event will also feature charity stalls including the Shropshire Badger Group, and there will be goodie bags featuring food samples and recipes. Email recipesforvegans@yahoo.co.uk or call 07947 033347 for details.
Bakery branches out
John Powers of Bridgnorth acquired Catherine's Bakery when Catherine Gough retired in December 1994. Since then, the already thriving business has gone from strength to strength, with outlets in Bridgnorth, Much Wenlock and Shifnal and a baking unit at Muckley Cross, not to mention a market stall in Wellington and a wholesale division that supplies a wide range of local firms.
John's latest venture is a stall on Shrewsbury's indoor market, which offers shoppers some of Catherine's best-loved products including their legendary 'GI bread', spelt and honey bread, ciabatta and focaccia as well as traditional white and granary loaves, cakes and pastries, all freshly baked daily. Any bread at the Shrewsbury stall at the end of each day is distributed to a food bank for the homeless run by Barnabas Church and The Shrewsbury Ark.
Knowles' new venture
TV's Nick Knowles was in the county recently, and the newly turned '99% vegan' found himself at a loss when he was trying to find food to suit his healthier regime. An online search revealed Optimum Joy, a vegan café and wellness centre on Wyle Cop in Shrewsbury. As it happened, the café was closed for a refit at the time of Nick's visit, but he got talking to owner Becky Porter and, in the true spirit of Victor Kiam, he liked it so much, he bought the company! Nick is now a co-owner of the venue, renamed O' Joy and, as he says, "We want to make delicious vegan food that's accessible for everyone. If a big, rugby-playing builder like me can enjoy it, anyone can!"
Gin o'clock
Moonshine and Fuggles, the Ironbridge beer and spirits emporium, is holding a gin tasting on Friday 6 May from 7pm until 10pm. There will be the chance to sample a wide range of gins, with canapés to complement the drinks. Pre-booking is essential – call 01952 433626 for more information.