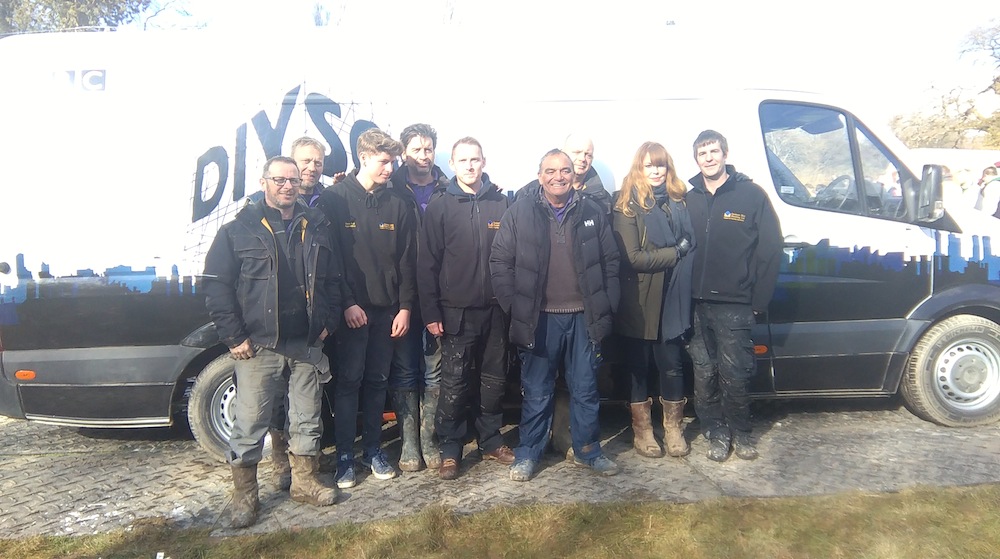 As one of the country's most popular shows hits the county, we find out about some of the local businesses who came to the rescue in DIY SOS.
Whether or not you're a fan of DIY SOS, you might want to tune in this May, as one episode of the renovation show with a difference will have a Shropshire flavour. Nick Knowles and his crew architects visited Hopesay near Craven Arms to help out an ex-firefighter, Joe, and his daughter, Lucy. The show, which comes to the aid of a deserving home-owner to remodel their home, put a call out for local businesses to help out, and Wenlock Spring's Amy Caine was one of those who got in touch. Amy explains, ""I contacted the BBC saying we'd provide water for all the workers… for tea coffee and to drink. We covered a water cooler n bricks to get all the workers smiling!"
Amy says that, despite the high-pressure environment, the workers kept Joe and Lucy in their sights as they strove to meet the targets. Joe's wife and Lucy's mother Jessica had died from leukaemia just six weeks after Joe had to stop his job as a firefighter because of an injury sustained while driving the fire engine. Joe put his all into doing up their run-down home, but as it progressed, he realised just how much there was to do. A stream ran under the house and had to be diverted… and Joe's money ran out while he and Lucy were still living in a caravan. Two neighbours put in a call to the BBC – and presenter Nick and team came to the rescue in February.
Several other businesses from the Bridgnorth area also got involved, including Darwin Glass and Glazing, and Graham Hill Flooring.
Rob Hall, a director at Graham Hill, told WW!, "We supplied and fitted around 70sqm of carpet, underlay, gripper and door strips – plus labour to install the lot. Three of us went along – myself, Tom Homer who's one of our flooring specialists, and Chris Fell, my new apprentice.
"Filming was very relaxed, just a guy with a handheld camera walking around, but the site itself was hectic with people everywhere."
David Jenkins of Darwin Glass explains, "They asked us to supply some materials as they were let down by a couple of local suppliers – so that's what we did. I also sent them team up to help with labour and cleaning up the site afterwards. There were about 150 tradesmen on site – it was crazy! But everyone pulled together and got the job done as we had people from all across the county."
Everyone involved was affected by the 'big reveal', when Joe and Lucy saw their new home for the first time.
"It was very emotional – the whole experience was very humbling," recalls Rob Hall. "Seeing people who were giving up their time, materials and experience to help someone they'd never even met was overwhelming – and Joe thanked every one of us personally. It makes you realise that with all the troubles in the world, there are still some fantastic, generous and selfless people out there!"
"Reveal day was amazing," agrees Amy. "It had been dull all week and finally the weather was beautiful. I think everyone was stunned by just how many people there actually were – two of three hundred! Joe and Lucy were overwhelmed and Lucy had written a letter saying 'thank you'. It's an experience I'll remember forever."