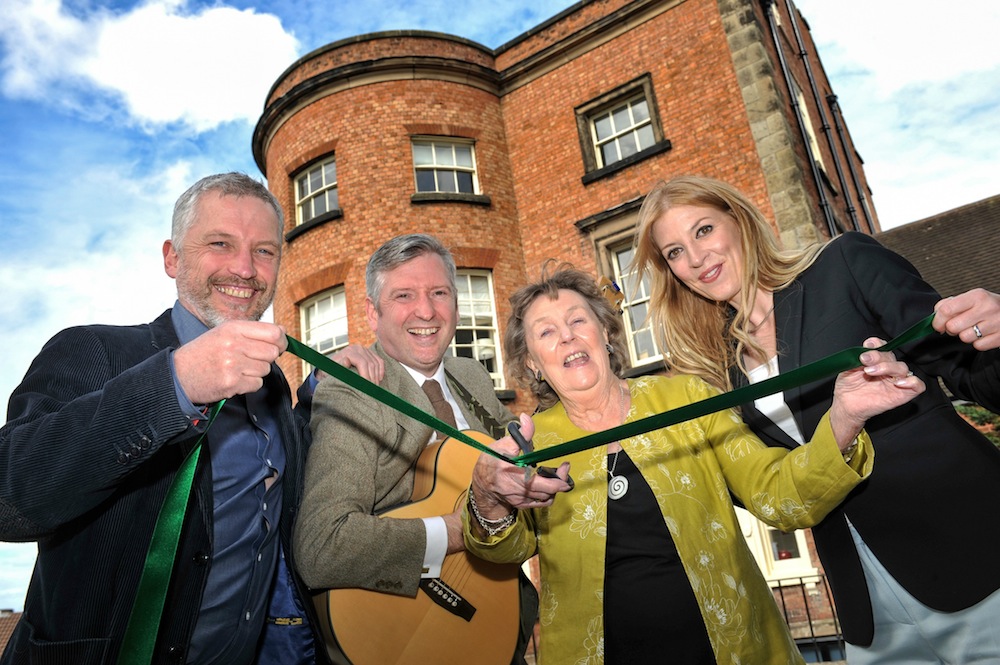 Rocking recruitment
An education-focused recruitment agency are celebrating opening a new office in Shrewsbury. Tara Professional Recruitment, which also has an office in Wolverhampton, opened the doors to its new office in Claremont Bank House in May.
"We're absolutely thrilled to now be based in Shrewsbury," says director Kirsty Timmins. "We have a highly skilled team of recruitment consultants who have already developed great working relationships with schools and teachers across the county, so we're all very excited to have a presence here and to be able to enhance our support of them."
The opening featured a performance by Pete Jandrell, one of Tara's supply teachers and member of rock band Hot Rod 55.
Rural Business Awards 2016
The CLA is encouraging rural entrepreneurs from across the region to enter the 2016 Rural Business Awards. The awards aim to showcase and reward the very best businesses that the countryside has to offer, with 13 categories including best rural start-up, social enterprise/community project of the year, and rural entrepreneur of the year. Registration to enter runs until 15 July. Visit ruralbusinessawards.co.uk for details.
Wellington hotel hosts French ensemble
Organisers of the Wellington Shropshire Twinning Association hosted 26 visitors from Châtenay-Malabry for four days. French delegates enjoyed a welcome from the Mayor of Wellington, a trip to Stokesay Castle and Acton Scott Farm and an evening of entertainment at Buckatree Hall Hotel in Wellington.
Buckatree manager Wayne Jenson says, "We regularly have visitors to Buckatree from France so it was a huge honour to be able to host people from the town Wellington has been twinned with for many years. We made sure everything was extra special in case they were missing home, we put up a French flag on our flagpole outside!" Visit wellington-twinning.co.uk to find out more.
Industry award for retailer
An independent Midlands tile retail chain is celebrating a successful business year after winning a prestigious industry award. Wolverhampton-based Tile Choice, which has 16 stores throughout the region, attended the 2016 TTA Awards in Birmingham, where they picked up the Gold Award for Excellence in Marketing.
Marketing director Lee Rudkin was particularly proud of the company's achievement, saying, "This is the fourth time in the last five years we have won a TTA award and the first time for marketing. A strong brand identity and the right message combined with maximum exposure in all forms of media has proven to be an excellent marketing campaign in the retail sector."
Chamber on a high
Shropshire Chamber of Commerce has started another positive patronage year with a number of successes aimed at strengthening its services over the course of the next nine months. The patronage year, which runs from April to March, kicked off with the appointments to its board of directors of two highly experienced and well-connected individuals, Mandy Thorn MBE of Marches Care Ltd and Christopher Greenough of Salop Design and Engineering.
The Chamber has also welcomed Chris Pallett of Bespoke Computing as its latest patron member, bringing expertise in information technology to the group.
Legal firm launches guide
With recent changes made to employment laws, a local firm of solicitors has launched its own guide to help employers avoid any potential disputes. PCB Solicitors' How to Avoid an Employment Dispute focuses how employers can cover themselves in the event that they face a challenging situation with a member of staff.
Ryan Bickham of PCB Solicitors explains, "With a number of legislative updates and changes coming into force across England and Wales recently, the need for employers to stay fully up-to-date with relevant information is vital in order to protect themselves effectively. Our guide offers easy-to-digest information about the things they need to consider, from recruiting and employment contracts, through to terms of employment, and even termination of employment." Visit pcbsolicitors.co.uk to find out more.
Junior footballers' new kit
A junior football team has scored a new kit, thanks to a sponsorship deal with a Shropshire IT specialist. Telford-based Bespoke Computing has funded new kits for the 14-strong Wrekin Tigers U9s team for the 2016/17 season.
Manager Chris Carr says, "Teams like ours are run by volunteers and operate with the goodwill and generosity of local organisations and parents. To kit out an entire squad costs around £500 and this is money that the team would have had to find if Bespoke Computing had not stepped in. We're really delighted with the new kit and will wear it with pride in the next season."