A Broseley restaurant has been quietly making waves by teaming its sophisticated, international fare with a refreshingly unpretentious attitude. Kerri Tyler samples the goodies at Clays.
Clays is a treat for anyone who enjoys imaginative food presented beautifully but without fuss. When we arrived, Trudy Clay, who owns the restaurant with husband David, was warmly greeting a solo luncher who'd obviously been here many times before. The compact café/restaurant features Scandi styling complete with a cuckoo clock, mismatched blue and white cushions, flying ducks and a glitter ball – and somehow it all works. There's also a Spanish-feeling room downstairs featuring rich colours against exposed brickwork, and Trudy, David and son George, who's one of Clays' chefs, are hoping to attract more business trade into the cosy space.
Clays' menu whisks diners from North Africa to New York to Provence, combing the freshest seasonal ingredients to deliver dishes that hum with harmonious flavours. The wine list offers over 50 tipples, helpfully divided into sections to make choosing easier, and an ever-changing set lunch features two courses for £18 or three for £21. On our visit, it included Provencal fish soup, individual steamed steak and kidney pud with roast root veg, and meringue with stem ginger and plum compote.
There's also an à la carte menu, and it was over this that my friend Jane and I pored before selecting a shared starter of cauliflower and date fritters with coriander yoghurt; for mains, Jane chose lamb koftas (£11.50) and I selected the gnocchi (also £11.50). This was perfect – sumptuous and moist, and perfect with the salty samphire and tender broad beans as well as asparagus freshly plucked from local fields. Jane was delighted with her koftas, served with a blob of tangy Tracklements mint jelly, roasted aubergine and just the right amount of spiced cous cous. Trudy's delectable bread is brought to table to nibble on – just another aspect of Clays which sets it apart from the rest.
Desserts are a must, even if you're not usually a 'sweets' person. Jane's crumbly frangipane tart was declared "divine", while my white chocolate cheesecake with rhubarb was a revelation – not overly sweet and with a beautiful rich mouthfeel.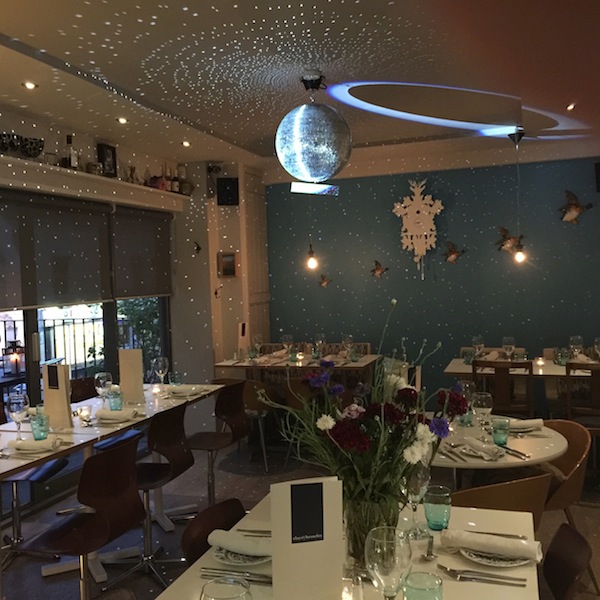 Clays is offering a special summertime tea on selected dates; the next is on Monday 4 July. The menu will include cakes, cheeses and sandwiches, served with loose leaf teas or, if you're in the mood to throw caution to the wind, elderflower gin or a bottle of prosecco. There's still a 'best kept secret' feel to Clays despite its glowing presence on social media – but once you've been here, you too will be counting the days until you come back.
Clays
67 High Street, Broseley TF12 5EX
claysofbroseley.co.uk
Food served Wed-Sat 11am-3pm & 6.30pm-11.30pm (last food orders at 9pm); Sunday noon-4.30pm (last food orders at 2.45pm)