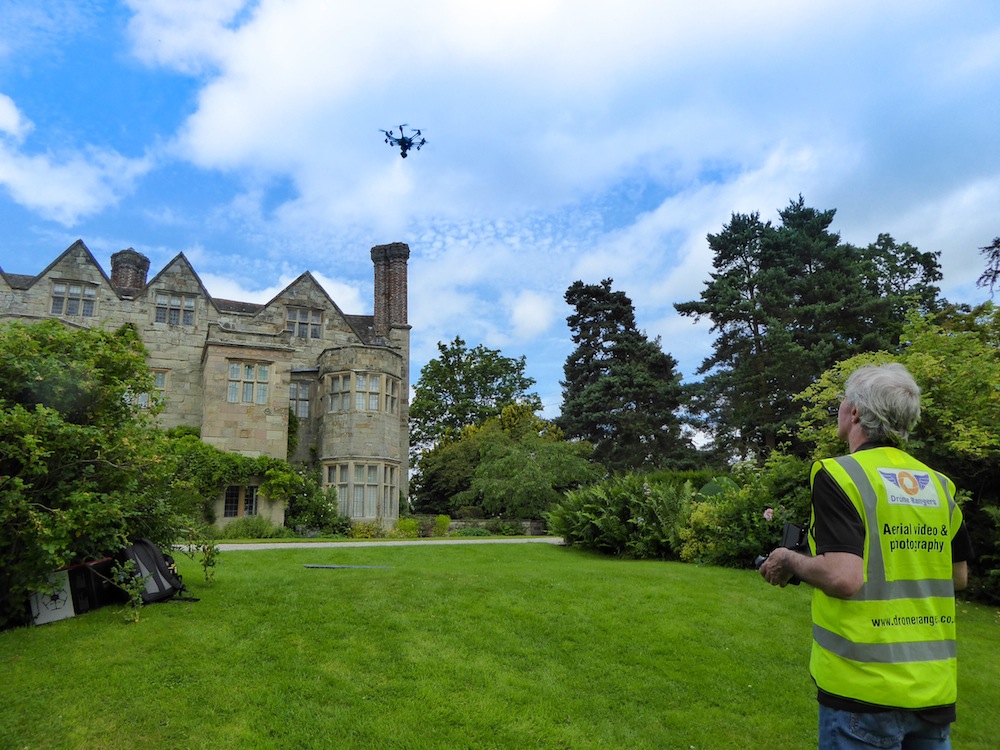 Drones (or 'unmanned aerial vehicles' to give them their proper name) are everywhere. They've been used – or touted for use – to track people smugglers, monitor traffic, seek out landmines, observe wildlife… and even to deliver parcels for retailing giant Amazon.
Paul Hutchinson of Much Wenlock is one of those who's been bitten by the drone bug. The web designer set up Drone Rangers just over a year ago and he shoots photography and video for commercial clients. His team includes trained observers Maggie, Suzanne and Sabine, one of whom is always with Paul when he makes his flights.
As Paul explains, "Drone technology is similar to that used in radio-controlled model planes but with added features to make it suitable for use as an aerial photography platform. GPS signals are used to help fly and position the aircraft, so, for example, I can make it hover over an exact spot. The onboard camera is stabilised so footage is amazingly smooth."
Although anyone can fly a drone for fun, there are key factors to consider – dozens of near misses (almost) took place last year, reports The Guardian, including one in which a drone passed within metres of a commercial aeroplane at Heathrow.
The Civil Aviation Authority (CAA) launched a 'drone code' which suggests keeping your machine within view; using your own eyesight rather than the camera; not flying it within 50m of a building or person; and keeping it within 122 metres in height and or 500 metres horizontally. When using a camera, users should keep in mind the privacy of others – neighbours are within their rights to report a user to the police if they feel their privacy is being violated. The government of Monaco hired a firm to locate and block unauthorised drones using radar systems, though this may be beyond the reach of most of us.
As a commercial user, Paul undertook a three-day course with the CAA for a Permission for Aerial Work (PFAW). He explains, "I took an exam – and produced an enormous amount of paperwork! We also had to take out insurance – it's illegal to take any sort of payment for drone-related work unless you have both licence and insurance.
"We're forbidden from flying over congested areas or large gatherings such as concerts and sports events, and we're not allowed to fly near airfields and airports."
"Shropshire is a designated low-flying area so we phone RAF Shawbury Air Traffic control to let them know when and where we're flying," says Paul, whose recent work has included surveys of Benthall Hall and Hawkstone Hall, and the inspection of solar panels at a house in Ludlow; he also covers events such as the Festival at the Edge in Wenlock as part of his Virtual Shropshire web coverage.
This year, Paul plans to produce a video called 'Shropshire from the Sky', which will gaze down upon the county's best-loved attractions and landscapes in a loving exploration of what makes Shropshire special – and hopefully his drone won't be vying for airspace with too many others…