For so many of us, New Year is a time to review – and often overhaul – old habits. Having piled goodies onto our plates over Christmas, we're now starting to think about a more balanced diet. The Doctor's Kitchen, a new book by Dr Rupy Aujla, a London-based GP and Ted talker, examines in detail the connection between the food we eat and our own health and wellbeing. Rupy overhauled his own health by changing his diet to improve his heart condition – with dramatic effects.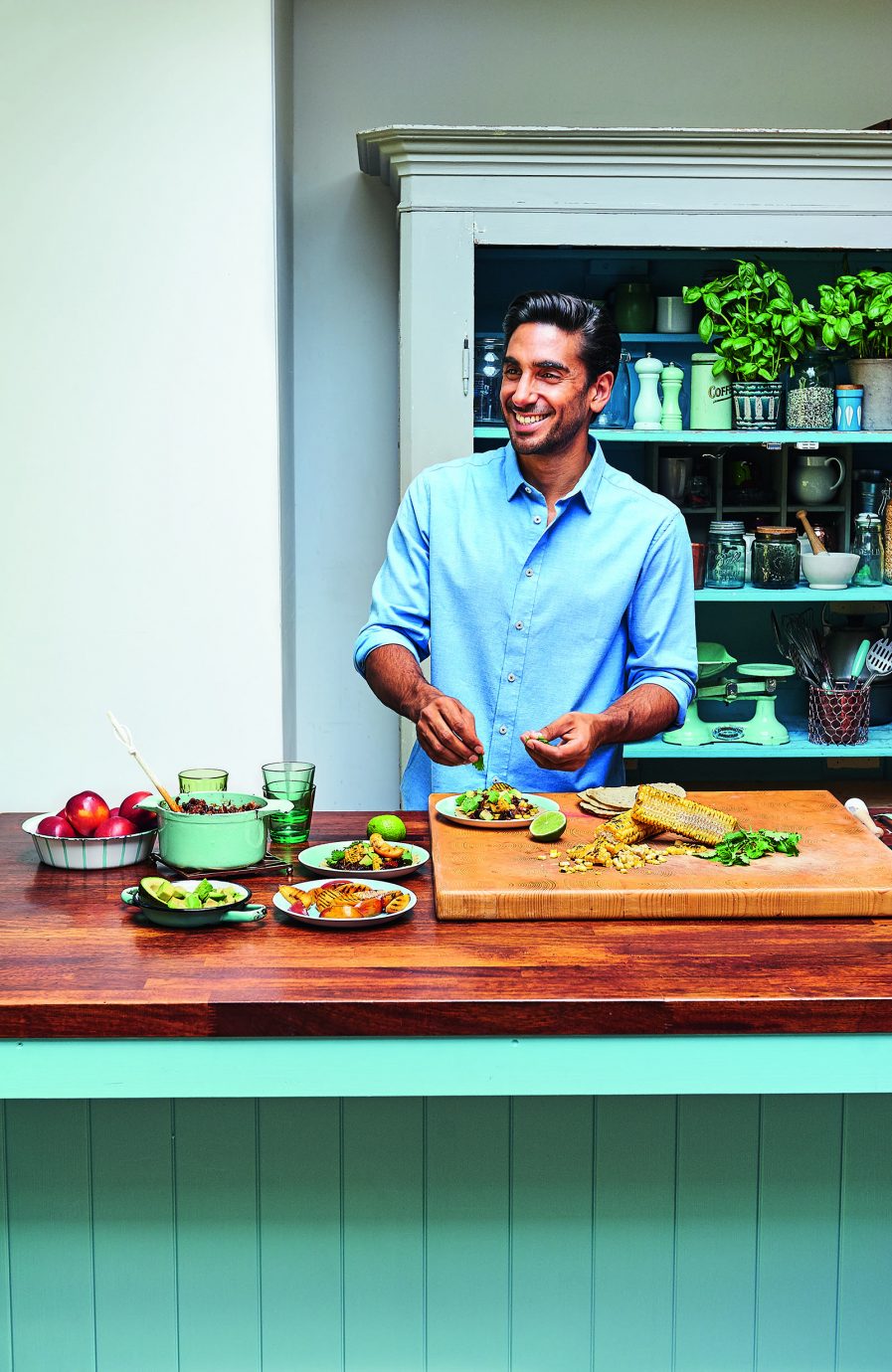 Rupy's recipes are exciting, easy to cook, colourful – and packed with flavour. The Doctor's Kitchen is available now from Harper Thorsons, with the hardback priced at £14.99.
Sweet chai-spiced apple with pistachio crunch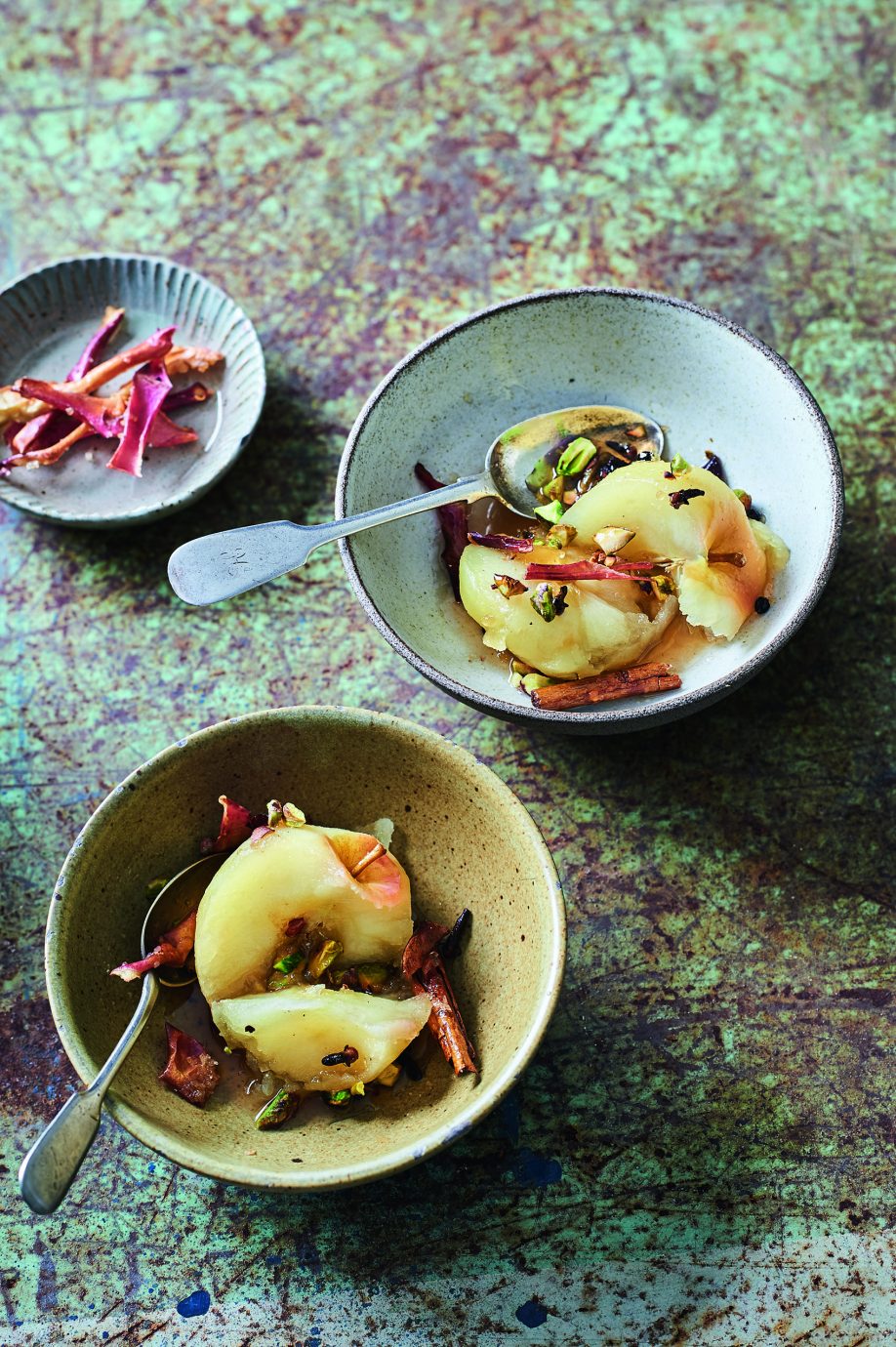 The spices used in this easy yet indulgent dish are described in Ayurvedic practice as 'heat giving' and they certainly warm you up! I love eating this on a cold winter evening or when I feel a cold coming on. I'll often make a teapot of these spices with some honey to settle my chest. Black peppercorns and ginger give the dish a subtle heat that marries well with clove and cardamom.
Ingredients (Serves 2)
2 apples, peel removed in long, thin strips (reserve peel)
2 tsp coconut oil
tsp ground cinnamon
2 tsp demerara sugar
20g unsalted, shelled pistachios, toasted and finely crushed
400ml water
large piece of cinnamon bark or cinnamon stick
cloves
thin slices of root ginger (skin on)
4 black peppercorns (or ½ tsp ground black pepper)
generous pinch of freshly grated or ground nutmeg
4 green cardamom pods, lightly crushed
3 tbsp honey
Method
Preheat oven to 200°C/180°C fan/gas 6.
Rub peel with coconut oil, cinnamon and sugar. Place in a small roasting tin. Bake for 8 minutes, or until lightly browned. Remove and cool. The peel may still be slightly moist despite being nicely coloured, but it will firm up and become crunchy. Roughly chop peel, mix with pistachios and set aside.
Pour water into a saucepan with cinnamon, cloves, ginger, peppercorns, nutmeg, cardamom and honey. Bring to a simmer and add apples. Cover with baking parchment and close lid tightly over it, so no steam escapes. Cook over a low heat for 20 minutes. Remove from heat. Transfer apples to a bowl with a slotted spoon. Continue to reduce liquid until you have about 100ml left and the mixture is syrupy.
Serve the warm apples drizzled with chai syrup (I like to leave the whole spices in) and top with the apple peel 'crunch' and pistachios.
TIP – Serve with frozen yoghurt or simple vanilla ice cream.
Mexican black bean chilli bowl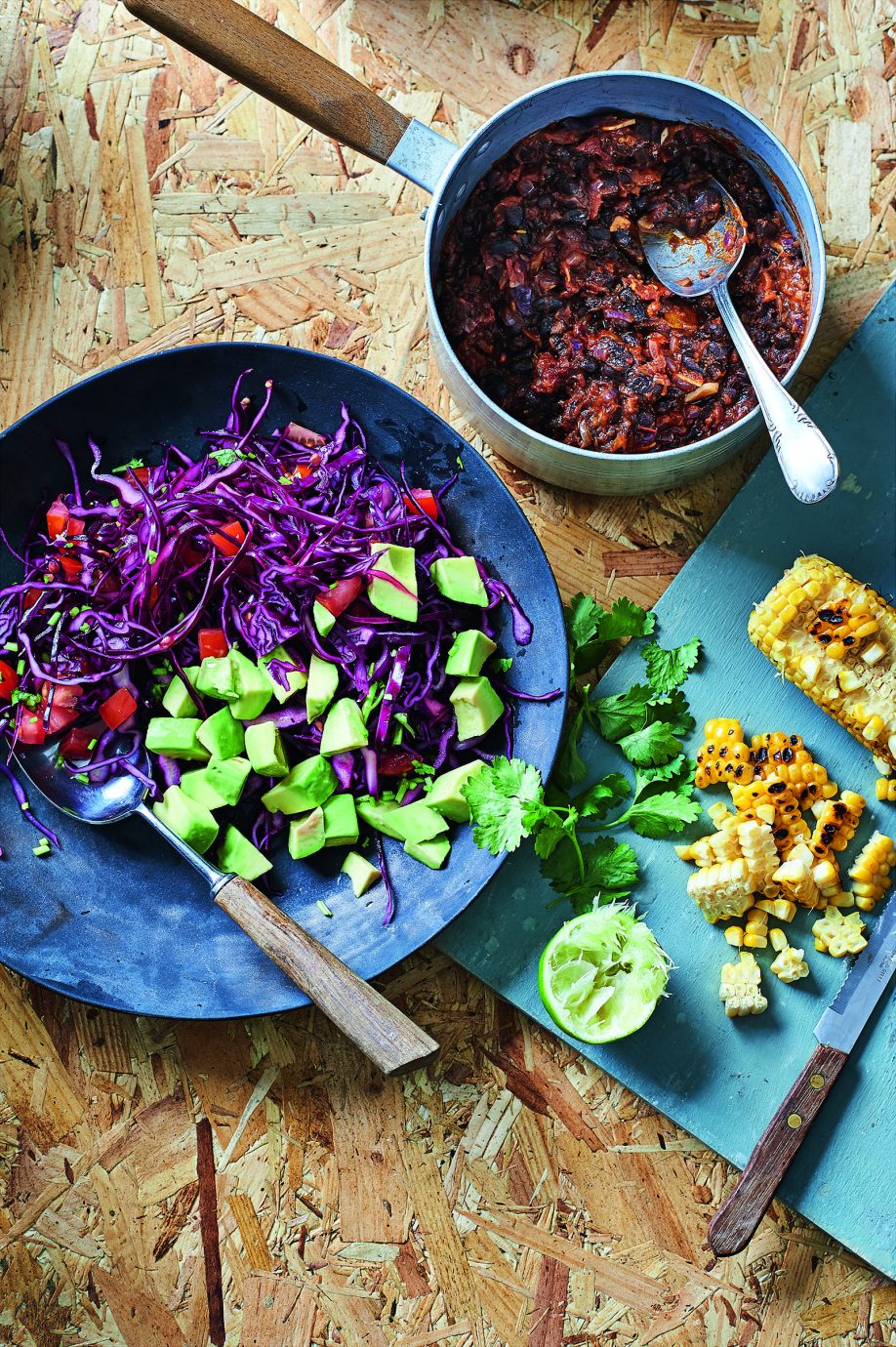 Mexican cuisine is as vibrant and colourful as the country! We grow delicious sweetcorn in the UK (look out for it in late summer). If there was one dish that represents how I believe we should eat more often, it's this Mexican bowl, bursting with colour, lots of fibre and good-quality fats.
Ingredients (Serves 4)
4 tbsp extra-virgin olive oil, plus extra for drizzling
3 garlic cloves, thinly sliced
1 red onion, finely diced
1 tsp smoked sweet paprika
1 tsp dried chilli flakes
1 tsp cumin seeds
400g tin black beans, drained and rinsed
2 large tomatoes, finely diced 1 tsp runny honey
3 sun-dried tomatoes in oil, drained)
2 sweetcorn cobs (or 200g tinned sweetcorn, drained)
150g red cabbage, finely shredded
1 ripe avocado, stoned, peeled and diced
10g coriander, leaves and stalks separated, finely chopped
grated zest and juice of 1 lime
Method
Heat 2 tablespoons of oil in a saucepan over a medium heat. Add garlic, onion, paprika, chilli and cumin, season with salt and pepper and sauté for 2 mins. Add beans. Cook, stirring, for a further 2 minutes.
Blend half the tomatoes with honey, remaining oil and sun-dried tomatoes until smooth. Add to pan of beans and simmer for 8–10 minutes.
If you're using corn cobs, drizzle with oil, season, and grill under the oven grill or on a griddle pan, turning frequently, until tender and lightly charred all over.
Mix the cabbage in a bowl with remaining diced tomato, avocado and coriander stalks.
Slice the corn kernels off the cob into cabbage (or add the tinned sweetcorn) with the lime and a drizzle of oil.
Serve bean stew on top of the vegetables in the bowl. Garnish with coriander leaves.
TIP – This pairs well with a portion of cooked wholegrain rice.