There's no ignoring the fact that more and more of us are choosing to eat plant-based dishes some of the time. Food enthusiast and award-winning blogger Niki Webster has leapt at the chance to share her vegan recipes with the world with her new book Rebel Recipes, which takes the reader on a culinary tour of the world, vegan-style.
Shropshire native Niki's approach to food is about maximum taste and minimum
fuss: "I try not to make my recipes overly complicated so they are as accessible as
possible (I get turned off by complicated ones). I hope I can inspire you to love to
cook as much as I do, with my easy, delicious and nutritious dishes!"
We've got a spicy Indian dish, a twist on an Italian favourite, and a super-simple
sweet treat for you to try – and bring out the Rebel in you!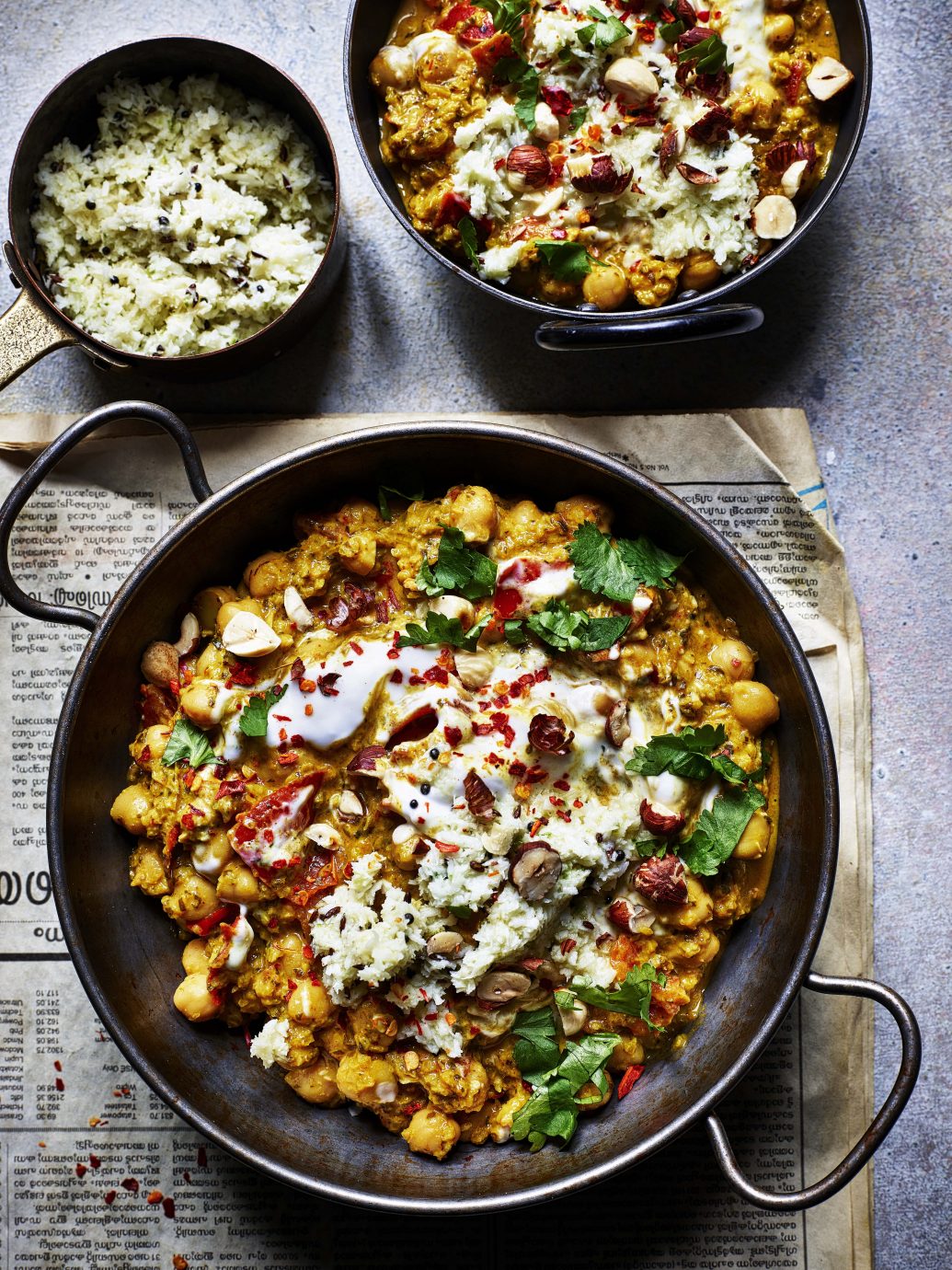 Chana masala with coconut chutney
"The magical little chickpea is not only a brilliant source of plant-based protein, vitamins, minerals and fibre, it's also an incredibly versatile – and cost-effective – ingredient"
Ingredients (Serves 2)
300g cherry tomatoes, sliced
400g can chickpeas, rinsed, drained
2-3 tbsp coconut yoghurt
½ tsp coconut sugar (optional)
For spice paste
2 tbsp rapeseed oil
1 large onion, roughly chopped
2 tsp cumin seeds
6 garlic cloves, peeled
thumb-sized piece ginger, peeled, roughly chopped
2 tsp ground coriander
¼ tsp dried chilli flakes
40g fresh coriander, including the stalks, roughly chopped
1 tsp ground turmeric
For coconut chutney
50g unsweetened desiccated coconut
thumb-sized piece ginger, peeled, finely grated
½ small green chilli, deseeded
juice of ½ lime
2 tsp rapeseed or flaxseed oil
½ tsp black mustard seeds
½ tsp cumin seeds
6 curry leaves
To serve
toasted hazelnuts, fresh coriander
Method
1. Make paste by adding ingredients to a food processor, blender or pestle and mortar. Blitz (or pound) to a chunky paste. Set aside.
2. For chutney, place coconut in small bowl. Cover with boiling water. Leave 10-15 mins to rehydrate and soften. Drain. Reserve about 125ml of the water.
3. Add softened coconut, ginger and chilli to a food processor or spice grinder. Blitz until smooth. Add some of the reserved coconut water to loosen if needed. Add lime juice and 1 tsp sea salt.
4. Pour oil into small frying pan. Once hot, add mustard seeds. Fry gently until they start to pop, then add cumin seeds and curry leaves. Sauté for a few seconds. Add spices and oil to the coconut mixture. Mix well. Set aside.
5. Heat large frying pan over medium heat. Add spice paste. Fry 5 minutes. Add tomatoes. Cook 3-4 minutes, until beginning to soften. Add 200ml water. Turn heat to medium-low. Simmer 30 minutes.
6. Finally, add chickpeas to pan. Stir in yoghurt and, if using, coconut sugar. Season to taste.
Serve topped with chutney, toasted hazelnuts and coriander.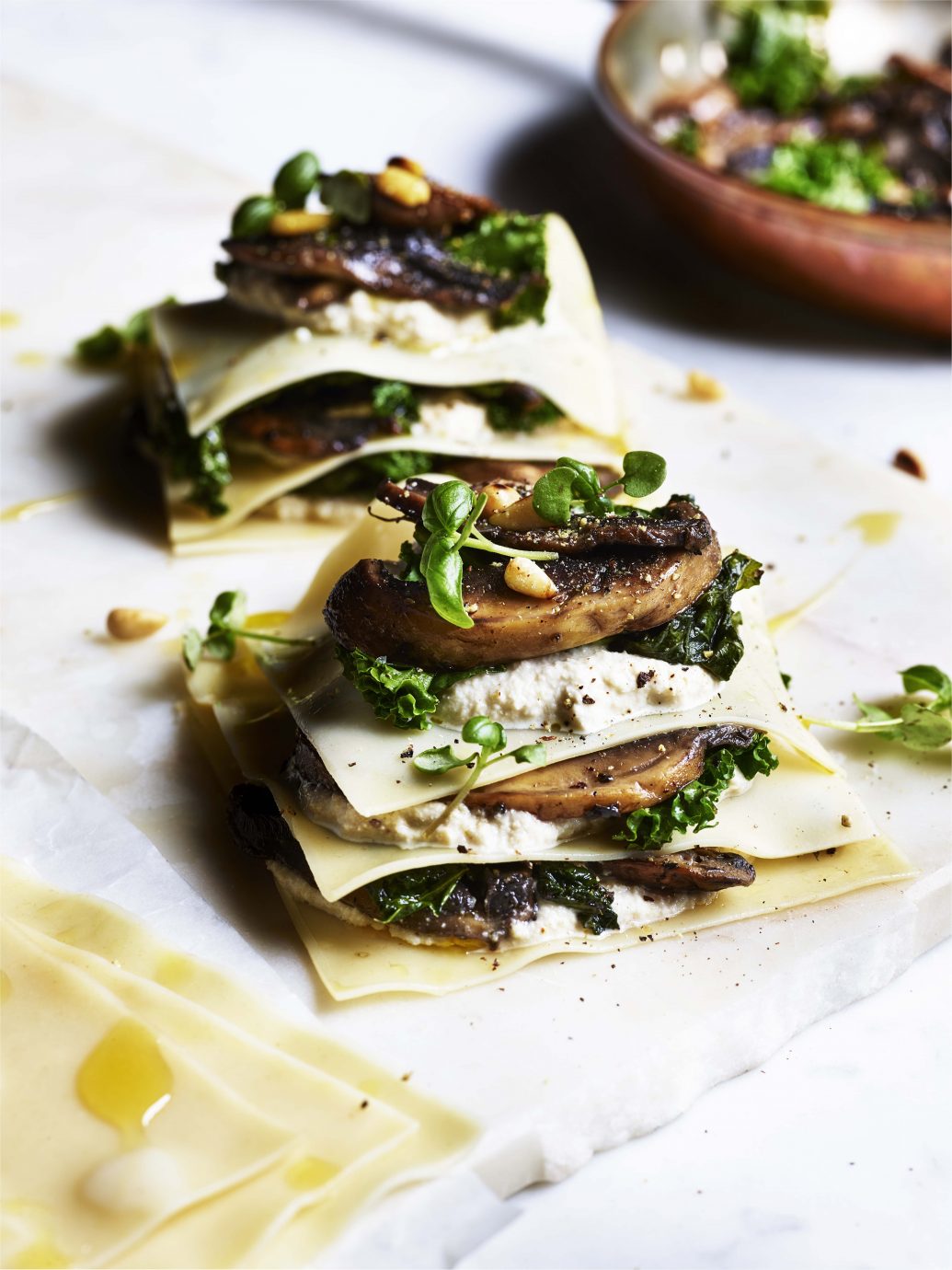 Open lasagne with sautéed mushrooms, cashew ricotta, kale and truffle oil
"Layers of delicious contrasting textures and the final flourish – a luxurious drizzle of truffle oil and sprinkling of toasted hazelnuts. This one has seen many a dinner party…"
Ingredients (Serves 4)
6 dried egg-free lasagne sheets
For cashew ricotta
150g cashews, soaked in water for at least 4 hours
3 tbsp nutritional yeast flakes
1 tsp apple cider vinegar
½ tsp garlic powder
For mushrooms and kale
1 tbsp olive oil
125g button mushrooms, sliced
4 field mushrooms, sliced lengthways
2 handfuls of kale, tough stalks removed and roughly chopped
For topping
2 tbsp toasted hazelnuts or toasted pine nuts
a drizzle of truffle oil
1 thyme sprig, leaves picked
Method
1. Drain cashews. Process or blend with other ricotta ingredients and 120ml water. Blitz to a smooth paste. Season to taste. Set aside.
2. Bring plenty of water to the boil in a large, wide pan. Add lasagne. Simmer for 12 minutes or until soft and just cooked in the middle. Drain. Refresh in cold water. Place on paper towels to drain.
3. Heat olive oil in small frying pan. Fry mushrooms for a few minutes until softened. Add kale and sauté for a minute or so until wilted. Season well. Set aside.
4. Place lasagne sheets on top of each other. Cut in half across the middle. Take two half sheets and spread ricotta on top of each. Place onto two plates. Build by layering mushrooms and kale, followed by another sheet with ricotta. Repeat to make three layers.
5. Top with nuts, a drizzle of truffle oil, thyme and a sprinkle of salt.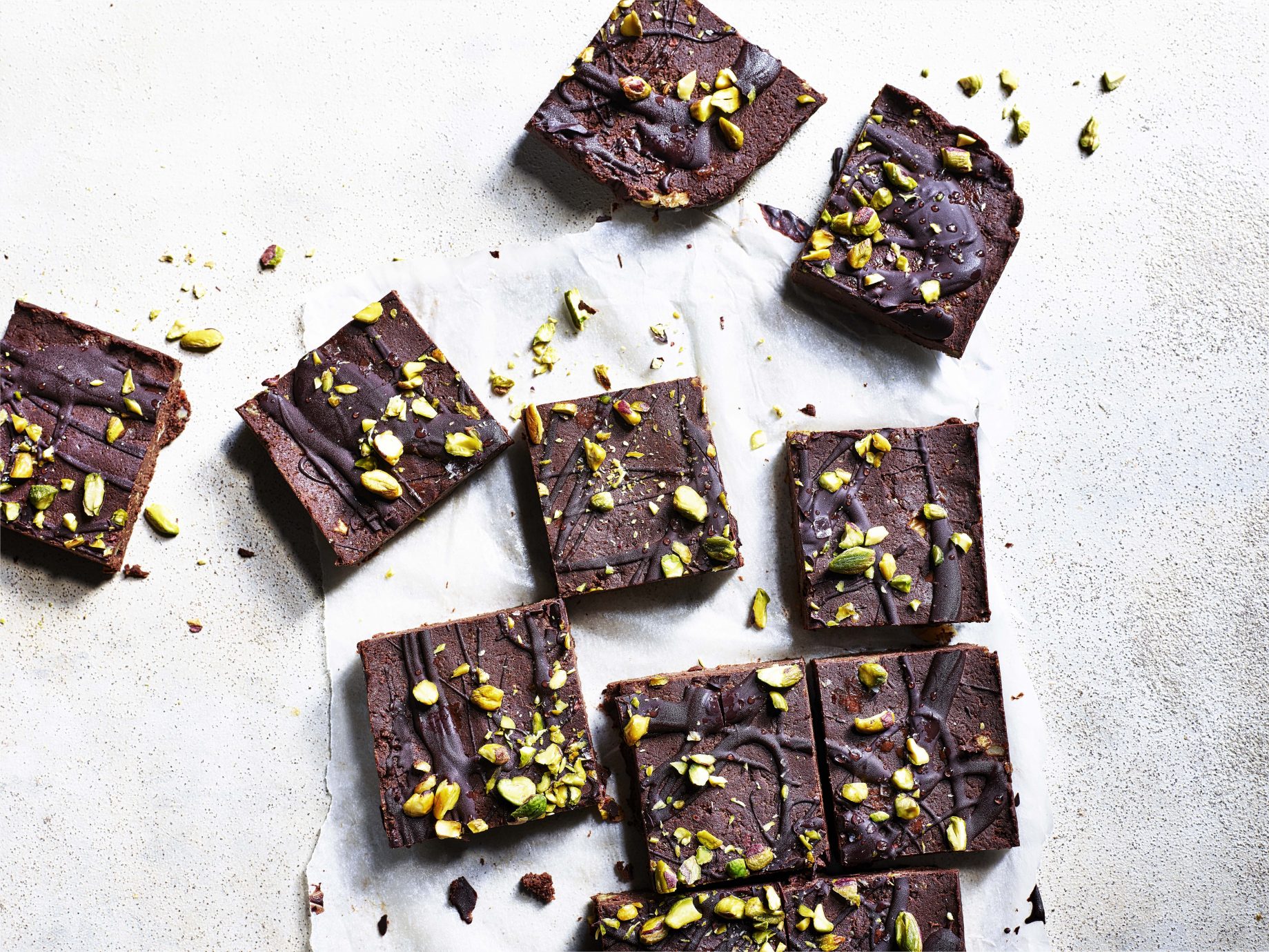 Chocolate, peanut butter and chickpea fridge bars
"I think this recipe will blow your mind. It seems there's no end to the miraculous things you can make with the humble chickpea!"
Ingredients (Serves 8–10)
400g can chickpeas, drained
250g medjool dates, pitted
4 tbsp crunchy peanut butter
5 tbsp raw cacao
3 tbsp melted coconut oil
1 tsp vanilla extract
2 tbsp cacao nibs
2 tbsp chopped hazelnuts, plus extra to scatter
40g vegan chocolate
sea salt flakes
Method
1. Put chickpeas, dates, peanut butter, cacao, coconut oil, vanilla and a generous pinch of sea salt into a food processor or high-speed blender. Blitz to smooth mix. Add cacao nibs and hazelnuts, and pulse once to mix.
2. Line 17x22cm baking tray with baking parchment. Spoon in mix. Smooth out to edges.
3. Gently melt chocolate in a small bowl suspended over a small saucepan of boiling water.
4. Drizzle melted chocolate over mixture in tray. Scatter with chopped hazelnuts and a little salt. Refrigerate at least 4 hours, or overnight, to firm up.
5. Remove from tray. Cut into squares. Will keep in fridge for 3-4 days or in freezer for a few weeks.
Rebel Recipes by Niki Webster (£26, Bloomsbury Absolute). Photography by Kris Kirkham.