A Bridgnorth dog trainer came up with a novel idea to raise money for the NHS and treat our furry friends at the same time!
Louise Lewis, who owns border collies Fred and Florrie trained by her for agility classes, had struggled to find healthy treats for Fred when he got injured.
At the same time her business Pawfect Delights was on lockown and Louise decided to get creative and make dog biscuits in aid of the NHS.
"The Coronavirus pandemic had an impact on my business and I couldn't sit here and do nothing," says Louise.
"I came up with the idea of creating a new cookie cutter design and start baking and selling 'NHS Superhero' dog biscuits.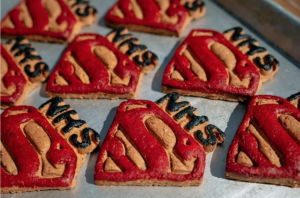 "Despite my business taking a hit, I did not want to profit from the pandemic, so I decided to donate all of the proceeds to NHS Charities Together. A donation of £5 is being asked for the biscuits.
"They come in two flavours, peanut butter and banana or banana and blueberry, and they are made from grain free and gluten free flour, plus vegetable-based stock and fruit."
These special, limited-edition biscuits can be ordered online pawfectdelights.co.uk/product/nhs-superhero-biscuits