A long-running Bridgnorth club has called it a day and is planning a final flourish. Neil Thomas met its chairwoman to find out more.
Bridgnorth Flower Club celebrates its 60th anniversary this December. The diamond anniversary, though, is mingled with melancholy. For the club is being wound up after giving six decades of enjoyment to floral enthusiasts from across the region.
The club that blossomed in the 1960s and was in full bloom in the later years of the 20th century, has gradually wilted as the new millennium unfolded. Covid 19 was the final straw.
"It is such a shame. It's the end of an era," reflects long-time chairwoman Maureen Fullwood, who has been involved in the club for 48 years and remembers the great years as well as the leaner ones.
"At one time we had the maximum 100 members and a waiting list. In recent years we've been lucky to get 40."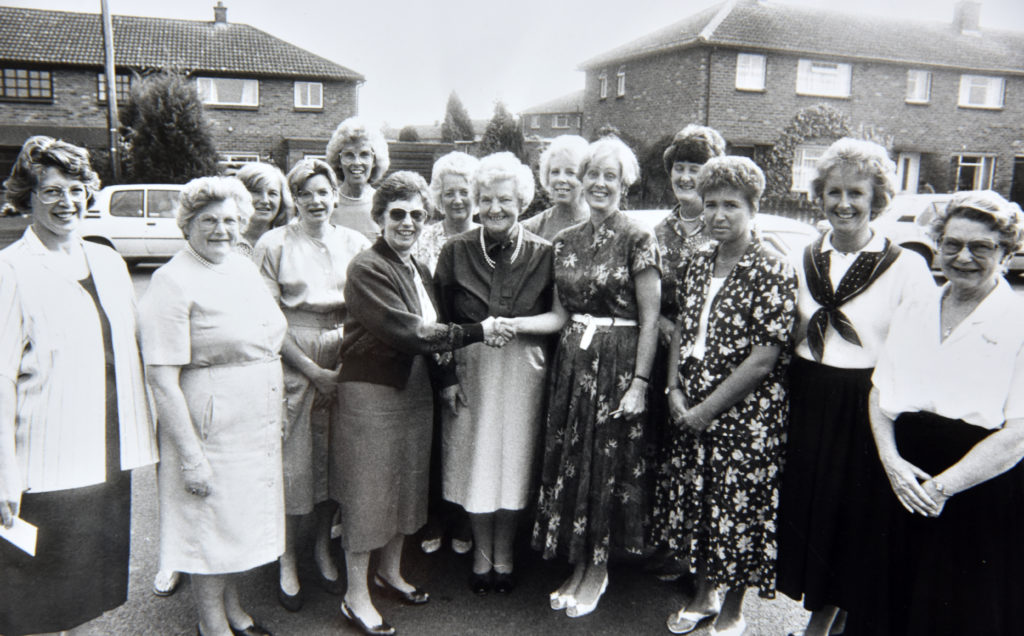 There are plans for one final get-together on Wednesday November 30 – a Diamond Anniversary Lunch and Christmas Floral Demonstration by the talented and entertaining Andrew Lloyd, from Stourbridge. Venue will be The Down Inn in Ludlow Road, Bridgnorth.
"It would be nice to finish with one final event as a fitting way to round off 60 years. I don't want to see the club just to fade away and be forgotten after such a long time."
Maureen is busy contacting past members about the luncheon and anyone who was involved in the Flower Club who would like to attend, is asked to let her know.
As with many organisations across the country, the club struggled to reignite after the lockdowns and tough restrictions imposed during the pandemic led to the scrapping of live meetings.
Maureen believes there is also a wider challenge facing clubs of all varieties – that the interests of younger people are increasingly moving away from joining organised groups.
"The flower club has found it difficult to bring in younger members and we are certainly not alone in that. Without new blood, without the younger generation willing to come in and eventually take over, then clubs inevitably have no long-term future.
"Over the years we have had a large club, but it's gradually dwindled and Covid essentially put an end to it."
The club has been a wonderful supporter of good causes down the decades, generously handing over cheques on a regular basis. That ethos has carried on right to the end.
Maureen explains, "We gave such a lot of money away to a lot of charities over the years and on closing the account we ended up with over £2,000 in the bank. We have used that to send donations amounting to £600 to each of Severn Hospice, the Lingen Davies Cancer Fund, Hope House, and the Midland Air Ambulance."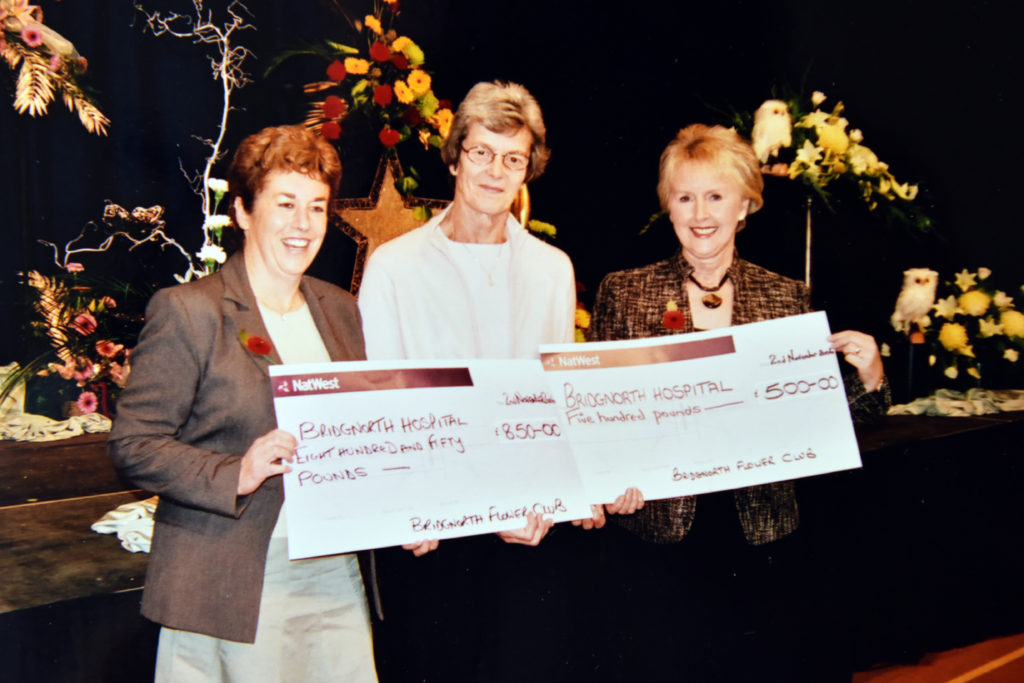 Bridgnorth Flower Club's origins are in the late 1950s when Patrick Beardsley moved with his family to Bridgnorth to take up a partnership in a chemist business on the High Street with Bill Howard – Beardsley & Howard chemists.
Maureen recalls, "I was working at the chemists' when Patrick's wife Pamela, who was a member of Wolverhampton Flower Club, said she would like to start one in Bridgnorth.
"On December 13, 1962, the club was formed. There was a great deal of interest from the outset, with initially 100 members and a waiting list to join. Flower demonstrations were held on the second Thursday of the month."
Maureen remembers a certain formality about proceedings in those days, with smartly-dressed ladies in hats sitting in neat rows. There was a raffle, with tickets five for a shilling (for those who remember shillings!), afternoon tea and the chance to buy flower arranging items from a sales table.
Though fashions and formalities have come and gone, at the heart of it all one thing never changed – the chance to watch demonstrators producing wonderful floral arrangements.
"The vast majority of the membership has always been women although, funnily enough, many of the demonstrators are men."
Maureen recalls that the first meetings were held in an upstairs room at the Swan Hotel in High Street.
"As the membership increased, a larger venue was needed and so the club moved to the Castle Hall, then to St John's Hall behind the Catholic Church and after that to the hall in Racecourse Drive."
Maureen recalls joining the club in 1974 after chatting to Pam Beardsley at the school gates.
"My grandfather was a market gardener and I'd always loved flowers from when I was a little girl. I remember summer holidays in the woods looking for flowers. We had three fields of daffodils near us and I'd spend all day picking and arranging them."
She went on to earn a City & Guilds distinction in Floral Art at the former Radbrook College in Shrewsbury and ran her own flower stall, first at Bridgnorth Town Hall and later on High Street.
Even so, Maureen admits to being very nervous on attending her first Bridgnorth Flower Club meeting. "I had to pluck up courage to go but I'm so glad that I did. I've loved it. It's given me so much pleasure over the years."
She has certainly given much back, serving as chairwoman for two spells and generally being willing to take on organisational responsibility.
"We've always tried very hard to book demonstrators who are not only talented arrangers but are entertaining speakers with a fund of funny stories. We all like a good laugh," she says with a warm smile.
The club branched out from its monthly meetings with regular outside visits.
"Over the years we have visited many gardens and stately homes including Highgrove. We had a trip to the Houses of Parliament, which was arranged through one of our members Patricia Gill, who was the wife of the local MP Christopher Gill.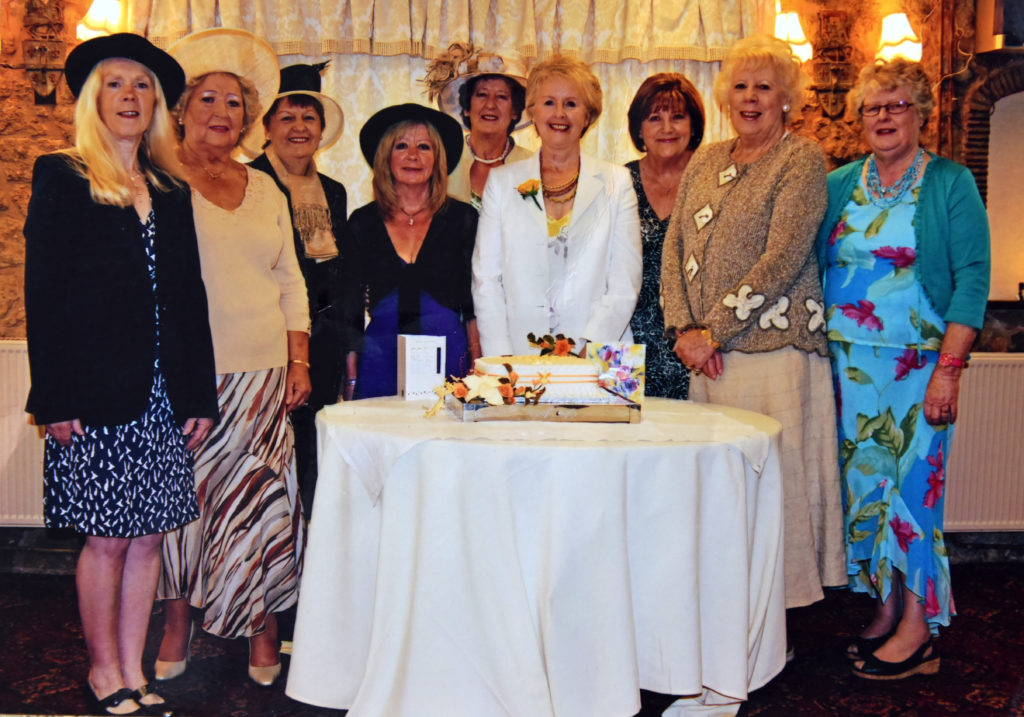 "We have produced floral arrangements for members of the royal family on their visits to Bridgnorth. We also held an annual exhibition to show off our skills.
"We organised summer suppers, lunches at members' homes, and coffee mornings and from the proceeds of these events we were able to support 15 different charities. Every year we sent donations to the Birmingham Children's Hospital."
After presenting a cheque to the RNIB (Royal National Institute of Blind People) the club was invited to name a dog.
Maureen smiles at the recollection, adding, "Rather aptly, we gave it the name Fleur."
Bridgnorth Flower Club has been a source of great enjoyment to many down the years, as well as helping many charities. It has been a considerable force for good in the town. Sadly, as the proverb goes, all good things…
Anyone interested in attending the final lunch on November 30, please call Maureen on 01746 761250.