Neil Thomas talks to renowned sculptor Tom Hiscocks about his eye‑catching work – and past career in the glamorous world of horse racing.
Thoughtful, quietly-spoken, articulate, Tom Hiscocks exudes the sense of calm that so often radiates from a creative life.
In the sitting room of an elegant period house in the centre of Much Wenlock, he exhibits that spirituality that artists seem to share – a luminescence that everyday mundanities rarely induce. To make a statement in words, music, photography, painting, sculpture – and often in the process offer a personal insight into the human condition – must be fulfilling indeed.
Tom is an accomplished artist, though it is as a sculptor that he is best-known and makes his living. His work is both eye-catching and thought-provoking with an international reach. He has exhibited in solo and shared exhibitions across the UK and Europe, where his work has also found its way into private and public collections as well as in America, Australia and the Middle East.
A Tom Hiscocks piece invariably starts a conversation, for it will not only be striking in appearance but virtually always convey a multi-layered message.
It comes from Tom's highly personalised approach to his art.
"My personal interest relates to constancy and change in nature, and to the layers of life and experience that makes each of us who we are. The same thing can be experienced by different people in different ways. So it is the suggestion of what happens inside that interests me," he explains.
He illustrates the point about the value of life experiences contributing to art with a story about the influential 20th century painter Pablo Picasso. The great Spanish cubist is taking a ride in the back of a taxi.
"During the short journey, he takes out his pad and completes a quick sketch. When he gets out of the cab, the taxi driver asks if he can have the drawing. Picasso replies 'no'. The taxi driver says, 'but it only took you five minutes'. Picasso shakes his head and replies, 'It didn't. It took me 40 years'."
Tom smiles gently at the anecdote. "The point is that not only are artistic techniques and skills developed and honed over many years but that so much of the artist's inner self goes into the work and that can change with age, experience and wisdom.
"I approach my work exploring the ways in which I can reflect these ideas. I have come to making most of my work in layers. I want my work to change as the angle of view and the context that they are placed in changes, in the same way that we can change according to our state of mind, and who we are with."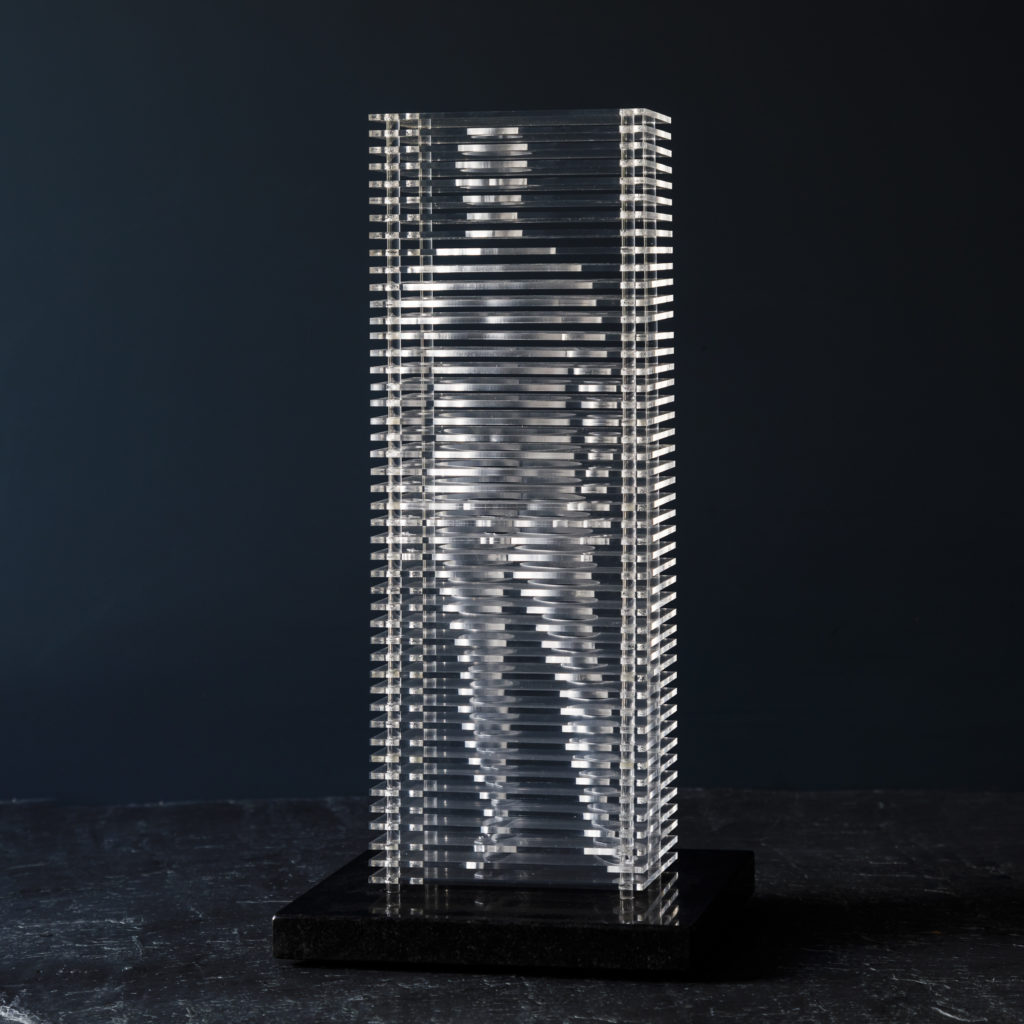 Tom shows me one of his pieces, just over 1ft tall, fashioned from acrylic. It is a figure of a man encased in a tall, narrow box whose four walls resemble half-opened window blinds. It's an optical tease, for what you see alters the closer you move to the sculpture. Then Tom reveals that he is the figure. It is a self-portrait.
This autobiographical piece is entitled My Space, and offers a striking example of Tom's distinctive style. "I often work in slices," he says and with even a swift glance at My Space you see what he means. "All creativity comes from stillness so many of my ideas have come when I've practised meditation."
Tom sees My Space as a reflective statement on peace of mind and freedom of thought and action – the mere act of nakedness is in itself liberating.
I, on the other hand, saw a man trapped in a prison of horizontal bars.
Aside from suggesting that Tom is a 'glass half full' kind of guy and I am a 'glass half empty' sort, it cements the idea that his work stimulates thought and conversation. Whatever else My Space is, it's a talking point. A life-sized version, which is in a private collection, must be even more of a talking point!
Tom works mainly in copper, stainless steel or acrylic.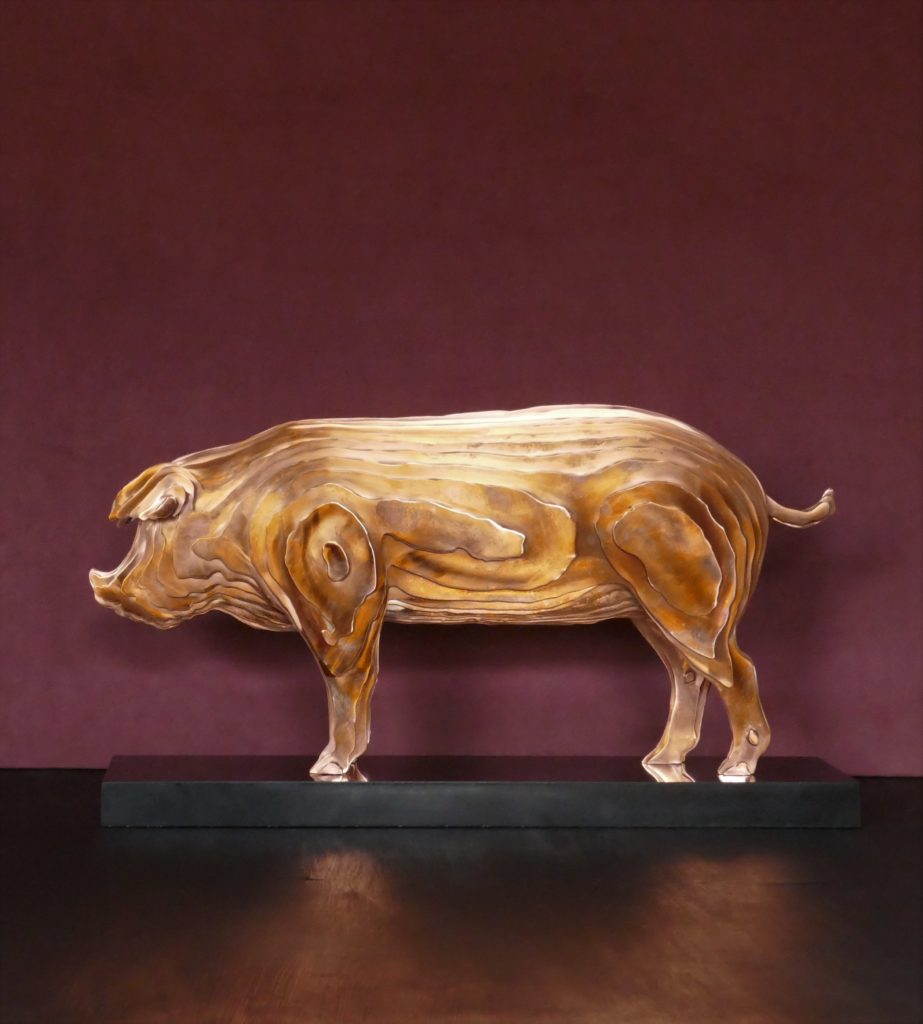 "Copper has high electrical and thermal conductivity, which makes it challenging to weld. However, the results are spectacular."
In addition, there is an ecologically responsible dimension to using copper in as much as there can be for any mined material.
"Copper is one of the few metals that can occur in nature in its native metallic form – and is the third most recycled metal, after iron and aluminium."
Stainless steel, though a much more recent invention, is like copper, 100 per cent recyclable.
"An average stainless-steel object is composed of about 60 per cent recycled material of which approximately 40 per cent originates from end-of-life products, while the remaining 60 per cent comes from manufacturing processes," Tom explains.
"Acrylic is also recyclable, however as it's not biodegradable the process is not as easy as putting it in your recycle bin or taking it to a bottle bank. But you can reuse acrylic by cutting larger sheets into small pieces and forming them into other products – and that is what I do. "As you can see from some of my work, clear acrylic has a fabulous way of picking up its surrounding light."
He adds: "The materials are important to my work, and the physicality of the making process also brings its own resonances. I start with the traditional sculpting process in wax or in clay, then I use 3D scanning, computers and laser cutting alongside welding and polishing to create the final sculptures."
Invariably though, a sculpture begins with a series of sketches, utilising a gift for drawing that Tom discovered in childhood and which first stimulated his love of art.
"Drawing and art in general was the subject I was strong in at school," he says with a gentle smile. "I've always been fascinated by how we humans are all the same, and yet different from one another, even if it is in very subtle, nuanced ways. It must be fascinating being a psychologist."
Art, though, vied with a love of horses. He learnt to ride from childhood and when he left school at 17, horses won out.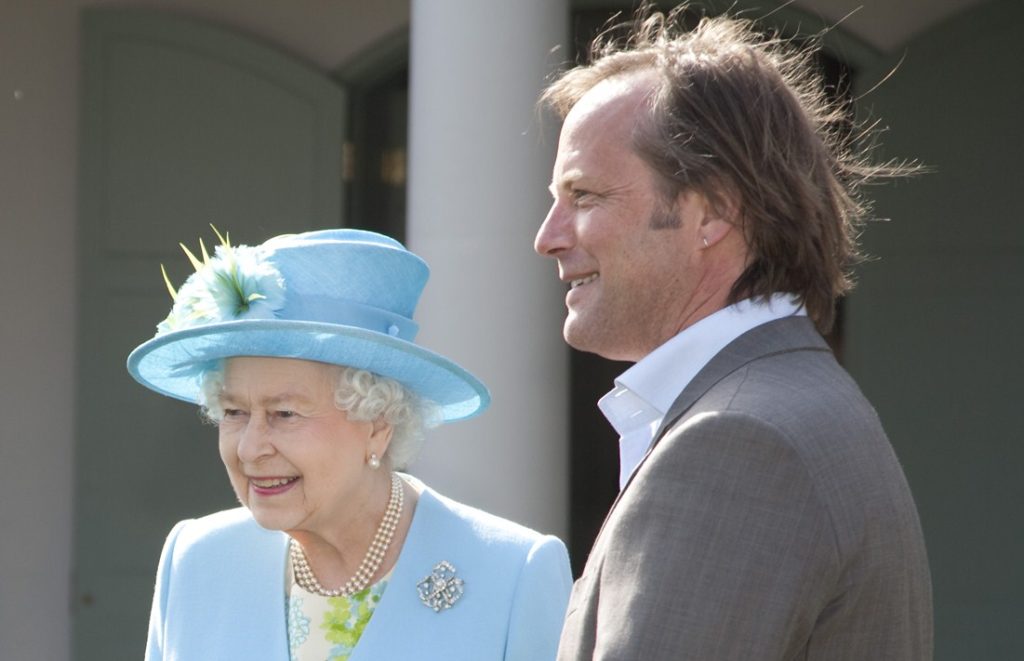 "I spent the first few years of my working life with racehorses – as stable lad, assistant trainer and jockey, working in the UK, Ireland, Australia and the USA," he explains. He worked with some of the best in the business, including Nick Gazelee, Henry Candy and Willie Hastings-Bass in the UK; Colin Hayes and Neville Begg in Australia; Coolmore Stud in Ireland, and John Gosden in America. In between times, he managed to get himself a few race rides, under Jockey Club rules, for the Hampshire stables of the late Toby Balding, one of a select few to have won the 'big three' British jump races – the Grand National, Cheltenham Gold Cup and Champion Hurdle.
Toby, he recalls, offered him a horse called Casabuck to ride provided Tom paid the £4,000 training fees. Not having that kind of cash to hand, he persuaded 40 friends to invest £100 each to cover the fees – a form of crowdfunding long before it became popular online.
"I rode at the Cheltenham Festival, Kempton Park, Chepstow, in races that were televised. It was a real thrill. And, of course, all the shareholders came along to watch and had the chance to go in the owners' enclosure and private bars. We all had a lot of fun."
He moved from his life as assistant trainer and jockey to run Nottingham racecourse for a while before deciding he wanted a career change.
Quite a radical one too, leaving the glamour of the racetrack for a career in the telecommunications industry with international giant Cable and Wireless.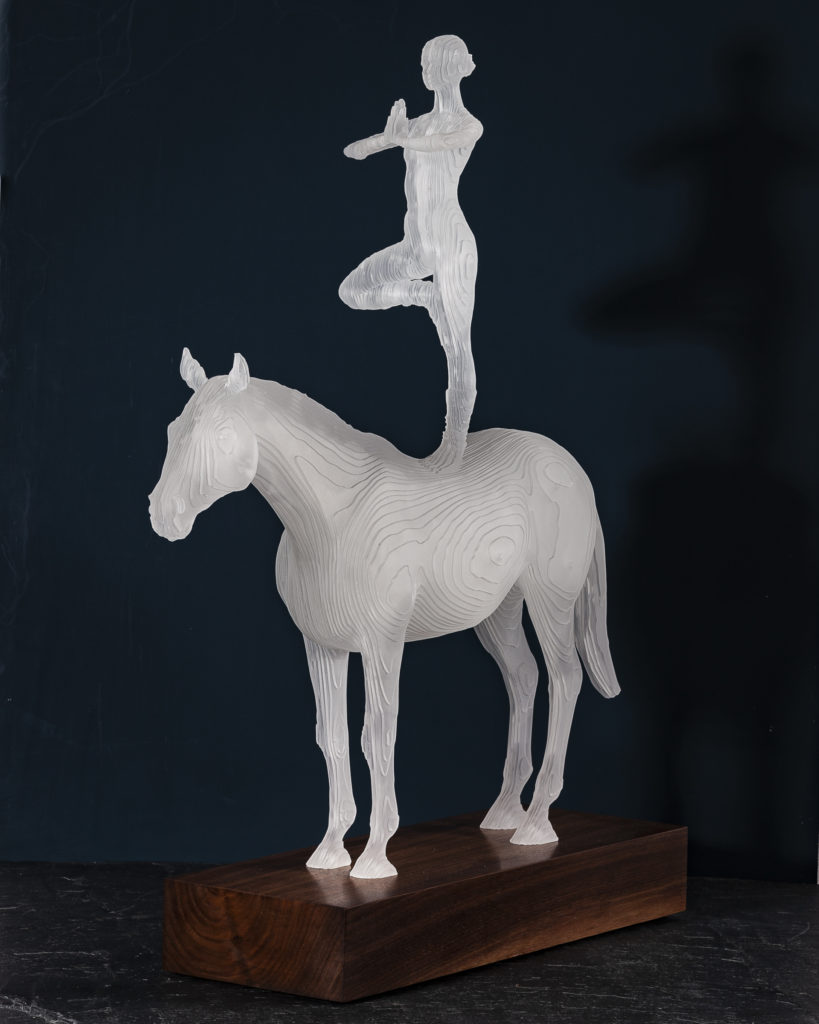 After 16 years, a change of circumstance led to a second change in career direction – this one a return to Tom's love of making art.
"I went to The Slade School in London for a summer school. It was extremely challenging and often uncomfortable, but I couldn't turn back. I realised that art is my language, so I enrolled at The Ruskin School in Cambridge for a three-year BA Hons Fine Art course. This is where I started to work in three dimensions, starting with a 3-metre-tall sculpture based on Whistlejacket, by Stubbs, and made from 300 used coca cola cans on a steel armature. It is where I started my language of layers, and at the end of the course I graduated with a first-class degree – and so out into the world of life as a sculptor."
In the years since, Tom has built an international clientele and his work adorns gardens, courtyards, private homes and public buildings. Indeed, there are few spaces to which a Tom Hiscocks sculpture does not add aesthetically.
First, in sculpture, must come the idea and, for Tom, there are many inspirations drawn from his own life. Two of his most striking works, Girl in Dark Glasses and Yoga Tree Horse, arose from his riding skills.
"When I was younger, I used to do head stands on horses as a way of building mutual trust, so when I saw an image of a friend of mine doing the same thing recently, I took it as a challenge to represent that relationship in three dimensions. I hope the result captures something of that mutual trust, as well as the elegance of both horse and rider.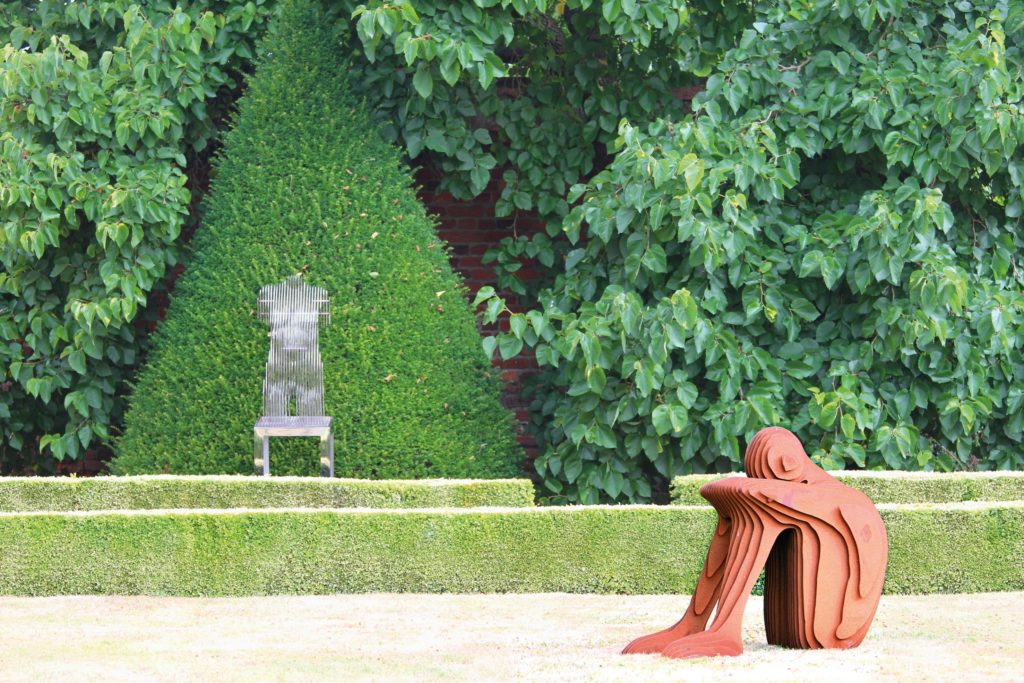 "Inspired by the idea, I decided to create a pair on the same theme of yoga on horseback. Both sculptures are made in clear acrylic."
He continues: "I made Fallow deer to coincide with the 2018 Garsington Opera season at Wormsley Park in Buckinghamshire. The estate is renowned for its herd of deer. I collaborated with a taxidermist to give me an understanding of the exact form of this elegant animal and used my process of scanning and slicing to make a sculpture in copper, stainless steel and Portland stone."
His pieces Mr Pig I, in acrylic, and Mrs Pig II in copper, came from a stroll with friends along the canal in Great Bedwyn in Wiltshire in 2021.
"We passed a field where there were three Tamworth sows, and I was reminded that there is something majestic and wonderful about all pigs but these in particular."
Many Become One is a deeply poignant sculpture of a figure slumped in contemplative sorrow – which Tom first fashioned in Corten steel in 2014 when his father was close to death from cancer.
"I was aware of being very grateful for all that my father was, and all that he had given to me and to many others. I am profoundly touched by this sculpture every day."
A dozen years ago, Tom embarked on an ambitious project to recreate the Queen's Beasts.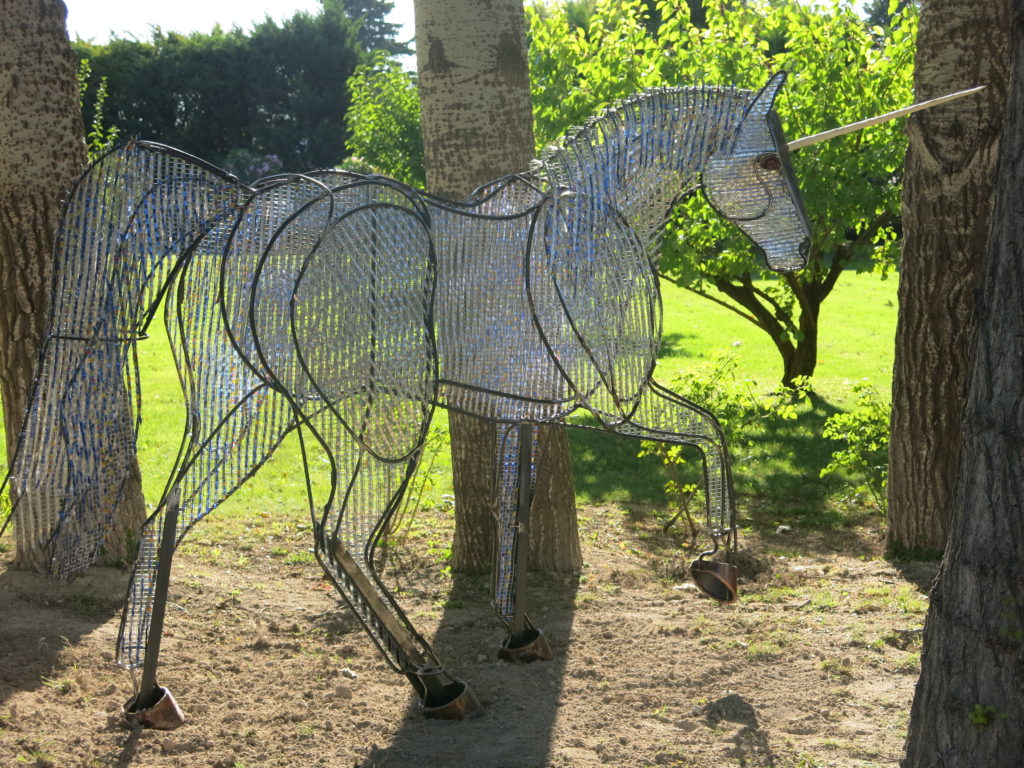 "Heraldic animals have often been used by monarchs as symbols of power and wealth and when the late Queen came to the throne in 1952 the sculptor James Woodford was commissioned to make a set of the Queen's Beasts in plaster which reflected the Queen's lineage and lined the entrance to Westminster Abbey on Coronation Day. They were later made in Portland Stone, and now stand outside the Palm House in Kew Gardens.
"Sixty years on I was inspired to re-create them in a more contemporary style, using recycled materials – drinks cans, hub caps, wire mesh, old copper water boilers and aluminium. The project was about recycling really.
"Then I was asked if they could be included in an exhibition of work by British artists at Valentine's Mansion in Ilford, Essex to coincide with the Queen's Diamond Jubilee tour. Other artists included Damien Hurst, Lucien Freud and David Hockney, so I was in rare company, but unquestionably the highlight was a meeting and brief conversation with HM The Queen."
While his career as a sculptor may be illustrious, Tom has recently been at a crossroads personally, as result of which he chose to return to his childhood county Shropshire in January this year. This has meant uprooting his studio in Wiltshire, which has provided some interesting opportunities.
"I have had a growing desire to create a collaborative studio space, where others making their living in the creative industry choose to co-locate. I am optimistic that based on shared values, we can become a hub for mutual support and encouragement and for creative ideas to flourish. The move to Shropshire has created the opportunity for this idea to develop.
"In the meantime, it has presented opportunities for collaboration. I needed a workshop to make some of my current work, and was introduced to LS Engineering, a very successful firm in Telford. They are a wonderful team with exceptional engineering and welding skills, and luckily for me they have embraced the opportunity to work with me and to provide space for me to create some of my sculptures, including the latest version of my Drinking Horse which we recently installed."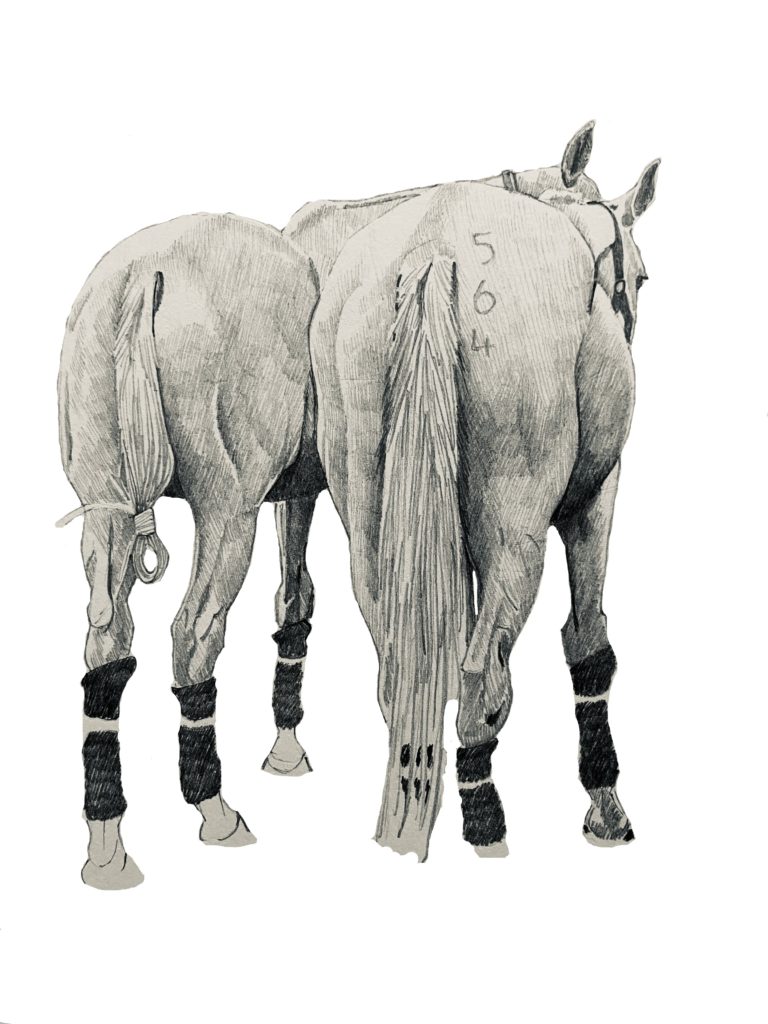 Tom has very much thrown himself into the Shropshire life again – the family have lived in the county since he was three. He now plays league tennis for Cound and has reconnected with a number of old friends as well as making some new ones.
It is as though life has turned full circle – the proud mum and the boy recapturing a childhood love of art. Some of Tom's paintings – deeply rich in colour – adorn the walls of his mother's Much Wenlock home, and he still sketches. In fact, he completes a drawing a day, which you can follow on his Instagram drawing account @tomhiscocksdrawing.
"A friend and I challenged each other on New Year's Eve to do a drawing a day on any subject for the whole of 2023." He smiles and rolls his eyes in self-mockery. "Yeah . . . didn't quite know what I was getting myself into! It is a challenge, but it is great fun and a lovely way to explore new ideas."
Visit tomhiscocks.co.uk for more information about Tom's work