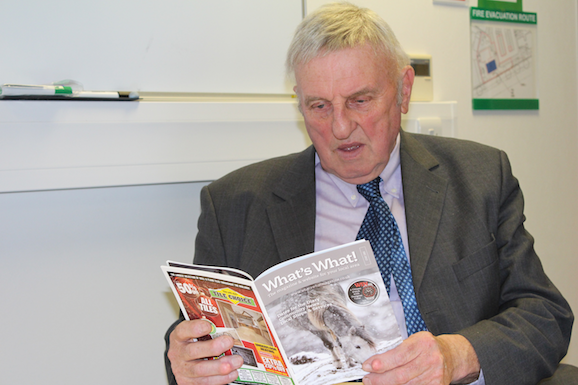 In November elections were held to elect police and crime commissioners with a view to bringing decision making about policing to a more local level. In West Mercia, ex-policeman and businessman Bill Longmore was elected to fill the role.
Sally Themans from What's What! caught up with Bill to find out more about his plans for Bridgnorth, Broseley and Much Wenlock and to hear his strategy for meeting the policing needs of our communities.
ST: Bill, I notice that you stood as 'an independent' candidate, was this important, in your view, to the role?
BL: Yes, I believe that politicians should not interfere with policing and that the people of West Mercia had a choice to vote for a person who is not connected with a political party. The current austerity measures are having a huge impact on policing so the challenge is to ensure resources available are maximised.
ST: You were the winner of the BBC Midlands (Unsung Hero) Sports Award 2011 in recognition of your community work; do you see yourself bringing this passion for helping people into the role?
BL: For me, it's all about the community – I will endeavour to listen to people and champion their needs, I want to ensure that policing partnerships provide real benefits for the community. I am passionate about finding opportunities for young people using sport and other social activities to divert them away from crime and disorder.
ST: People in our readership area of What's What are concerned about lack of police presence at night time, high levels of anti-social behaviour around drinking and speeding cars, and lately there has been the rumoured threat of the closure of local police stations. Can you reassure our readers that their safety is not going to be compromised?
BL: I will shortly be discussing with the Chief Constable the local policing plan which will include policing levels, and I am mindful of the need for increased policing in some towns during late evenings and weekends. No decisions have been made in respect of any police station closures. I do not want to close any police stations unless there is a clear case and there shall shortly be a period of consultation with local people before any decisions are made, this will include the use of prisoners working in the community.
ST: And finally Bill, how can people contact you should they have concerns or feedback about policing in our local area?
Via the website westmercia-pcc.gov.uk or telephone 01743 264690 or write to: OPCC West Mercia, PO Box 487, Shrewsbury, SY2 6WB.
Dial 101 when you want to contact your local police – this number is available 24 hours a day, 7 days a week, and of course use 999 for emergencies.