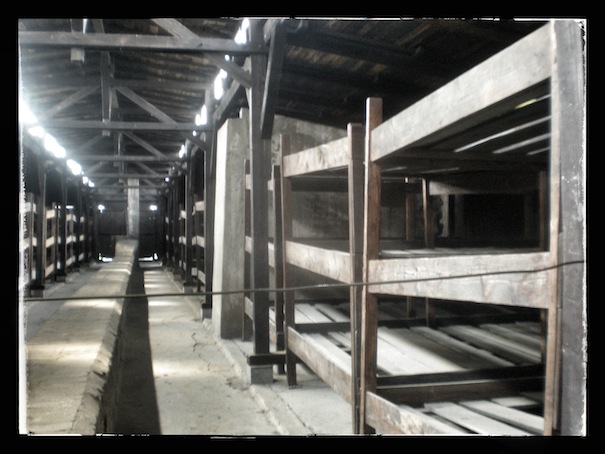 Bridgnorth Sixth Form Partnership students Molly Davis and Annabelle Smith recount their recent visit to the Auschwitz-Birkenau Memorial and Museum. BBC Radio Shropshire was on location at the museum at the time and interviewed them.
Our Experience of the Auschwitz-Birkenau Museum and Memorial
Prior to our experience with the Holocaust Educational Trust we had only envisaged Auschwitz as a distant place seen in books. We were met with cold, dismal, harrowing empty scenes. Pictures in books cannot truly portray the horrors of Auschwitz-Birkenau.
Before our trip, we attended two four-hour seminars, during which we met Kitty, a Holocaust survivor. It was an incredible privilege to hear her story and try to understand the horrors she endured, both before and during her imprisonment at Auschwitz.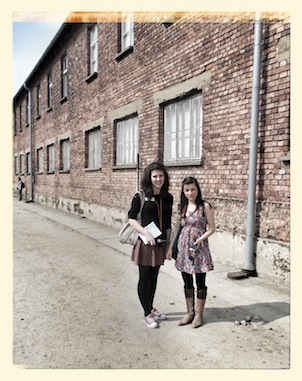 It was 26C and very sunny when we landed at Krakow airport. During our four-hour coach journey we experienced mixed emotions about the day ahead. First we visited a town where once over 50 per cent of residents were Jewish; however not one Jewish person resides there today. We visited the site of a synagogue that was obliterated by the Nazis and the Rabbi we met gave us a clear insight into pre-war Jewish life. This helped put the prisoners' lives into context for us.
At around midday we arrived at Auschwitz 1. The site is museum-based and we saw belongings such as spectacles and shoes, just 10 per cent of the victims' possessions that have been recovered. One of the most horrific exhibits was a mountain of human hair that had been shaved from each prisoner as soon as they arrived as a way of dehumanising them to make them seem just a number. Children's shoes especially stood out. Children under the age of 16 deemed unfit to work were slaughtered on arrival at the camp. We cannot describe the horrors of the rooms we were taken to; words do not do justice to the suffering.
We travelled to Auschwitz 2. This site was as the Nazis left it when the camp was liberated on 27 January 1945. We were taken to the guard's watchtower which offered a panoramic view of the camp and saw a vast expanse of abandoned buildings, knowing only too well the horrors that occurred within their walls. We were not prepared for this overwhelming sight. We were then taken on a guided tour of the camp and continued to learn of the atrocities that were perpetrated against the prisoners.
One poignant aspect was the railway track leading into Auschwitz that once carried trains packed with people. By this time we'd been awake for 17 hours and were exhausted; however we felt selfish saying we were tired when the prisoners who survived the horrendously long and arduous train journeys were immediately put to back-breaking work.
In Auschwitz 2 we saw the rooms in which children were kept. Children were separated from their parents on arrival at the camp and the majority of them were killed in the gas chambers upon arrival. The conditions in which they were murdered were grotesque. Drawings were put on the walls of the gas chambers and the children were encouraged to take personal items such as teddy bears to calm them and make them unaware of their impending death.
We've learned a huge amount from our experience with the Holocaust Educational Trust and cannot fully emphasise or put into words exactly what we felt and saw at Auschwitz-Birkenau. Our next step is to try to educate others what we have learned in the best way we can.
– By Annabelle Smith and Molly Davis, Year 13.