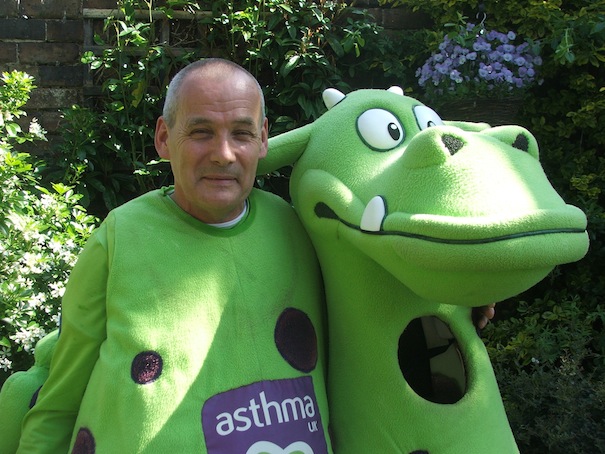 Sally Themans finds out about an unusual apparition that's been spotted pounding the pavements of Bridgnorth in aid of Asthma UK.
If you've noticed a large green and purple dragon running around Bridgnorth recently, then please rest assured you're not seeing things. It's simply Dana Power, practicing for September's Great North Run in his 'Puff' costume. For Dana's raising money – and awareness – for Asthma UK in memory of Cameron Brown, the Bridgnorth toddler who died of a severe asthma attack in 2008.
This will be Dana's fourth outing in the famous half marathon, and just to keep things interesting he's facing a two-fold challenge. As well as running in the cumbersome costume, he'll be starting from the back and racking up a donation of 40 pence from his employer, Bridgnorth Aluminium, for every one of the other 55,000 participants he overtakes.
Dana, 57, only took up running four years ago but he's already run in the New York and Berlin marathons, as well as entering the London Marathon three times. Dana has raised significant amounts of money for charity in that time, though he modestly plays this fact down.
Cameron's mother Gemma Brown is less reticent about singing the praises of Puff's benevolent alter-ego. "Dana has run numerous marathons, raising a huge sum of money for Asthma UK in memory of our son Cameron," says Gemma. "We didn't even know him properly before – he approached us as his son is a fire fighter with my husband Ashley. We've been overwhelmed by his commitment and generosity for a child he never personally knew."
But how did Dana get started? "I hadn't done much exercise before, but the Great North Run looked such a fun event, I decided to enter it in 2010. I started running around the golf course, hoping no one would recognise me," Dana jokes. "I was so out of breath, but determined to do the race, so I persevered."
Now a regular runner with Bridgnorth Running Club, Dana has completely got the bug for both running and fundraising, with plans afoot for further events. "I really must thank Simon MacVicar of Bridgnorth Aluminium who has been so generous by match-funding my fundraising efforts," says Dana, "and the Club, who're putting a team together for the Great North Run – all raising money for Cameron's Fund."
Dana has plans to complete the world's five major marathons – with only Chicago and Boston left to do. Closer to home he'll be running – as Puff! – in the Wenlock 7 Mile as part of the Wenlock Games on 14 July, then a week later he's taking part in the National Lottery Anniversary Run which will finish in London's Olympic Park. [K1]
If you would like to support Dana's fundraising for Asthma UK, you can donate online justgiving/dana-power57. There will be a charity carwash at Bridgnorth Fire Station on Saturday 20 July, in aid of Asthma UK, Cameron's Fund.
– Sally Themans