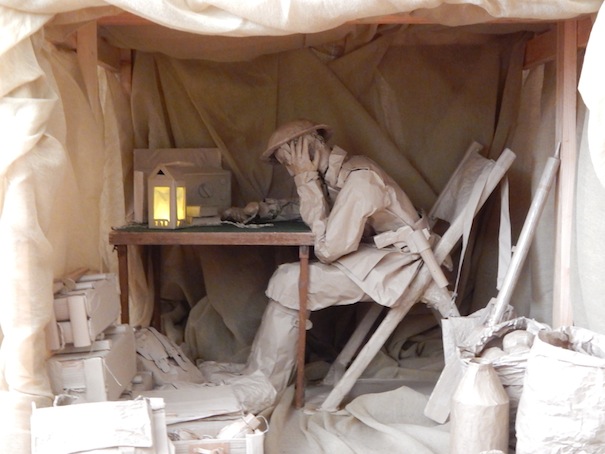 On 4 August 1914 Britain declared war on Germany. It was the culmination of stand-offs and old alliances, and became known as the Great War. Its effects over the next four years were felt all over the world and continue to this day. Here's a round-up of some of the local events to mark its centenary…
Commemoration picnic and service
Bridgnorth will be commemorating the start of WW1 with an Edwardian picnic in the Castle Grounds on the afternoon of Sunday 3 August. Bring a picnic and listen to music and singing from the bandstand. At dusk a short service will be held at the War Memorial. There will be an exhibition of 'Bridgnorth through the War' throughout the day in Castle Hall.
A walk through War
Over the August Bank Holiday, Dudmaston Hall will stage a 'A Walk through the War'. Starting off in the orchard with a recruiting rally and cheerfully waving the boys off, the event will give a real idea of how the mood changed over the years, and visitors will hear stories from behind the lines and their ramifications for those still here on the estate. Dudmaston is also hosting an art installation created by art students from Birmingham City University, which depicts life in the trenches through life-sized models created from paper and cardboard. The exhibition runs until October.
Poppy trail in Shifnal
Shifnal History Group has installed a new interpretive board linked to artefacts from WW1, which are on display at the Old Fire Station. The group are also launching a Poppy Trail through the churchyard identifying where Shifnal servicemen who perished in WW1 are buried or commemorated.
The Great War Commemorative Exhibition
RAF Cosford is hosting the Great War Commemorative Exhibition until Friday 18 July. The collection of work is by the Cheshire Artist Network, an organisation of over 50 professional visual artists who are travelling the country throughout 2014. It comprises work that aims to slow the clouding of memories of WW1 and pay respect to those who paid the price for our freedom. Entry to the Museum and to view the exhibition is free.
The Last Post
The Coalbrookdale Gallery near Ironbridge is hosting a poignant exhibition exploring the effect of the events of WW1 on the Post Office, its people and the contribution of postal communications to the war effort. Curated by the British Postal Museum and Archive in partnership with the Ironbridge Gorge Museum Trust, the exhibition showcases objects of military and postal importance. Free admission.
Lottery money for WW1 in the air exhibition
The Royal Air Force Museum at Cosford has received a confirmed grant of £898,558 from the Heritage Lottery Fund for the creation of a major new exhibition: The First World War in the Air. It will allow audiences to discover and explore the unique and often overlooked role of air power during the First World War through the incredible stories of the men and women who took part.