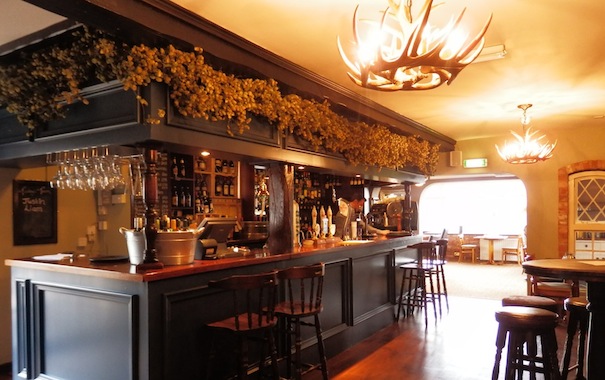 Perched above the Severn with a commanding view over the flood plains towards Bridgnorth is The Swan. Here, chef Justin Welch and front of house manager Liam McCombe have created a welcoming eatery with food to rival any top-notch restaurant.
Inside, a cosy snug offers leather armchairs and a dual-fronted wood burner. There's also a terrace and a dining toom, complete with quirky touches such as antique lamps and hat-stands, mismatched chairs and a wall of framed mirrors.
There's an extensive range of well-priced wines from Tanners, and an eclectic array of draught beers; Brakespear's Oxford Gold, Hobson's Town Crier and Ringwood's Boondoggle, plus craft ales and ciders, too.
For our family meal, starters included a wonderfully creamy mushroom soup served in an unusual conical bowl; a generous portion of thickly sliced, caper-sprinkled salmon – the opaque pink type which screams 'artisan smokery'; baked goat's cheese, its richness cut through by a tangy onion marmalade and, most delicious of all – venison carpaccio with hazelnut mayonnaise, pickled beetroot and wild mushrooms – a heavenly combination of flavours and textures.
When it came to mains, our teens headed predictably for the chargrill section: 10 oz rump steak and a mixed grill. They demonstrated their approval by demolishing the 21-day hung beef, cooked to perfection with a smoky taste and accompanied by dripping-cooked chips. We sampled dishes recommended by Justin: sea bass fillets served with sunblushed tomatoes, samphire and horseradish veloute; another clever, subtle dish with layers of favour which just kept surprising the palate. My husband Johnny chose pappardelle tossed in creamed pesto with garlic, wild mushrooms and spinach, which he labelled "a real knockout".
He forwent pudding for a double espresso while the rest of us shared a selection from the "very naughty!" bit of the menu; rich chocolate and pistachio brownie with honeycomb ice cream, homemade lemon thyme treacle tart with clotted cream, and white chocolate and vanilla rice pudding. This came in a neat mini casserole dish and was amongst many quirky touches throughout – chips served in enamel mugs, milk for coffee in miniature fifties-style milk bottles, for example.
The seasonal menu is marked when dishes are gluten free/vegetarian and fish dishes are prepared according to what's been caught. To best enjoy the Swan, take advantage of the three-course lunch for £11, or try Monday's grill night: two steaks plus wine for £26.50. And, if you find you've over-indulged and can't move another step, the Swan offers rooms, including enticing four-poster and roll-top bath options – the perfect way to end your evening.
Sally Themans
01746 763 424 info@swaninnbridgnorth.com
Swan Inn, Highley Road, Knowle Sands, Bridgnorth, Shropshire, WV16 5JL