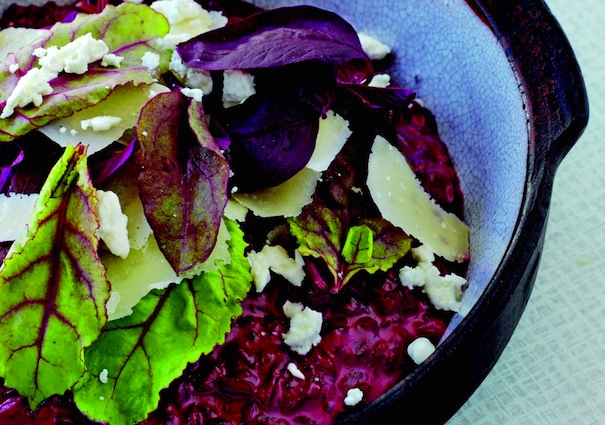 Not many people would turn down a meal from one of the country's top chefs – especially one with a fiery reputation. But it seems Tom Aikens' two-year-old daughter Violette has some strong opinions when it comes to food.
"I gave her some roast chicken with root vegetables recently, and even before she tried it she looked at me and went, 'I. Don't. Like. That!'" the chef reveals.
Luckily, Aikens – who is also dad to four-month-old Josephine – has a trick up his sleeve to ensure his toddler daughter clears her plate.
"If she doesn't like something, we'll generally grate a load of cheese over it and she'll wolf it down. It's a bit sneaky of me, but it works," adds the Norfolk-raised 44-year-old.
If you fancy trying a couple of Tom's more creative recipes, here are two from his 2011 book, Easy.
BEETROOT RISOTTO WITH GOAT'S CHEESE (Serves 4)
500ml freshly made beetroot juice
500ml chicken stock
150ml olive oil
200g shallots, finely diced
3 garlic cloves, finely chopped
2 bay leaves
200g bought cooked beetroot, cut into 3mm dice
2tsp coarse sea salt
250g risotto rice
200ml red wine
100g Parmesan, grated
50g creme fraiche
Juice of 1 lemon
50g goat's cheese, such as Bouton D'Oc, crumbled
Pour beetroot juice into a pan and bring to a simmer. Skim and then pass it through a fine sieve. Pour back into pan with stock and warm over a low heat.
Place olive oil in a shallow pan over a low to medium heat. Add shallots, garlic and bay leaves and cook for about two minutes. Do not allow to colour. Add diced beetroot, salt, pepper and rice and cook for a further two minutes.
Add wine and cook for a minute or so until it has been absorbed. Slowly add the beetroot juice and stock to the rice, a little at a time, stirring every minute or so. Continue for about 14-16 minutes, until all the wine and stock has been used and the rice is almost cooked.
Add Parmesan, creme fraiche and lemon juice and check the seasoning. Sprinkle over the goat's cheese and serve.
PASSION FRUIT PAVLOVA (Serves 4)
8 egg whites
A pinch of salt
500g caster sugar
4tsp cornflour
Seeds from a split vanilla pod
2tsp white wine vinegar
For the curd filling:
400g passion fruit pulp
150g eggs (2-3)
120g egg yolks (4-5)
120g sugar
150g unsalted butter
Line two baking tins with greaseproof paper. Whisk egg whites and salt together until stiff, then add sugar, little by little. Finally, add cornflour, vanilla and vinegar.
Spoon on to baking tins, making two circles about 20cm in diameter and 2.5cm thick. Cook at 150C/Gas 2 for 45 minutes, then turn oven off and leave them to cool inside it.
To make curd filling, whisk together pulp, eggs, yolks and sugar. Pour mixture into a pan and bring to a simmer. Whisk in butter and cook at a low simmer for three to four minutes. Pour into a clean bowl, cover with cling film and leave to cool.
When meringues are ready and cool, place one on a plate and spread with curd. Top with remaining meringue and serve with some vanilla custard (if desired).
Easy by Tom Aikens is published hardback by Ebury Press, priced £25 (Text copyright © Tom Aikens 2011)