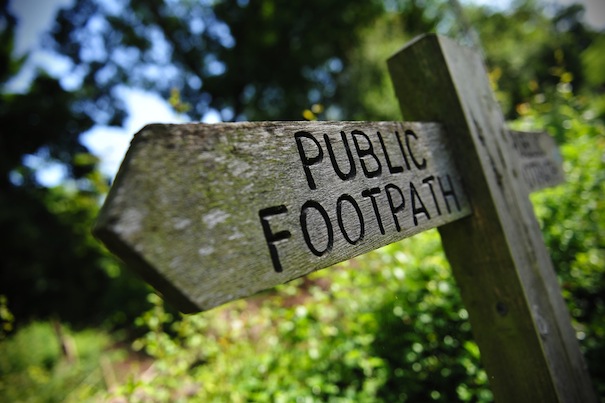 Here's our round-up of some of the more energetic things to try out.
Walking the steps of Bridgnorth
Bridgnorth Rotary is holding its second sponsored Steps Walk on Sunday 5 October. This unique challenge takes in the 10 historic sets of steps which link High Town to Low Town and the river – with over 800 steps to climb. The walk starts at 2pm at the Town Hall and this year funds raised will be split 70/30 between Cameron's Fund (Asthma UK) and the Rotary's charity account. To find out more, email elwyn25jones@btinternet.com or call 01746 766245.
Much Wenlock walking weekend
This year's walking weekend will take place from 5 to 8 September and will offer 10 varied walks, from a two-mile gentle evening stroll taking in the town's trees with local arborist, John Tuer, to more energetic walks including a 10-mile hike along Wenlock Edge. There are also walks with historical, geological and foraging themes. There is a fee for all walks of £3; under 16s are free. Well-behaved dogs on leads are welcome. For more information, email wenlock.walks@gmail.com or visit the Facebook page /Wenlock.walks or call 01952 727542.
Bridgnorth Severn run
In the first ever event organised by Bridgnorth Running Club, local and visiting runners will be lining up on Sunday 26 October to take part in the Bridgnorth Severn 10k, an undulating road route which will start and finish at Bridgnorth Town Hall. Registration opens at 9am and the run will start at 11am, entry in advance is £12 or it's £14 on the day. Visit bridgnorthrunningclub.co.uk for an entry form.
The club was started in 2011 by friends Luke Mills and Colin Noble and Catriona and Dean Richards, and now has 65 regular running members, and organisers are hoping the Bridgnorth Severn 10k will become an annual fixture. New members and visitors are always welcome; the club recently ran a successful and popular Couch to 5k programme. Runners meet on Monday, Tuesday and Thursday evenings at 7pm in Bridgnorth high street under the Town Hall.
Hare and tortoise fun runs
New runners and old hands are equally welcome at Dudmaston Estate, near Bridgnorth on Sunday 14 September for the annual fun run. Dedicated runners will follow the challenging 10k route leading through woodlands and around the pools with no time to rest. For beginners, there's a gentler 5k route. The run kicks off from Heath Farm at 10.15am and entry is £15 in advance, £20 on the day. Call 01746 780866 or email ruth.watson@nationaltrust.org.uk to book.
Prepare for the Brown Clee burn
If road running is not your thing, then the Brown Clee Burn may be. According to organisers, it's a multi-terrain run of around 10k with something for everyone: steep technical climbs, long descents, amazing views and 'plenty of bonhomie'. Starting at Stoke St Milborough, the run, which is in its second year, will take place on Sunday 28 September. For details, visit browncleeburn.co.uk or call 01584 856926.
Telford Trail set to challenge
The annual Telford Trail Challenge takes place along the South Telford Way on Sunday 14 September. Organised by the South Telford rights of way partnership and starting from the Town Park, it's a 12-mile fully way-marked, circular walk through fascinating countryside. £1 entry per person, registration at 9.30am – finish by 6pm. Visit madeleytowncouncil.gov.uk or call 01952 567280
Crossing the seven bridges
The Shrewsbury Seven Bridges Road Race is an annual sporting event that takes runners on a unique 10k course across the seven bridges in the town. This year's event will take place on Sunday 21 September at the Quarry Park, Shrewsbury. Runners will start at 10am. Entry is £9.50 in advance, £12 on the day. There is also a £3.50 fun run around the Quarry. Call 01743 255071 or email leisure@shropshire.gov.uk
Multi-route cycling festival in Ludlow
Starting out at Ludlow Rugby club on Sunday 21 September, there will be a Macmillan fundraising cycle event for all abilities, featuring the South Shropshire Tors 100K sportive, a 30k guided Orchard ride, and a gentler 11k guided fun ride. The organiser, local cancer survivor Ashley Green, said, "There will be competitions, fire engines, trampolines, live music, a bar and refreshments throughout the day." Visit ludlowcc.org.uk/Ludlow-cycling-festival to find out more.