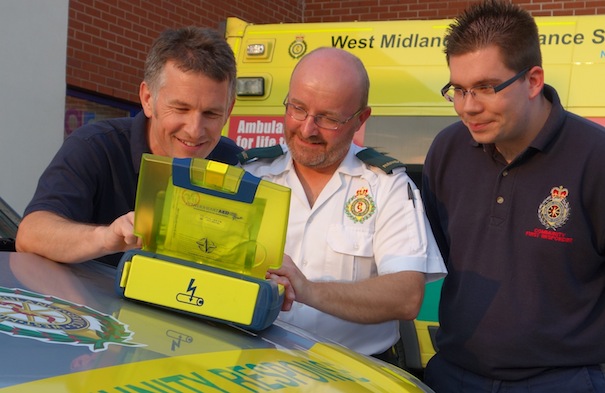 As many people's initial medical contact in time of crisis, Community First Responders can be everyday lifesavers. Editor Sally Themans meets some of the local team who are always on hand to make that crucial difference.
Recently, local ambulance provision has been a topic of discussion. In this edition we spotlight some of the local folk who volunteer as Community First Responders (CFRs) as part of a scheme to get vital, trained help to patients as fast as possible. And what better time than in this season of goodwill to celebrate their work and highlight their latest appeal, which is for a vehicle to help these dedicated volunteers reach further afield.
Ian Thompson: The original CFR
A press story about an appeal for staff for a new scheme prompted Ian Thompson to get involved as a founder member of the Bridgnorth CFR team. "I had time on my hands and was keen on a voluntary role," explained Ian. "I was on the first ever course in Shropshire back in 2001, and I attended the very first emergency call – a 48 year old man with chest pain – which is etched on my memory."
Ian found the role enormously rewarding, and after a couple of years, encouraged by a colleague, he decided to change direction completely, joining the ambulance service full time as an emergency medical technician. Ian went on to complete a foundation degree at the University of Worcester and in 2009 he qualified as a paramedic – now his full-time job.
"I'd been working in an office-based job and was a bit frustrated and bored. Eleven years on and I haven't looked back! There's a huge sense of reward and achievement when you're able to help somebody in distress, from providing simple comfort or reassurance, right through to the worst case scenario of cardiac arrest, when your job is to try and resuscitate someone."
Although now a professional paramedic, Ian remains committed to the CFR service, volunteering time when off-duty to respond to medical emergencies and coordinating the 25 community CFRs in the Bridgnorth District, which covers Bridgnorth, Highley, Alveley, Claverley, Broseley, Much Wenlock and Norton.
Robin Bennett : New kids on the block
Newer to the team are Robin Bennett and Colin Marlow who cover Much Wenlock and celebrate their first anniversary as CFRs this November. "Our reasons for joining were different," said Robin. "I'd seen a CFR in action at a rugby match my son was playing in and realised how valuable their work could be. Colin was looking to develop a new skill. with thoughts about possibly working as a full-time paramedic in the future.
"As long as we're at home or local to Much Wenlock, we can be on call. This week's been a typical mix of heart problems, breathing difficulties, accidents and falls – no two shifts are the same! It's a rewarding, challenging, hands-on role where you can make a real difference to the community."
Thankfully the majority of emergencies are not immediately life threatening; the role mostly involves assessment and support. However, there are those time-critical, life-threatening situations where the actions of a CFR can make a big difference to the outcome for a patient; cardiac arrest, strokes, heart attacks, airway and breathing problems and severe bleeding. The ability of someone to be alongside a patient within minutes of a 999 call and begin treatment while an ambulance is en route can be vital, especially in rural areas such as Shropshire, where the widespread population puts a strain on emergency resources.
A drive for vital resources
Although well supported by the ambulance service, CFRs desperately need dedicated emergency vehicles. "Volunteers then don't have to rely on their own transport to get to patients quickly," explained Ian. "Radios can be installed, which helps in areas of poor mobile coverage and, if the car is a 4×4, it helps during the winter months where access to farms and rural communities can be a real problem.
"In some areas schemes have been helped by local garages who provide a 'sponsored' vehicle or local businesses can offer funding – which is great publicity for them!" said Ian.
"A 4×4 ambulance car in Wenlock would enable us to carry more equipment," added Robin. "We're a small community to fund it, especially when the public have already been so generous funding our public access defibrillator. We're hoping a local garage or business might be interested in helping in return for some good publicity."
The local schemes looking to raise funds are Bridgnorth (Ian: 07866 682085), Much Wenlock (Robin: 07971 696157), Broseley (Mark: 07506 134194) and Alveley (Martin: 07753 554333).
If you would like to become a Shropshire Community First Responder, visit wmas.nhs.uk or contact the Community Response Department on 01384 215 855. Successful applicants will be invited to attend the next training course which begins on January 10 2015.