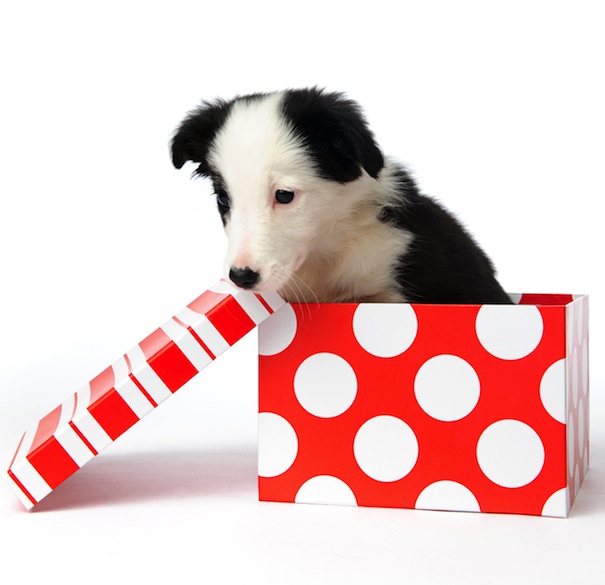 Vet Sarah Probert explains how having a new pup for Christmas will give her family plenty to think about.
As I write this, having just got the kids back to school for the autumn term, Christmas seems a long way off. But as we all know, those final few weeks gallop rapidly up, and I know many people will be considering buying a pet this year. We sadly said goodbye to our old collie, Moss last month, and since then, all my kids have wanted is a new pup.
A new pet is a lovely addition to the household, and as my family grow up, they're starting to take an interest in training, walking and all things puppy. That said, our most recent addition, 18-month-old Fly, has helped me realise having a new four-legged member of the family isn't easy.
I'm fine with the walking – our dogs get at least 45 minutes twice a day and I'm lucky they can come to work with me, so they're not left alone for long periods. Training, however, is hard work and dogs require a LOT of attention! I need our dogs to be well behaved to ensure no one is hurt by them, and they don't hurt themselves: having a dog is a huge responsibility to the community as well as the family. But trying to divide your attention between each family member can be very difficult.
The cost of feeding, insurance, medications and training also has to be factored in. Buying a pet is just the beginning; a quick internet search tells me the average annual cost of dog and cat ownership is £1200, while even a rabbit can cost as much as £1000!
Dog ownership – in fact, owning any pet – is not something to be undertaken lightly. I love my pets – I guess I wouldn't be doing this job if I didn't – but I'm well aware of the added stress it can put on the whole family.
So if you're planning on a pet for Christmas, just make sure you enter into this long-term commitment with your eyes wide open – it can be so rewarding and fulfilling, but there are lots of things to consider.
And finally, whether you're a first-time owner or an old hand, be aware of seasonal hazards: tinsel and tree decorations can cause severe damage to the intestines; chocolate, raisins, grapes and anything containing these such as mince pies, puddings and truffles can be toxic to animals; and small toys are excellent to swallow – I think the 'most obscure foreign body' ever removed at the practice was a highly prized Transformer toy!
Happy Christmas to all.
Sarah Probert, BVSc MRCVS
Bridgnorth Veterinary Centre