Ironbridge enjoys its fair share of dining options, but the White Hart is delivering something a little different. The pub, with its pretty courtyard overlooking the Severn, already has dining and book and wine clubs, and plans are afoot for more events to entice foodies.
We visited on a Friday and were shown upstairs. Neither myself nor my companion had ever ventured up to the second floor, so we were taken aback to find ourselves in a charming space featuring huge contemporary chandelier lights, shelves crammed with bric-a-brac, and tables embellished with vases of delicate flowers.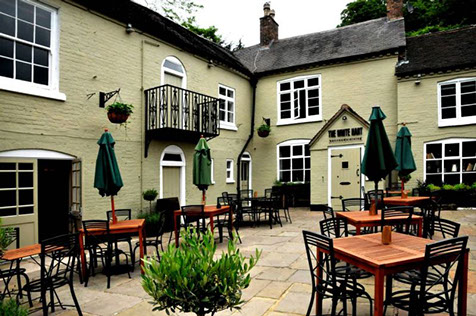 We selected a bottle of pinot grigio, noting the breadth of the wine list – 17 of the wines are available in carafes, expressly designed to go with the tapas dishes available at lunchtimes. Beer aficionados can choose from Shropshire Lad, Doom Bar, San Miguel or Peroni amongst others and a menu of cocktails was introduced in time for the festive season.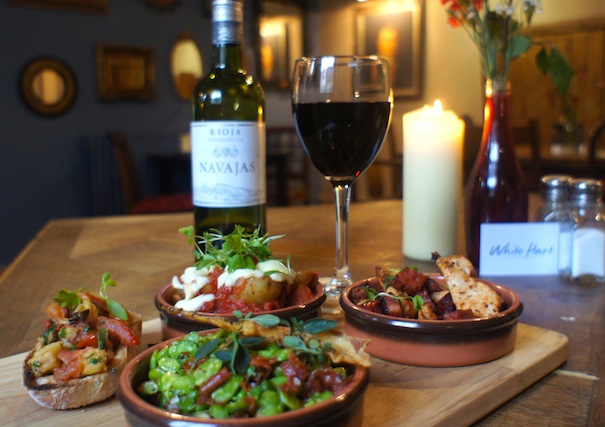 To start, I selected the goats' cheese with apple and celery ceviche (£6), while my companion chose salmon gravlax with a beetroot and caper salsa (£6.50). When the dishes arrived, they looked fairly unassuming but, upon wielding our forks, we were overcome by a symphony of flavours. Emma commented on the tart horseradish, which gave a Japanese-style accent to the rich salmon. Chef Katie Bradley has worked at a slew of highly-rated restaurants and her enthusiasm translates into food that thrills the palate. Our mains – parmesan gnocchi with butternut squash puree (£13) and slow-cooked belly of pork (£15) – were equally delectable; "I know it's a cliché," murmured Emma of the parmentier potatoes accompanying her pork, "but they really melt in the mouth…"
To finish, I couldn't resist the mango chiboust and coconut slice (£6) – I had to find out what a 'chiboust' was, after all – while Emma opted for orange and almond cake with crème fraîche sorbet (£6). The mystery dessert was a creamy, flavour-packed slice of tropical heaven, revisited from a Parisian chef's recipe. As we indulged in a lovely conclusion to a special meal, I felt envious of those staying at one of the well-appointed letting rooms – this cuisine is perfectly suited to a 'restaurant with rooms' set-up and, once word gets out that a local restaurant is producing food of this calibre, it is a venture that is quite simply bound to succeed.
10 Wharfage, Ironbridge, Telford TF8 7AW 01952 432901
Open for coffee, snacks and lunches from 10am to 6pm; dinner from 6pm to 9pm.
Beer garden; five en-suite rooms; children's menu; well-behaved dogs allowed in bar.