River Cottage chef Hugh Fearnley-Whittingstall reveals how an unexpected diagnosis changed his outlook on food.
A lover of home-grown veg, who has always eaten salads and fruit, 49-year-old Hugh Fearnley-Whittingstall admits he was surprised when a GP's test showed he had high cholesterol.
"I thought I was basically very healthy, "explains Hugh, who lives in Devon with his wife Marie and four children. "I felt pretty good most of the time, then I stopped and thought, 'Well actually, you do slap the butter a bit too much on your morning toast, and if the cheese is out at the end of a meal and you've got a glass of wine on the go, you do go back there for a bit more…'"
The writer has been conscientiously shifting towards recipes that don't rely on wheat and dairy, writing up his findings in his new book, River Cottage Light & Easy. These days, he does eat dairy and wheat, but doesn't rely on them. Though he does make some exceptions… "When my wife's made a fantastic sourdough loaf, or I go round to some friends and they've baked a lovely cake, that's when I go, 'Of course I'm going to have some of that!'" says Hugh.
Fancy giving lighter eating a try? Here are two new Fearnley-Whittingstall recipes to try at home.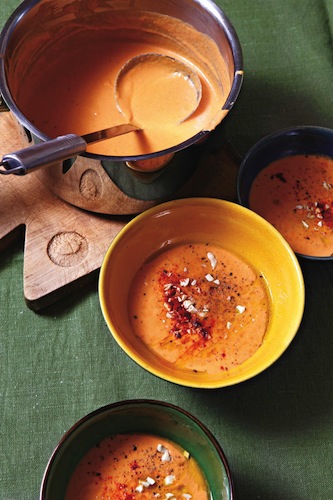 CREAMY ROASTED TOMATO SOUP – (Serves 4)
1.2kg tomatoes (the riper the better)
4-5 garlic cloves, chopped
3tbsp rapeseed or sunflower oil
75g cashew nuts, plus a few extra, to finish (optional)
200ml light vegetable stock or water
A pinch of sugar (optional)
To finish:
Extra virgin hempseed or rapeseed oil
A dusting of paprika (optional)
Method
Preheat oven to 180C/Gas 4.
Cut tomatoes in half. Place in a large roasting tray (they should fit fairly snugly). Scatter over garlic, trickle over oil and season generously with salt and pepper. Roast for 25 minutes. Scatter cashews over. Return to oven for 20 minutes until tomatoes are soft and pulpy and perhaps a little charred.
Scrape tomatoes, cashews and garlicky pan juices into a blender. Add stock or water. Blitz to a puree. Pass through a sieve, which will remove any pips or bits of skin.
To serve, reheat gently. Add a little water if the soup seems thick or the flavour is too intense. Season if needed, and add a pinch of sugar if you wish.
Finish with a swirl of extra virgin olive oil, plus a few cashews, a dusting of paprika and a generous sprinkling of pepper.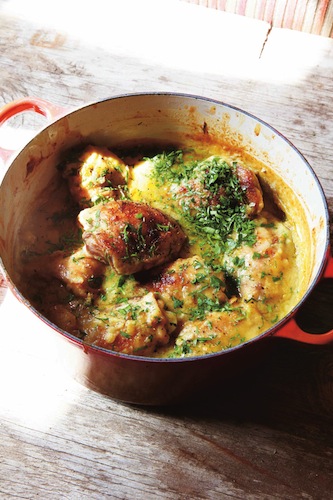 CHICKEN WITH LENTILS AND ROSEMARY – (Serves 4)
2tbsp rapeseed or olive oil
1 large onion, sliced
4 garlic cloves, chopped
Leaves from 2 sprigs of rosemary
200g red lentils, well rinsed
500ml chicken or veg stock
8 skin-on, bone-in, free-range chicken thighs, or 1 medium chicken (about 1.75kg), jointed into 6-8 pieces
Flat-leaf parsley, chopped, to finish
Method
Preheat oven to 180C/Gas 4. Choose a flameproof casserole dish or a wide, ovenproof pan that will hold chicken snugly but comfortably.
Put casserole on a medium-low heat. Add oil, then the onion. Cook, stirring, for six minutes until it begins to soften. Add the garlic, rosemary and salt and pepper. Cook gently for a further five minutes. Stir in the lentils and stock.
Season chicken. Place skin side up in the casserole. You want most of the skin exposed above the liquid so it can brown in the oven. Bring to a simmer on the hob. Transfer to oven. Bake, uncovered, for one hour. Check chicken is cooked right through and the lentils are soft. If not, return to the oven for 10-15 minutes and test again. Skim off any excess fat from the surface.
Add more salt or pepper if needed. Scatter with chopped parsley and serve as it is or with steamed broccoli or spring greens.
River Cottage Light & Easy by Hugh Fearnley-Whittingstall is published in hardback by Bloomsbury, priced £25. For River Cottage food videos, visit www.rivercottage.net/food-tube