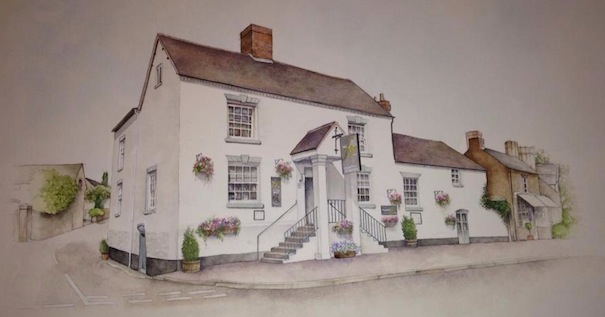 Enter Much Wenlock from the Shrewsbury Road and you're certain to notice the stately Fox, a one-time coaching inn that's been a local landmark for over four centuries. Timeworn steps lead into a convivial bar where we were warmly greeted by owner Mick, looking every inch the established host. But Mick, partner Sarah and daughters Paige, Emma and Mia are relative newcomers to the Fox – and they're ploughing their heart and soul into their new venture.
The buzz is fostered by the friendly attitude of family and staff and enhanced by free wifi, newspapers and games, all of which encourage patrons to relax over a glass of wine or a meal lovingly prepared by chef Sarah. Lunchtimes are a particular attraction here – as well as baguettes and salads, Sarah's introduced French-style galettes: buckwheat pancakes packed with fillings such as Stilton and walnut; Parma ham, spinach and Roquefort; or locally sourced ham and cheese. Priced from £5.50 to £6.50 or two for £10, they're low in gluten, and Sarah makes a point of explaining that special dietary needs present no problem to the kitchen at the Fox.
Studying the menu is a treat in itself. Sarah delights in experimenting, with the changing seasons acting as a guide, and her menu sometimes alters by the day. I opted to start with camembert and fig tart while my companion elected the king prawn; with tomato pasta and pork cooked three ways to follow respectively. The tart was rich in flavour and a tangy walnut sauce acted as a sharp foil to the unctuous cheese. The prawns were swimming in a garlicky broth with a little chill kick. Our mains were equally delicious: I enjoyed perfectly al dente pasta with a zingy tomato and garlic sauce, while my companion purred over her tender belly, cheek and fillet of pork, served with cinnamon cabbage that hinted of winter and a range of seasonal vegetables – which represented excellent value as they came with the dish, priced at £15, rather than as an extra. I was even offered potatoes, which I declined with an eye to dessert. Thank goodness: the Eton Mess with spiced pears, blackberries and raspberries and caramelised fig was simply divine.
With a range of wines specially selected by Tanners and priced to appeal to work-night diners as well as those celebrating a special occasion, the Fox is on its way to being the go-to venue for lunchtimes and dinners in Wenlock – and beyond.
The Fox Inn, 46 High Street, Much Wenlock, Shropshire TF13 6AD.
Phone: 01952 727292.
Email: sarah@thefoxinnmuchwenlock.co.uk www.thefoxinnmuchwenlock.co.uk
Serving hours:
Closed Mon; Tues to Fri 12pm-3pm / 6pm-9pm; Sat 12pm-3pm / 6pm-9pm; Sun 12pm-6pm.