Brimming with love, these recipes warm the soul and bring a little romance to the table.
Great British Menu chef Jason Hodnett favours these hearty dishes as they can be dressed up to impress or enjoyed simply, making them ideal for cosy winter nights.
"These dishes are best whipped up in advance, so they almost take care of themselves when it comes to meal times," explains the head chef from the Raven Hotel, Much Wenlock.
The main event is a satisfying savoury crumble, inspired by one of his favourite artisan cheeses, Mr Moyden's Newport 1665, which is created here in Shropshire.
For dessert, and with St Valentine's Day very much in mind, this rich chocolate marquise is certain to delight.
Chicken, leek and Mr Moyden's cheese crumble (Serves 4)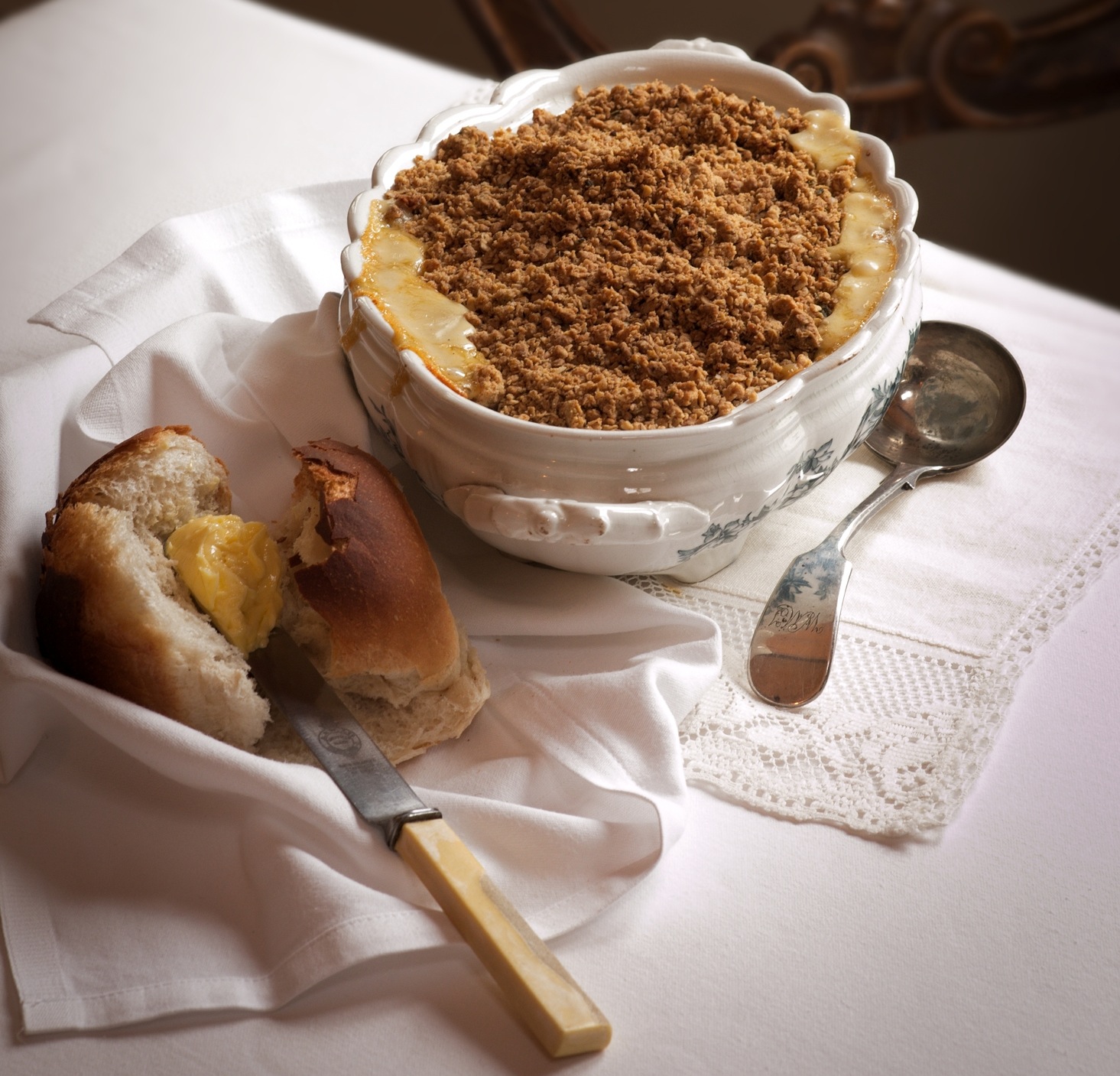 Ingredients
3 free-range chicken breasts, skin and bones removed
300g leeks, washed and drained
125g butter
250g plain flour
600ml milk
300g smoked cheddar, grated
25ml olive oil
20g thyme leaves
100ml white wine
200ml light chicken stock (freshly prepared or shop bought)
2 egg yolks
For the crumble topping
200g flour
250g butter
300g oats
25g finely chopped rosemary
Method
Preheat oven to 190C.
For the filling, slice chicken into thin strips. Slice leeks into half-inch pieces.
In a heavy-bottomed pan, melt the butter. Add the flour to make a roux. In a separate pan, gently warm the milk, then slowly add to the roux to make a bechamel sauce. Add the cheese to the sauce along with the yolks to give a smoked cheddar mornay sauce.
Heat the oil in a frying pan and sear the chicken until brown. Add the leeks and sauté for 2-3 minutes. Add the thyme and wine. Simmer gently until reduced by three quarters. Add the stock and again reduce by three quarters. Do not season at this point as the stock may be salty. Fold mixture through the mornay sauce and mix well, season if necessary, and place in an earthenware dish (or divide into four individual dishes, if preferred).
For the crumble, rub together the flour and butter in a large bowl until you have a course crumble texture. Add the oats and rosemary and season to taste. Sprinkle lightly onto the filling in the earthenware dish.
Bake in preheated oven for 20 minutes.
Dark chocolate marquise (Serves 10)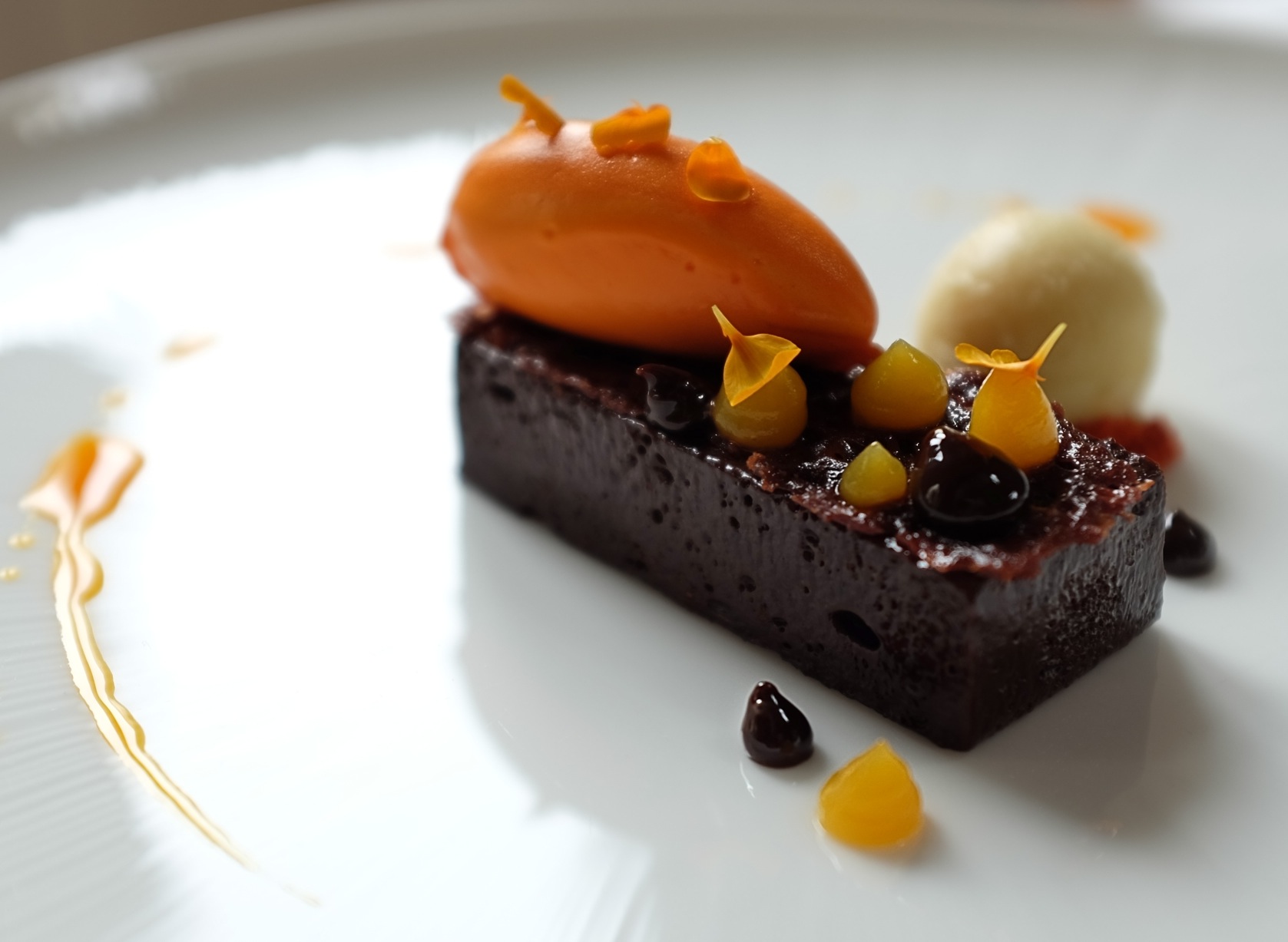 Ingredients
125g dark chocolate (around 68% coca solids)
50ml crème de cocoa
300g unsalted butter
3 eggs
5 egg yolks
300g caster sugar
150g cocoa powder
1 seeded vanilla pod
Method
Place the chocolate, crème de cacao and butter in a heatproof bowl over a pan of steaming but not boiling water. Melt, stirring gently.
Scrape the vanilla pod into a separate bowl. Add the eggs, yolks and sugar and mix until light and fluffy (if ready, it will have tripled in size and can be held over your head in a similar way to meringue).
While still beating on a low setting, slowly mix in the chocolate mixture until completely incorporated. (The chocolate mixture should be at around 70C to allow the eggs to cook.)
Sieve the cocoa into the mixture and fold in slowly so as not to lose of the air; fold until fully mixed – at this stage the mixture should look like an extremely thick cake batter.
Rub a 10 x10 inch square dish by lightly with oil and double line with cling film. Pour in the mixture and level out with a pallet knife. Place in the refrigerator for 3-4 hours. To plate up, remove from the tin and peel away the cling film. Using a hot knife, slice into portions.
Serve with cream or ice cream – or if you'd like to serve the dish as pictured here, visit www.ravenhotel.com/recipe where you will find recipes for the accompaniments.