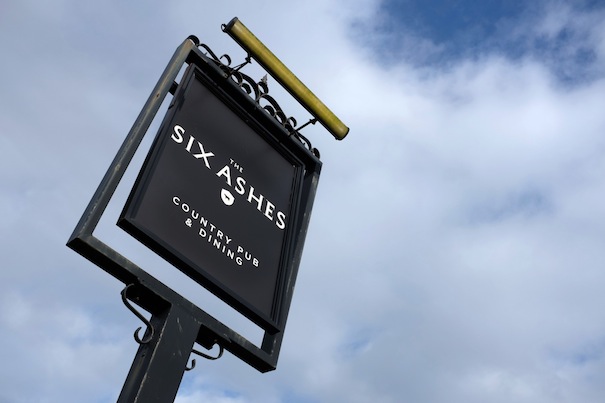 Set back from the Stourbridge road in its own little dell, with a Narnia-style lamp post and a pretty courtyard bordered by a picket fence, the Six Ashes has plenty of rustic charm.
Inside, it's every inch the country inn, resplendent with wooden beams, a roaring fire in an ornately carved fireplace, and olde-worlde fixtures and fittings. There's a snug where patrons can cosy up over a pint of Three Tuns, Thatchers or Boon Doggle or a bottle of malbec or chablis, and a spacious restaurant doubles as a function room for big groups – it even has its own fireplace for added atmosphere.
We were glad to see the fire as we swung open the door on a surprisingly wintry weekday – the snow was coming down in thick, soft flakes, and the Six Ashes, with its low, whitewashed walls and picturesque gabled windows, looked like an image from a fairytale. There were a few friendly locals enjoying a lunchtime pint in the corner – Amy, the new manager, has made a concerted effort to welcome local residents back to the Six Ashes – and we sat down to get the feeling back in our fingers and peruse the menu.
The pub's country character goes beyond its four walls and its rural setting – Amy, chef Jake and the team have reached out to the hunting and shooting groups who operate nearby, and Jake enjoys creating rich, satisfying dishes focused on game. Specials during our visit included a pheasant and cranberry casserole (£8.95) and pan-fried sea bass (£9.95).
The menu offers traditional, crowd-pleasing fare; everything's freshly prepared, and Jake has an obvious pride in his work – he used to work at Norton' Hundred House where he acquired an expertise in sauces and attention to detail. We opted for pan-seared scallops with salty pancetta and a sweet parsnip puree and fried brie with tangy redcurrant jelly as our duo of starters, and they arrived beautifully presented – and delicious, too. For mains, my companion Emma opted for a beef and Guinness pie while I chose a goat's cheese and basil tart. We were impressed by the size of our meals – Emma's pie was packed with meat, delivered with an iron-rich sauce and topped with perfectly light puff pastry, while my tart was enclosed in tasty shortcrust with plenty of piquant, well-seasoned filling.
The portions at the Six Ashes are designed for folk who've put in a long hard day, and we were defeated by our two fulsome courses. As we made our way to the car through the thick-falling snow, we wondered rather forlornly about the chocolate caramel brownie stack – and decided to come and sample it another day.
Mother's Day menu on Sunday 15 March features three courses for £24.95 including mains, for example, of chicken supreme pan-fried in tarragon, and butternut squash and chilli risotto.
Six Ashes, Six Ashes Road, Bridgnorth, Shropshire WV15 6EJ
Tel: 01384 221768
Opening Times:
Mon-Fri: 12pm-3pm & 5.30pm-11pm
Sat : 12pm-11pm
Sun: 12pm -10.30pm