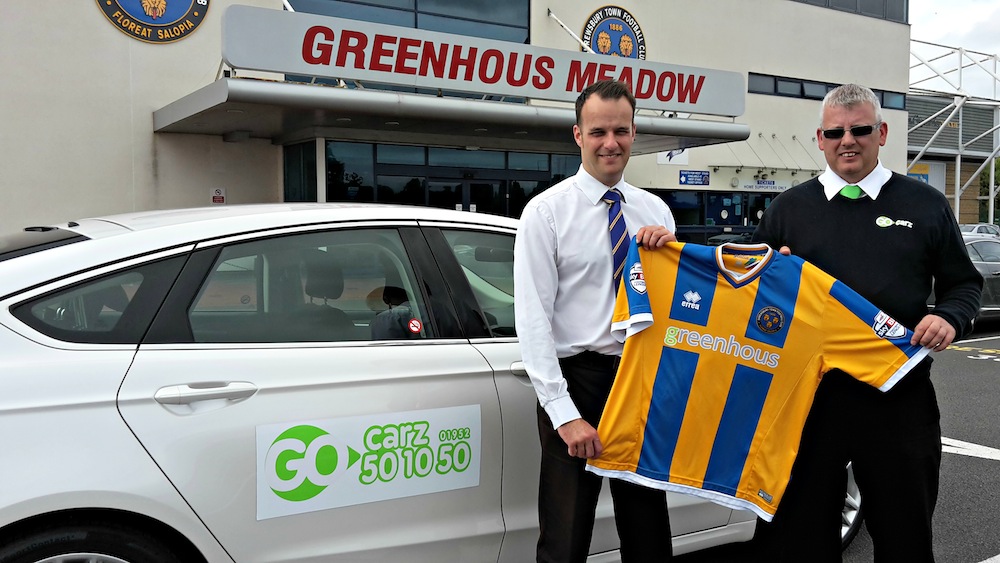 Taxi firm signs with Town
Shrewsbury Town have announced a new signing – but you won't be seeing them on the pitch at the Greenhous Meadow. Go Carz, Shropshire's largest private hire firm, is getting behind the League One side as the official club taxi partner for the season.
"Shrewsbury Town FC is a huge part of the community, not only in the town but in the county and beyond," says Go Carz' managing director Carl Wilday. "Go Carz is also a big part of that community and we're delighted to be associated with Shrewsbury Town."
Town's commercial director Richard Hill adds, "At Shrewsbury Town we see the importance of promoting local companies and we rely on the support of these companies. I'm delighted Go Carz will be the official club taxi partner."
Pension sessions available
To help people understand their pension options, Pension Wise offer free individual face-to-face guidance sessions in local Citizens Advice Bureaux. Sessions last about 45 minutes and explain new pension freedoms and how they affect individuals.
And now, sessions can be delivered in the workplace. As well as being free for both employer and employees, the sessions provide an opportunity to raise employee awareness, demonstrating duty of care and supporting employer health and wellbeing strategies. Visit pensionwise.gov.uk, email pensions1@shcab.cabnet.org.uk or call 01743 284165.
Cricket club builds support
Shifnal Cricket Club (SCC) has attracted sponsorship deals with three building firms currently creating new homes in the town – David Wilson Homes, Bovis Homes and Redrow Homes. A cheque was presented by Bovis to the club, which also recently had a visit from Redrow chair Steve Morgan, who landed his helicopter at the ground before visiting Redrow's sites. He met with SCC president Adrian Collins and also with children from St Andrew's School who were having a coaching session.
Wolves welcomes new MRI suite
The new £1.9 million Magnetic Resonance Imaging (MRI) Suite installed at Nuffield Health Wolverhampton Hospital was officially opened in September by the city's mayor cllr Barry Findlay, with other guests including Wolves FC midfielder Lee Evans. The Tettenhall hospital is the partner of Wolverhampton Wanderers and the club is pleased to have this facility 'on their doorstep'.
The scanner delivers consistent high quality images and improved comfort for patients and gives the hospital a full range of diagnostic equipment. Director Karen Pattison explains, "The scanner will be used help diagnose a number of conditions, from strokes, heart conditions, arthritis and prostate cancer through to sports injuries."
Courses help traders
More than 30 shops have signed up for a window dressing course which helps traders make their businesses more attractive to customers. The project is being held as part of Telford & Wrekin Council's Pride In Your High Street campaign, aimed at boosting the borough's traditional town centres. The campaign's Sally Themans says, "The way a business presents itself is absolutely key. We do a complete 'customer journey' from the exterior cleanliness and signage, right through to displays, how easy it is to move around the shop, and the paying experience."
Traders who taken part in other Pride In Your High Street courses have been giving positive feedback. Sally Finnegan, from Aunt Sal's Café in Newport, says, "I'm really enjoying these workshops; I'm getting more and more enthusiastic about my business. I've got my mojo back!"
Another Newport trader, Charmaine Briscoe, says, "The workshops about high street excellence made me look closer at our business and take a more strategic view."
Colleagues reunited
Two Shropshire women have found themselves working together again, several years after being colleagues at another firm. The pair, who are now working at Shrewsbury furniture store Alan Ward, lost touch when they finished working for fashion giant Monsoon. But they've been reunited after both successfully applied for vacancies at Alan Ward – and were amazed to discover they'd be working together again.
Andrea Cutler is the new Shrewsbury store manager, while Suzanne Bennett, from Bridgnorth, will manage the 'fifth' Alan Ward store – its online business.
"It's a great opportunity to be involved in this ever-growing part of the company," she says. "The Alan Ward online store will continue to evolve and will be at the forefront of the online buying market for furniture and homewares."