Neil Thomas looks forward to a Bridgnorth summer event believed to be unique in Shropshire
If you are interested in diverse works of art, exhibited in a wide variety of settings, with the chance to chat to the artists in person, then an event in Bridgnorth this summer should be right up your street.
Actually, it's pretty much up everyone's street, for the fourth annual Bridgnorth Open House Arts Trail takes you on a tour of one of Shropshire's most picturesque towns visiting an eclectic mix of private homes and public buildings.
Behind the doors of some of Bridgnorth's richest and quirkiest architecture will be displays of paintings, sculpture, jewellery, ceramics, glassware, textiles, photography and printmaking. The artists who created them will be on hand to share their stories and talk through each piece – with the opportunity for visitors to buy what catches their eye.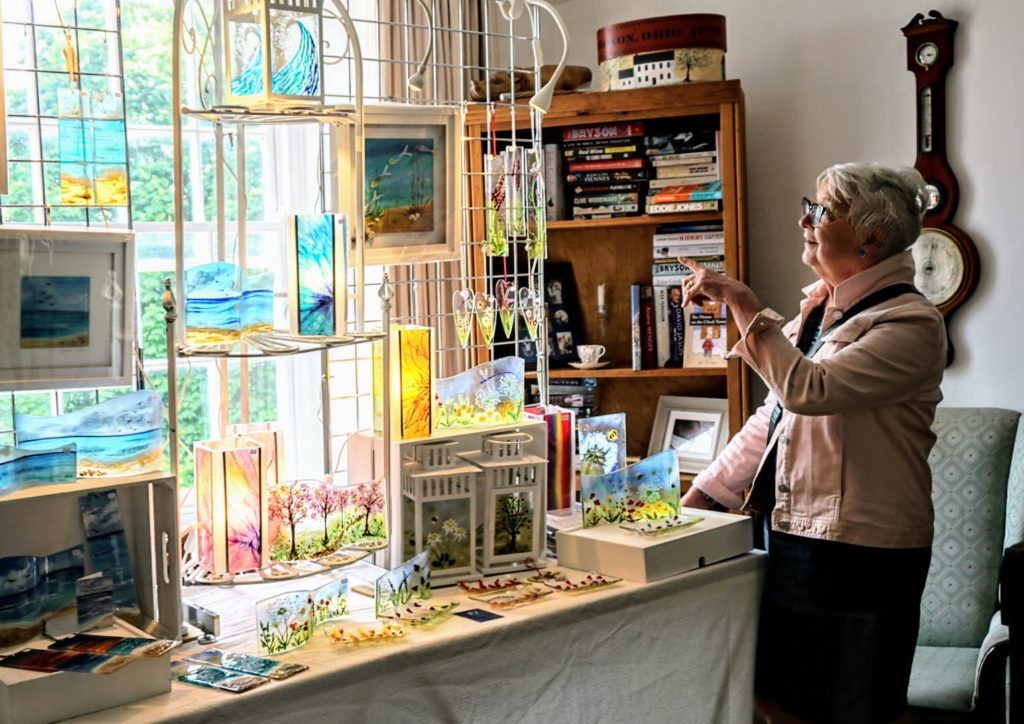 This year's Open House Arts Trail is scheduled for June 10 and 11 with the 37 venues opening their doors from 10.30am to 4.30pm on both the Saturday and Sunday, allowing ample opportunity to see everything.
Although there are arts trails and festivals offering the chance to visit artists in their studios and galleries, there is nothing else quite like this, where residents essentially turn their homes into 'pop up' galleries by opening them to visiting artists.
"We believe we're the only open house arts trail in Shropshire," says one of the event's leading organisers and founders, Victoria Commander.
Victoria opens her period home in St Mary's Street for the trail and the timber-framed, stone-floored former school is architecturally something of a work of art itself. It's not alone in providing an unusual and aesthetic backdrop for the works of arts, for many of the properties on the trail are amongst Bridgnorth's most unusual – and loveliest – buildings. Therein lies much of the unique charm of Bridgnorth Open House Arts Trail.
"The variety of homes that open their doors is very much part of the attraction," Victoria says. "There are former schools like our house, a forge, malt house and garden rooms. Homeowners invite people into their living rooms and some art is also exhibited in lovely gardens which in summer will be blooming."
This year, more than 20 private homes are opening up for the trail. In addition, cafes and shops will participate, as well the town library and St Leonard's Church.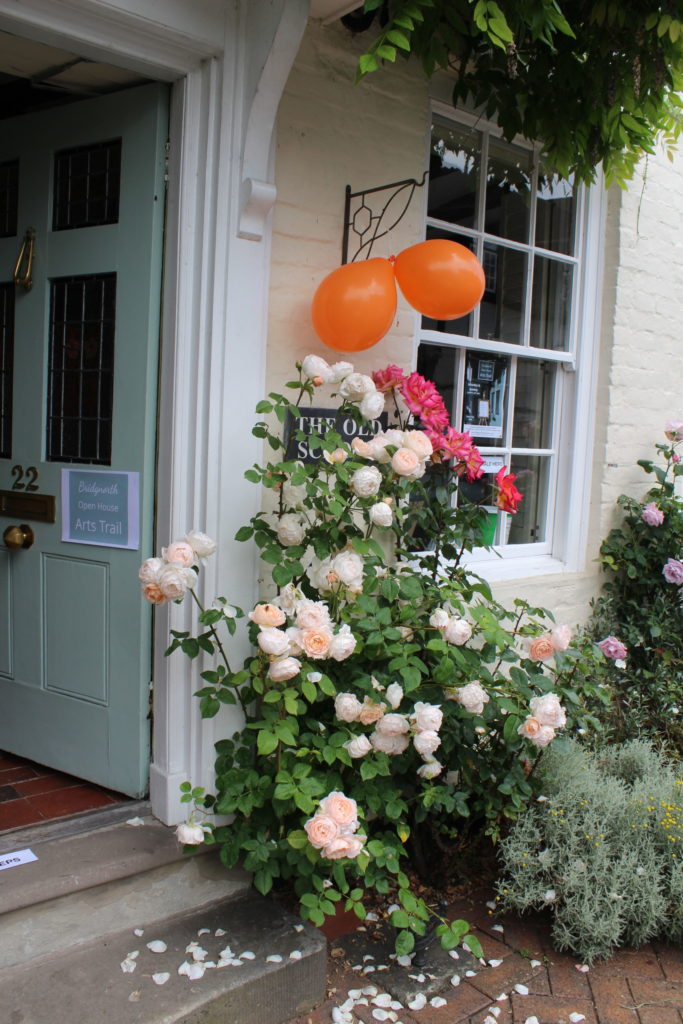 "We have a wealth of quirky architecture in Bridgnorth, with steps and alleyways. It all adds to the appeal of the Open House Arts Trail.
"We deliberately keep the route very tight, within the town centre, so that people can walk around to avoid having to get in the car and drive to the outskirts and beyond. We have one venue in Low Town and then everything else is in High Town.
 "We've also purposely kept it as a summer event so that, on a lovely warm day, it is very pleasant strolling around the town, seeing some lovely art and maybe popping into a pub or cafe along the route.
"Though, bearing in mind the British weather, we can cope with the rain," Victoria adds with a smile.
The Open House Arts Trail was started in 2018 by a small group of local women.
"We were all interested in art and thought there should be more opportunities for people in Bridgnorth to see and appreciate it," says Victoria who herself likes to paint, mainly in acrylic but in other media too.
"We have the Stoneway Gallery in Low Town, which is very good, but that's probably about all. We thought it would be good to have something that brought together artists, visitors and the local community. We have a wealth of artistic talent in Shropshire and want people to see it."
Victoria and one of her fellow founders and organisers Jacqueline Miller, were convinced an open house arts trail would work in Bridgnorth after visiting such an event in Derbyshire. So it has proved. The inaugural trail proved such a hit with artists, hosts and visitors alike that it has become an annual event, bar an enforced break because of the Covid 19 pandemic.
More than 70 artists have applied to take part this year, ensuring the event is set to be the biggest yet.
"We have returning artists but lots of new ones too which is important as it helps to keep the trail lively and interesting."
Artists taking part this year include Jan Park, Julia Foggin, Nina Finch, Jenny O' Leary, Jean Jenkins and Tim Bingham.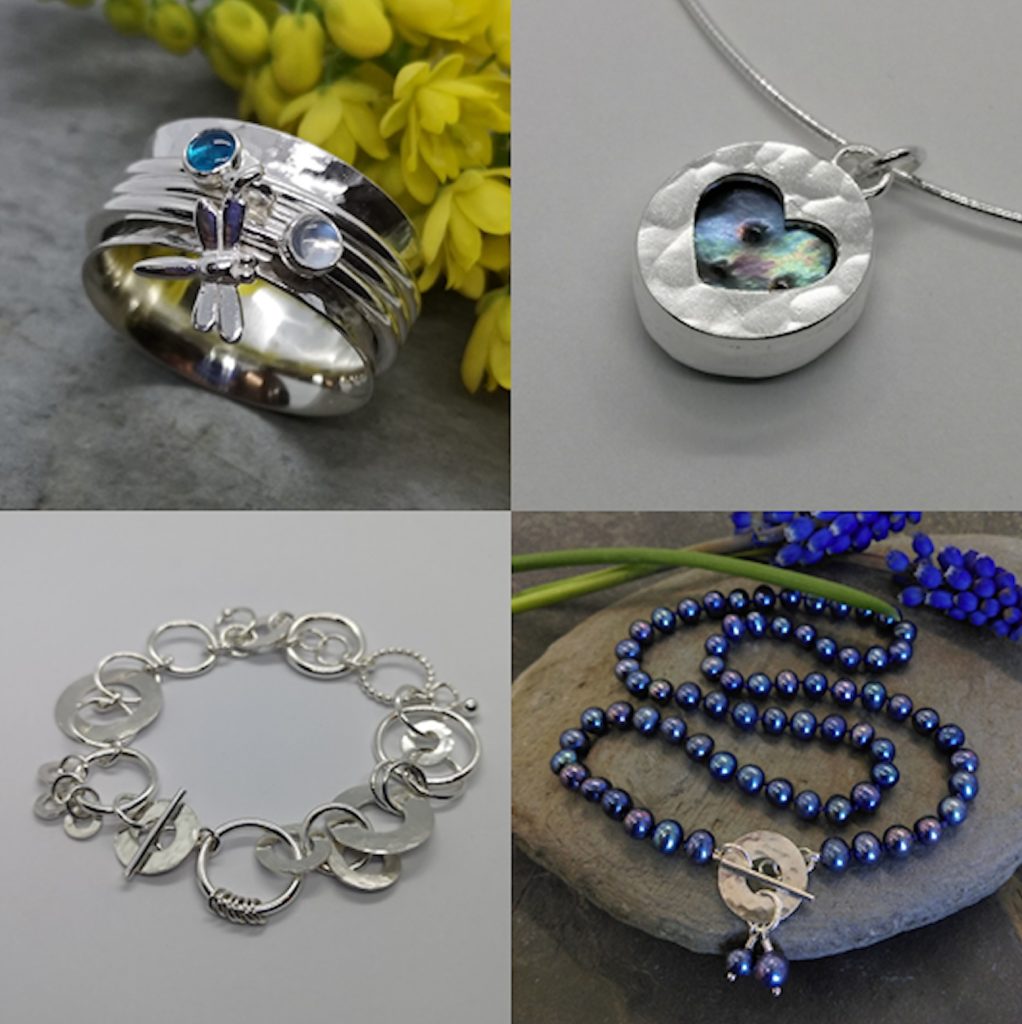 Jan Park, whose studio and gallery is based at Fusion in Jackfield, says her work "centres mainly around an emotional and written response to the landscape". This results in paintings, mainly in acrylic but sometimes with the addition of print or textiles.
Jan adds, "Initially, I gather information in sketch books out on location, then work intuitively with no goal in sight, allowing the painting to develop organically."
Ceramic artist Jean Jenkins works from her studio overlooking the Shropshire countryside and is renowned for statement vessels inspired by nature, including bowls and bottles for the home and sculptural vessels and planters for the garden.
"My stoneware pots are hand-built using coils and slabs of clay and have a stone like appearance," Jean explains.
Bridgnorth's Tim Bingham is another experienced artist who will be showcasing his widely-acclaimed work on the trail. Tim specialises in portrait and figurative painting and drawing, in a traditional style, though he does, intriguingly, stray into the abstract.
At the Maws Craft Centre, in the Ironbridge Gorge, based in her beautiful shop and gallery called MIST, Julia Foggin designs and makes distinctive hammered silver jewellery, from tiny ear studs to intricately constructed statement pieces.
Julia says, "Silversmithing is in my blood! Like my blacksmith ancestors, I love manipulating and forming metal. I beat silver into delicate, organic shapes adding freshwater pearls with irregular characteristics and colourful gemstones to create unique, highly feminine jewellery."
As well as producing ready-made pieces, Julia welcomes commissions, so you can choose your own colours and styles.
Bridgnorth-based printmaker, Julia Timmins, creates highly-detailed and intricate prints. Specialising in wood engraving, a fine form of relief printmaking, Julia also enjoys making linocuts and dry-point prints.
"I aim to create art that conveys a sense of wonder and appreciation for the beauty of the world around us by capturing intricate details and unique textures," she explains. "I am continually inspired by my garden and the wonderful Shropshire countryside surrounding my studio with its ancient woodland, vibrant meadows, abundant wildlife and wealth of historic sites." Julia is an elected member of the Society of Wood Engravers and is currently exhibiting her prints throughout the UK and in China with work held in private and public collections both here and abroad.
Jenny O' Leary is a textile artist and tutor based in Ellesmere. Her work is very much inspired by the landscape of Shropshire.
"Through textile art I aim to bring out feelings about what is around me rather than being a true representation of any one place."
Jenny works predominantly in batik (hot wax resist) on tissue, paper and fabric, often combining it with machine and hand embroidery adding a drawn element to her work. Jenny offers talks, courses and workshops around the UK and is a member of The Shropshire Guild of Contemporary Craft and The Batik Guild.
Ceramicist and potter Nina Finch is based in rural Shropshire, inspired by stunning views from her studio.
She says, "I hope people like my work. There is a lot of love in every piece. Each starts out as a thought then often develops into something as I go along."
Many other visiting artists are taking part, ensuring a rich variety of work for viewing and potential purchase with a range of prices to suit all pockets.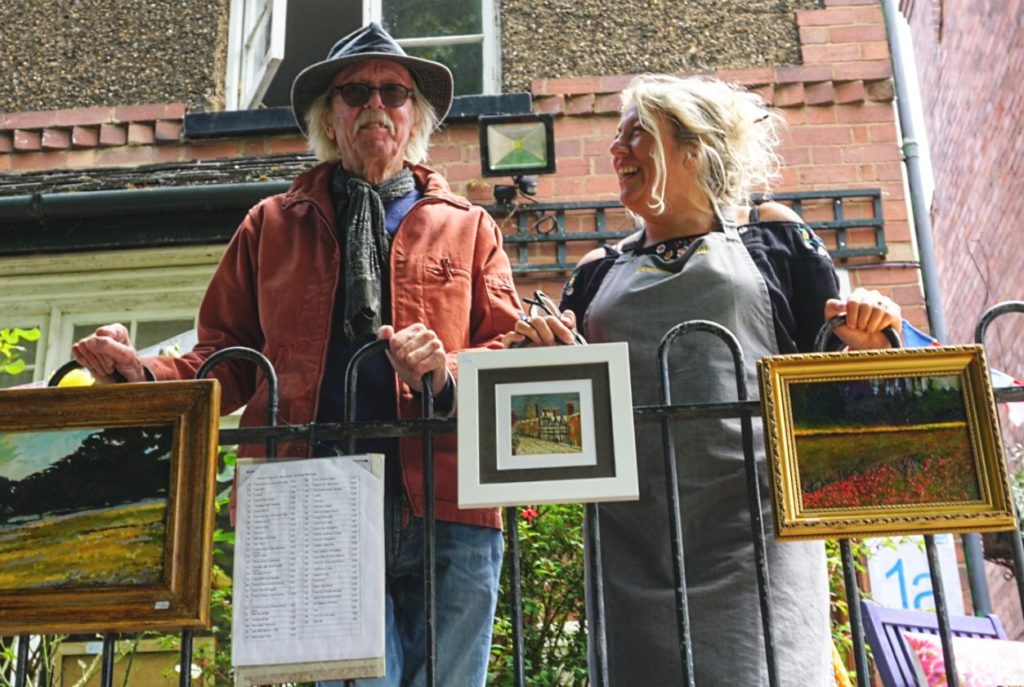 "Many visitors buy their first piece of original artwork from the trail and return year after year. Some develop an interest in a particular artist's work and the trail is an opportunity for them to see the new work that artist is producing year on year," Victoria says.
"We don't charge the artists, as we want to provide an outlet for them all and encourage some of those who are talented but perhaps less well-known or just starting out."
For visitors, the £6 admission charge covers both days of the trail, with proceeds donated every year to a different local charity. This year's charity is Crowsmill Craft Centre, based at Alveley, near Bridgnorth.
Crowsmill is a CIC (Community Interest Company), a small, not for profit fully-registered day service provider. It works with people who are at the margins of society, including adults with mental health issues or physical and learning difficulties, as well as disaffected young people with challenging behaviours, who have often disengaged from school or college.
At Crowsmill they can gain valuable and positive experiences which help them to rebuild trust in themselves and gain confidence in their ability to complete a task and engage with others.
"Crowsmill makes an important contribution to the local community and is exactly the kind of cause we like to support," Victoria says.
The architectural and historic appeal of Bridgnorth means it naturally attracts visitors, particularly during the warm summer months. The Open House Arts Trail provides yet another positive reason for people to travel into the town, boosting the local economy while they are there. For townspeople, it is an event that brings the community together.
The dates are deliberately chosen to coincide with another of Bridgnorth's highly-acclaimed summer events, the English Haydn Festival, which brings together world class musicians to celebrate the works of one of the greatest classical composers, Austrian, Franz Joseph Haydn (1732-1809).
This will be the 29th in the series, making it a firmly-established fixture in the classical music calendar, with this year's festival scheduled to run from June 6 to 10.
"There are people at Haydn Festival concerts to whom the Open House Arts Trail would certainly appeal so it makes sense to run the trail at the same time. In fact we actively promote it at the festival," Victoria adds.
If the pandemic, with its lockdowns and tough restrictions, taught us anything, it's how much we miss live events which bring the community together.
Bridgnorth Open House Arts Trail is just such an event. It brings together people united by a love of artistic beauty, helping local good causes in the process.
Tickets for this year's Bridgnorth Open House Arts Trail are available at Stoneway Gallery in Low Town, Tanners Wine Merchants in High Street and Bridgnorth Library in Listley Street, either in advance or on the days.
Visit bridgnorthopenhouse.co.uk for more information.