Neil Thomas meets a Much Wenlock man who has undertaken a monumental task – literally
It is the perfect definition of a labour of love. With an epic quality to it.
Neil Warrington is approaching the completion of what many might regard as a Herculean undertaking.
Neil has repointed the stone wall bordering Church Green at Much Wenlock, completely by hand.
He mixed his own lime mortar at home in Forrester Avenue, wheeled it on a trolley through the town centre and, with selection of small tools including a chisel and spatula, worked away, stone by stone, to repair the weather-worn, crumbling masonry. The edifice is mainly 6ft high but rises to around 9ft in part and stretches, in a zig-zag, for an estimated 200 yards!
It is skillful work – ensuring that the lime mix is a good match for the existing mortar so that the repair blends in with the original, is just a part of it.
Day after day, week upon week, month by month, year on year, the retired teacher and fruit farmer has applied himself to this painstaking work.
Now he is applying the finishing touches to his very personal conservation scheme.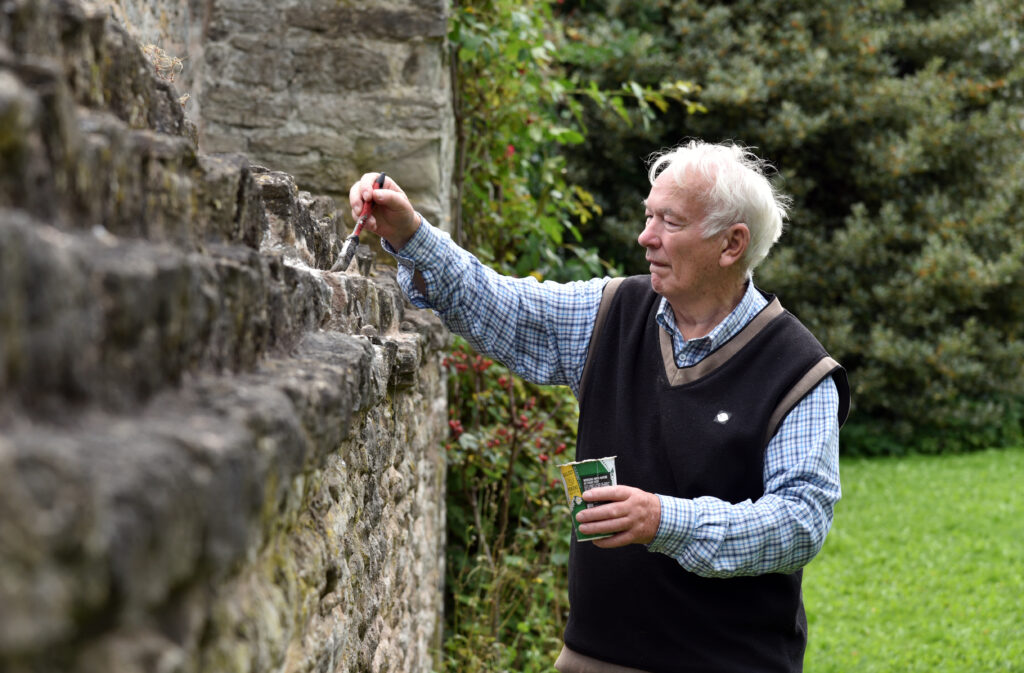 He has rescued a historic monument – literally a monumental task. Neil estimates it has taken 10 years! Virtually all his 70s – he turns 80 on December 23.
It has the elements of a medieval religious enterprise – artisanship, patience, dogged devotion and charity driven by a sense of community, underpinned by faith. Practical work with a spiritual undertone.
So it seems in keeping that Neil and I should be chatting about the project inside the lovely Holy Trinity Church, parts of which date to the 12th century, in whose shadow he has laboured so willingly as an amateur stonemason.
He immediately surprises me by confessing, with a broad smile, that he doesn't consider himself to be particularly practical.
"I'm certainly no DIY expert and have never really been interested in that. I did a dry stone walling course when we lived in Devon many years ago and I did some research before I started this, but other than that I've never been particularly practical in terms of painting and decorating, changing plugs, that kind of thing."
So how did the wall project come about?
"Val Roberts asked me and I didn't like to say no," he says with a chuckle.
Val, a church bellringer and well-known figure in the wider community, was trying to find volunteers to continue the efforts of a working party which had repaired a small section of the wall.
"I agreed to take it on, though I'm not sure I knew what I was letting myself in for," he says with a smile.
Though he has done much of the work alone, Neil rebuffs the idea that he has been a one-man band.
"I'm very grateful to have had some help along the way. Patrick, whose house neighbours the green, helped me with the taller parts as I'm no good on ladders. And Chris de Souza took pity on me and lent a considerable hand which I'm very grateful to her for.
"Many people have taken an interest in what I've been doing and have stopped for a chat, which has been very heartwarming."
In fact, Rector of Much Wenlock, Reverend Prebendary Matthew Stafford, is in no doubt of the immediate benefit to the church and the wider one to the community.
"It has been an amazing project and a wonderful contribution to the church and community. It has been a remarkable effort by Neil.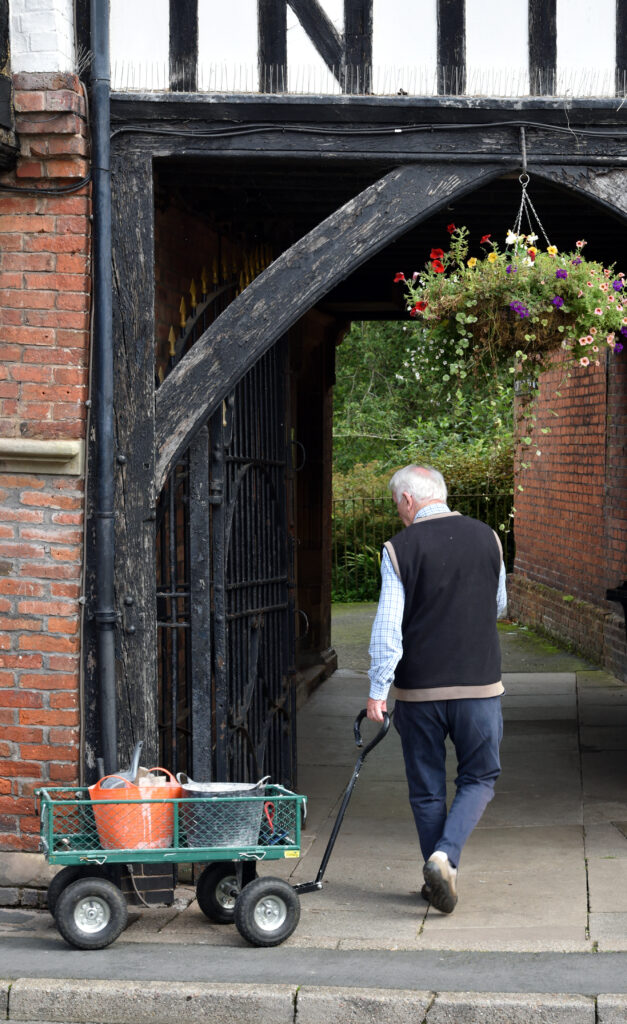 "But it has also brought people together in an extraordinary way, particularly during Covid when so many people's mental health was being tested. The chance to walk to the green and chat to Neil about his work was good for so many people's wellbeing."
Neil reflects on some of the practical challenges he has faced.
"Obviously when you've got to lift heavy stone from the top of a 6ft wall it can be quite strenuous. And if the wall is very old, like this one, there is a chance of one or two stones falling. In fact, a small part of the wall collapsed though fortunately not when I was working on it.
"Getting lime for the lime mix was also a problem at times as it wasn't always available locally. The cost increased, too. When I started, bags of lime were £9 each. At one point they went up to £44 each before, thankfully, coming back down to £17."
It is probably impossible to calculate just how much money the efforts of Neil and his fellow volunteers have saved the church.
"If you hired professionals, it would cost £1,000 a yard," he reflects. "The running costs of the church alone are £2,000 a week and you can add on the fact we've had a new roof, new leading, a new boiler and new piano. It's safe to say that if we'd not done it ourselves, the wall probably wouldn't have been done."
Weather allowing, Neil fell into a routine that allowed him plenty of time to rest and for other interests.
"I've worked three days a week. I'd get up at 5am to mix up the lime and water and start work at about 7am, working through until midday. Obviously the mild winters we've had in recent years have helped."
Neil became involved in the wall project shortly after he and wife Gill moved to Much Wenlock in 2010.
"We were looking to retire in Shropshire and we thought Much Wenlock was a lovely place with a wonderful sense of community. So it has proved."
Though the couple, who have been married 57 years, have lived in various parts of the country, Neil has family links with Shropshire.
"My father was born in Highley and they were living in Kidderminster when I was born," he explains, with a gentle smile.
He never got to know his father, who was killed in the Second World War, fighting with British troops for the Liberation of Paris in August 1944, when Neil was just eight months old.
"Me and my brother, who is six years older than me, were educated at a state boarding school in Worcestershire which offered places specifically to children who had lost a parent during the war."
After dabbling briefly with a career as a carpet technician, Neil became a wages clerk.
"I rather proved how unpractical I was," he says, laughing.
He then found a genuine vocation becoming a primary school teacher. This provided both career and romantic fulfilment – he met Gill on his first day of teacher training.
The highlight of his 30-year career was the headship of a school in Longbridge, Birmingham.
"Many of the children were from disadvantaged families – around 30 per cent only had one parent. They were the sort of children who are often written off, but I tried to show them they could still achieve great things in life."
A highlight was his school being chosen to attend the Commonwealth Service at Westminster Abbey, with pupils meeting the Queen.
Neil later worked as an Ofsted inspector in Cambridgeshire before retiring from education. He and Gill moved to Devon where they ran a 10 acre smallholding, growing non-citrus fruits for jams and chutneys, producing 30,000 jars a year.
There he became friends with author Michael Morpurgo, children's laureate from 2003-2005, becoming involved with Farms for City Children, which the writer had founded in 1976 with his wife Clare at Nethercott House in the heart of the countryside. The charity offered urban children from all over the country an opportunity to experience living and working together for a week on a real farm.
"I joined the board and, in fact, became chairman," Neil recalls.
The couple have two daughters and it was the birth of their first grandchild that saw them move to Knighton, on the Shropshire/Powys border to be closer to their family.
From there, they arrived in Much Wenlock.
They've derived so much pleasure from moving to the picturesque market town. And Much Wenlock has got plenty out of it too – not least a new look church wall.