Neil Thomas contemplates the darkest season and sees much to enjoy.
The magical season of winter is fast approaching with so much to look forward to.
'Now is the winter of our discontent …' wrote William Shakespeare at the start of Richard III, as though 'winter' and 'discontent' somehow naturally go hand-in-hand. For those who loathe shorter, colder days, maybe they do.
Yet every season has its joys and winter is no exception. The natural beauty of snow-carpeted hills and meadows; the clear bracing air of a frosty morning; the refulgent green and red of holly and its berries; the cheery sight of a robin hopping on a garden fence, a herd of majestic deer roaming parkland.
Then there are the invented pleasures that brighten the shrinking hours of daylight as the nights draw in. At the centre of these is Christmas, a festival celebrated in many ways ranging from the superficial to the deeply spiritual – and for most of us a combination of the two. We party and pray.
By the time you are reading this, most people will have started their Christmas shopping. Although much of this is done online, there is much to be said for getting into the festive spirit with a visit to one of our lively towns, which never disappoint. The likes of Bridgnorth, Much Wenlock, Telford, Shifnal, Broseley and Ironbridge will be brightly-decorated with coloured lighting, Christmas trees and other trappings of the season. An uplifting sight in the cold and gloom.
These towns, too, boast a wealth of independent shops stocking some of the best festive food and drink in Shropshire, as well as a wide range of imaginative gift ideas. There are welcoming pubs, restaurants, bistros and cafes aplenty. The friendly, personal service that is often so much a part of these businesses adds an extra feelgood factor. Shopping, coffee, more shopping, a spot of lunch, home.
It is a season for family and friends, when even those with the busiest lives spend quality time with their nearest and dearest. There is much out there to entertain and enthral.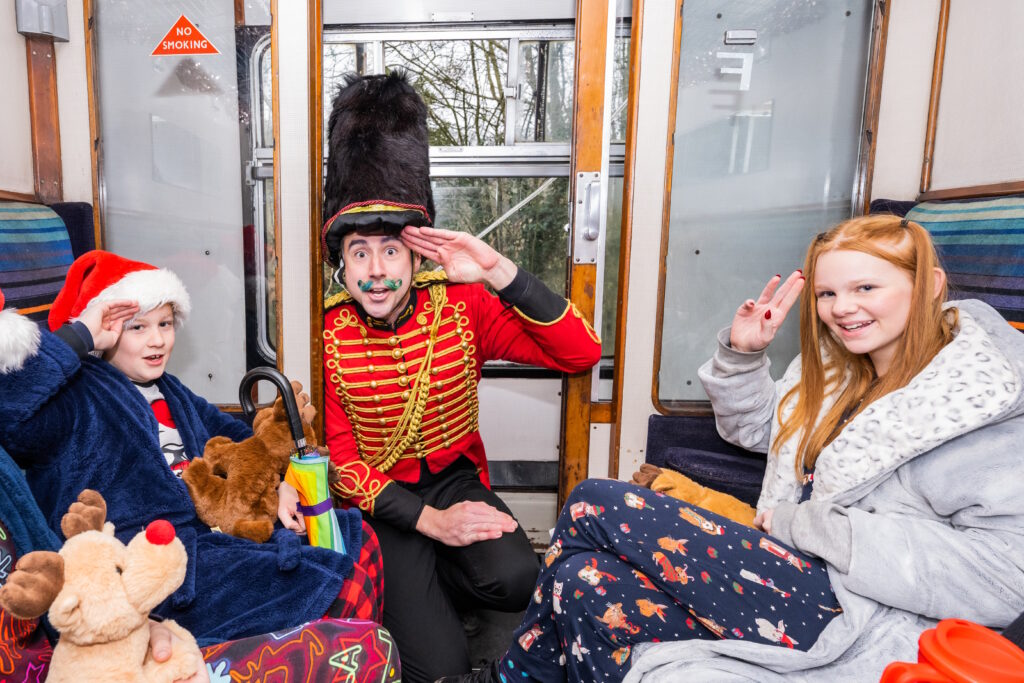 For youngsters a trip to see Santa is often the highlight of the exciting run up to Christmas Day. He is a busy chap at this time of year, here, there and everywhere.
He is to be found regularly at the Severn Valley Railway (SVR), whose hugely popular Santa Trains will run from November 25. A magical steam train journey from Kidderminster to Arley includes a private compartment or reserved table for each group. At their destination, passengers disembark to watch a fabulous panto show, in which mischievous elves Jingle and Jangle join Santa on stage. Complimentary hot drinks and sweet treats for everyone are included, and each child receives a gift and a free ticket to return to the SVR next year. Services run at weekends up to Christmas Eve, and on Friday 22 December.
In addition, departing Bridgnorth from Saturday December 2, the Enchanted Express is an on-train interactive experience, based on the poem T'was the Night before Christmas, with narration recorded by Dame Julie Walters. On the journey, a host of costumed characters and Santa Claus will visit each group's private compartment.
Elventown, otherwise known as Apley Farm Shop at Norton, near Shifnal, hosts Santa amid plenty of fairy lights and twinkle. Apley Elves will welcome you and there will be gingerbread and hot chocolate, along with story time, a singalong, reindeer food-making at Rudolph's Stables and fun at Prancer's Playground.
Then there's the chance to have breakfast with Santa at Enginuity, the museum at Coalbrookdale run by the Ironbridge Gorge Museum Trust. Santa will mingle with guests as they eat and every child will receive a Christmas gift at the events, on December 2, 3, 9, 10, 16 and 17.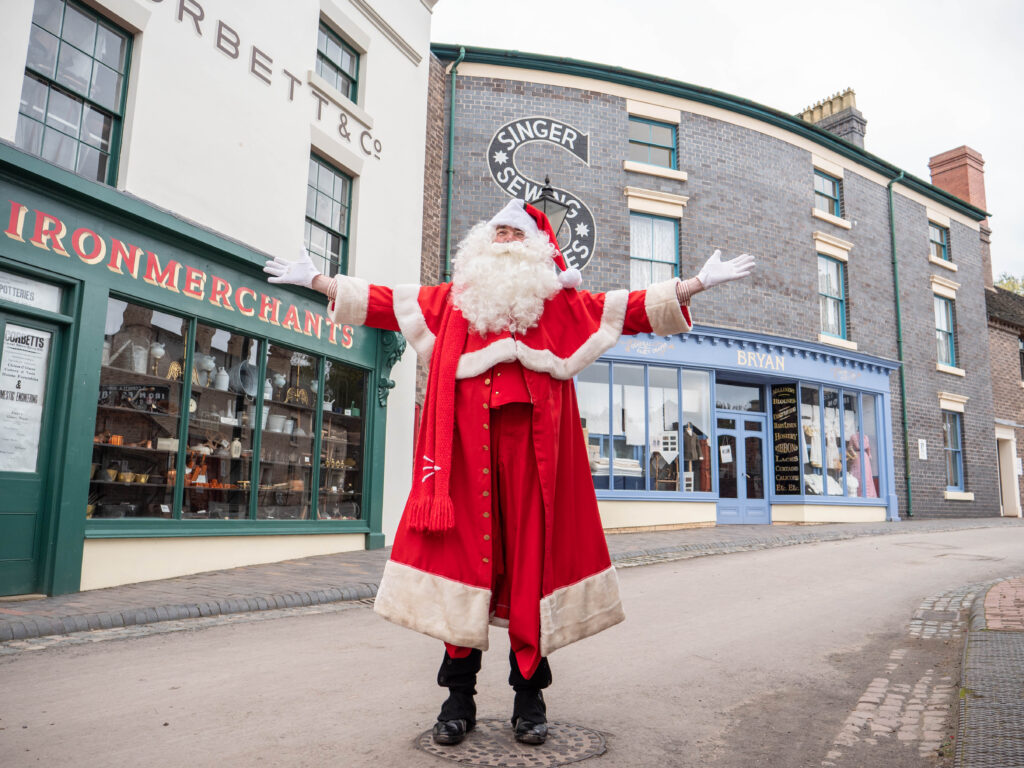 There is also much family fun to be had at another staple of the festive period – the traditional pantomime.
Few do it better than Telford Theatre which this year is offering a swashbuckling good time in the shape of Treasure Island, which runs from December 8 to January 6.
It stars BBC's Strictly Come Dancing professional and past winner Katya Jones as The Island Chief, X Factor's Sean Smith as Jim Hawkins, West End Star Shelley Anne Rivers as The Magical Mermaid, Coronation Street's Tom Roberts as Long John Silver and comedy stars Ian Smith as Captain Smollett and Carl Dutfield as Silly Billy Bones.
This colourful adaptation of the Robert Louis Stevenson novel sees Jim Hawkins follow a long-lost treasure map to a remote island with his friends Captain Smollett and Silly Billy Bones. There they are helped by the Magical Mermaid but come up against evil Long John Silver who wants the treasure for himself.
The show features great songs and dazzling dance routines as well as stunning scenery, costumes and special effects.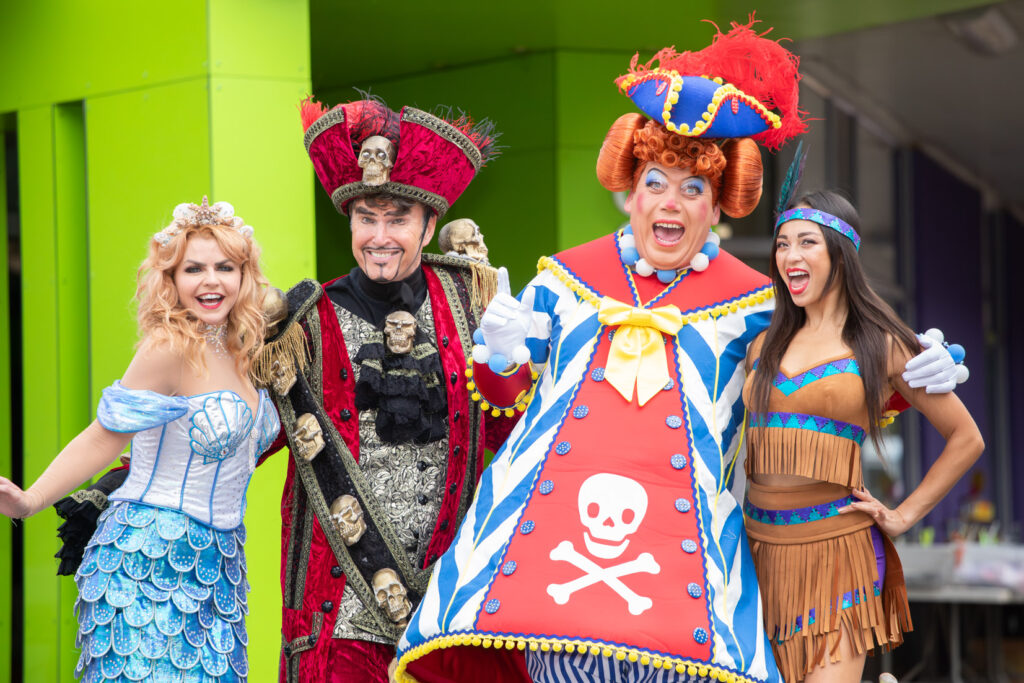 BroADS panto (Broseley Amateur Dramatic Society) is always keenly anticipated in the town and, in keeping with its tradition, starts later than most other pantomimes. This year's production, Cinderella, runs from January 25 to February 3, at the Birchmeadow Centre. Buildwas Players are also a very welcome late arrival at the party, staging a February pantomime, Beauty and the Beast being their latest production.
Panto lovers have a New Year treat to look forward to at Bridgnorth's Theatre-on-the-Steps, whose fun-filled family production of Jack and the Beanstalk, runs from January 6 to 27.
Shrewsbury's Theatre Severn also presents Jack and the Beanstalk, which runs from November 29 to January 7. It stars Theatre Severn regular Brad Fitt, widely regarded as one of the best panto dames in the business.
Ludlow Assembly Rooms stages Snow White and the Severn Dwarfs, with a cast of talented professional actors and a host of local children, from December 16 to 30.
Meanwhile, festive entertainment with a difference is on offer at Telford Ice Rink, with its Pirates on Ice Spectacular on December 17. There will be live music from Rick Cosco, DJ sessions, a treasure hunt and crafts, have-a-go activities and you may event bump into a pirate! Over in Soft Play the youngsters can enjoy workshops and crafts.
Nothing cheers up a grey and chilly December day like the sparkle of festive lights, whether at home or in the wider community. People go to great lengths to decorate the outside of their homes, providing enjoyment for themselves and passersby. For our town centres, street decorations have become an integral part of Christmas, a commercial imperative attracting customers to the shops, bars, restaurants and coffee shops.
The switching-on ceremonies are draws in themselves, often combined with stalls and street entertainment. Bridgnorth Christmas lights will be switched on with a real fanfare on Friday November 24, with local producers and groups running traditional stalls, a children' funfair, entertainment and a stage where local schools and groups can showcase their talents.
Broseley Christmas lights will be switched on the following day with activities in the town centre. Shifnal has long been renowned for its festive display and this year's will be illuminated for the first time on November 25, with a street market and entertainment for the whole family.
One of the local highlights in the countdown to Christmas, though, is undoubtedly Much Wenlock Christmas Fayre. This year's event is on Saturday 2 December, with a packed programme from 10am to 5pm.
The streets and church green will be packed with shoppers, excited children, street entertainers and creative stallholders offering a wide range of goods.
There will be activities for children including the chance to meet Father Christmas. Snacks and beverages will be on sale at various venues around the town.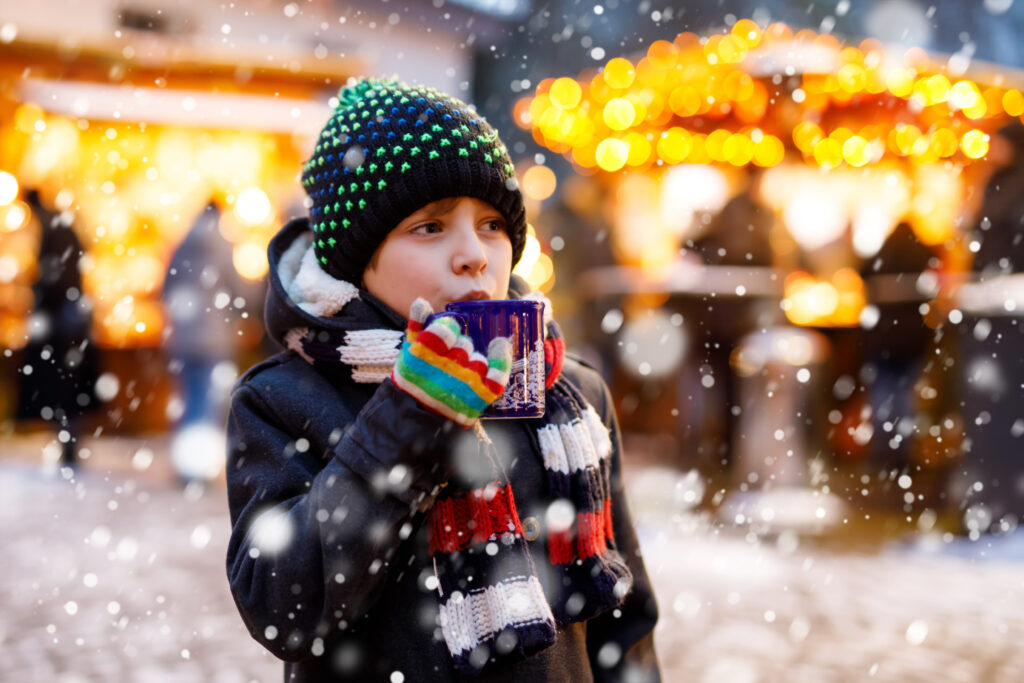 Local musicians, singers and dancers will provide entertainment throughout the day with festive themes and the emphasis on variety.
It all builds up to a Candlelight Procession followed by Carols by Candlelight with Holy Trinity Church Choir and The Haberdashers' Abraham Darby Brass Ensemble.
These events generally feature stalls, a handy reminder that Christmas markets are also an integral part of the festive countdown. The traditional markets originated in Frankfurt, Germany, with the first UK one in the early 1980s, becoming widespread – both large and small – from the late 1990s.
One of the biggest and best is Telford Christmas Market, which runs from November 23 to December 23. Beautifully-decorated traditional wooden cabins in Southwater will sell gifts and edible treats including Bratwurst, Gluhwein, craft beers, chilli sauces, cheese, Bohemian and wooden crafts and barista coffee. There is also a hog roast, Caribbean barbecue, pizzas and Juke's Bar.
The two-day market at Apley Farm Shop promises to conjure the Christmas spirit with a wide range of local crafts, handmade gifts, festive tastings and seasonal music and entertainment. There will be everything from holly to hampers, cakes to candles, minced pies to mistletoe. The event is on November 18 and 19, 10am-4pm.
Shropshire Guild of Contemporary Craft holds its annual two-day market – A Gorgeous Christmas – at Enginuity also on November 18 and 19, 10am-4.30pm on Saturday and 10am to 4pm on Sunday.
Around 50 designer makers will show and sell their handmade work, including furniture, glass work, woodwork, ceramics, weaving, feltwork, textiles, painting, printmaking and jewellery.
Our fascination with the past can be indulged by Christmas Weekends at Blists Hill Victorian Town on December 9, 10, 16 and 17. A choir and a brass band promise to bring festive spirit and children will be able to whirl down the helter skelter, enjoy Punch and Judy shows, and, of course, meet Santa in one of the grottos. There will be the chance to try candle dipping and make Victorian Christmas cards. Shoppers can take advantage of the Christmas Emporium for some unique gifts while reindeer and snow will add to the wintery feel.
Nothing captures the period opulence of Christmas quite like a stately home and thankfully you don't have to own one to enjoy the experience. Thanks to superb visitor attractions like Attingham Park and Weston Park, we can all dip into a life of elegance, for a few hours at least.
Twinkling Christmas trees will welcome visitors to Attingham. Stroll along the twists and turns of the Mile Walk to see festive trees, inspired by classic fairy tales. The Christmas magic will continue in the Walled Garden and the festively-decorated Georgian mansion. There will be over 50 decorated trees, ranging from 2ft to 20ft tall, on the site with this seasonal festival running from December 2 to January 1, excluding Christmas Day.
For those who want to treat themselves to the full Downton Abbey-style experience – and can splash out £530 on a room – Weston Park is offering the chance to experience the magic of Christmas with an overnight stay in the grand historic mansion. With a roaring log fire in the Library and magnificent twinkling trees, the stage is set for a wonderful evening.
Before dinner, why not stroll around Capability Brown's stunning parkland. You will then be welcomed to the Marble Halls by rousing carol singers and a glass of champagne before taking your seat in the magnificent Dining Room for a 5-course dinner prepared by Head Chef Anna Moore.
After drinks by the Library fire you can retire knowing a home cooked English breakfast awaits in the morning, after which you can explore the estate before heading home.
Christmas, of course, is every bit as much about simpler pleasures, many of which have at their heart at deep spiritual resonance.
Many who never set foot inside a church from one month to the next, will be drawn to Christmas carol services. These traditional songs – both joyous and sacred – don't just celebrate a 2,000 year-old story but comprise some of the loveliest music every written. Whether in churches, schools or town squares, and irrespective of whether we can hit a musical note or not, we just love to belt them out.
And what is more charming than a school nativity play or Christmas concert? Schoolchildren across our region will be keeping alive something precious – traditional enactments that their parents, grandparents, great grandparents and further back would have taken part in.
The tradition of making Christmas wreaths – also known as welcome rings – to hang on front doors, dates to the 19th century. Florist Ros Anwyl is running a festive wreath-making workshop, partly in aid of Midland Air Ambulance. The event will be at the charity's headquarters at RAF Cosford.
Wreath rings, foliage, wires and ribbons will be provided by Ros. You will need to bring your own secateurs and decorations of choice to personalise your wreath.
For those of you who fancy a breath of fresh air, how about a stroll around the Festive Gardens Trail in Telford Town Park. The Chelsea and Maxell Gardens will be transformed into a 12 Days of Christmas show of lights and sound, with carols and festive music in the bandstand and sprightly elves to keep you on your toes. The gardens are open from 4pm to 8pm daily from December 15 to 20.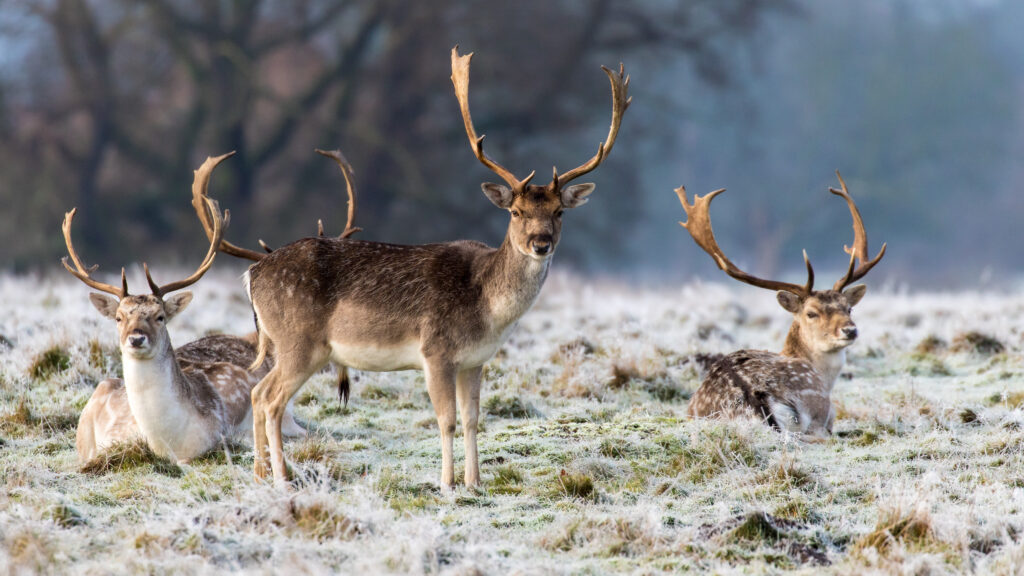 Christmas, of course, is believed to have merged with various pagan festivals over the years to give us the holiday season we now celebrate. These ancient festivals centred around the winter solstice, variously known as midwinter, the shortest day or the longest night. It falls on Friday December 22. After this, you'll be pleased to know that the days get longer.
If you are tempted to think that January is something of an anti-climax after all the festivities, remember there are all those New Year resolutions you can concentrate on putting into practice.
Also, the panto season is still in full swing – and Severn Valley Railway has an unusually early event in its calendar for 2024, with a Winter Steam Gala on January 6 and 7. At least five steam locomotives are planned to operate a busy timetable on both days of the event. The gala will see final appearances for both the Flying Pig 43106 and 21C127 Taw Valley in its wartime black livery.
There will be plenty of opportunities for getting outdoors, with various events aimed at running or walking off the Christmas pounds. And as January progresses, there is a hint of the lighter nights to come, which should put a spring in all our steps.
Above all, no matter how bleak and cold the winter, there is always the warmth of good companionship and the love of family and friends. On that, you can't put a price.
This article merely gives a flavour of what the season is about. For a comprehensive list of what's on in our region across winter, please see our bumper diary of events in this issue and go to our online diary https://www.whatswhatmagazine.co.uk/whats-on