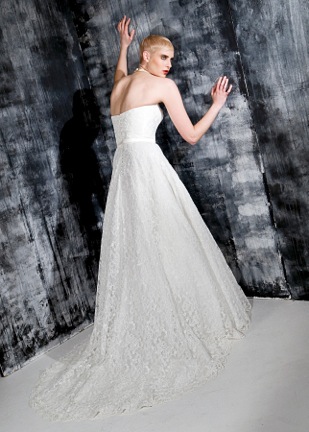 My little Wedding Shop is proud to announce their first birthday and to celebrate they are giving their brides-to-be extra special birthday gifts!
The exclusive bridal boutique situated on Bridgnorth's Historic Castle Terrace, opened in November 2011 and is the only West Midlands stockist for made in Britain bridal design house, Lyn Ashworth and Harrods footwear designer, Harriet Wilde.
To celebrate their first year in Bridgnorth they are offering all their brides-to-be who order one of their designer dresses between Saturday 5 November and Saturday10 November a free present to complete their outfit worth up to £300. Brides can choose from a free pair of Harriet Wilde Shoes, a stunning Natasha Jane or Rosie Willett headpiece, a Shropshire made faux bouquet from Big Little Things or even a pair of handmade silk knickers from Sacred Realms.
"We can't believe how quickly this first year has gone. The boutique has received a fantastic response and we are thrilled to be able to promote so many local designer bridal brands from the West Midlands. We can't wait for our second year to build on our successes so far. "
"In addition to the incredible Birthday presents on offer we will be asking all our visitors to the boutique on Sat 5 and Sat 10 November to join us for a glass of something bubbly and a slice of birthday cake!"
Contact Jennifer Bone on jenny@mylittleweddingshop.co.uk or Tel 01746 768 968 to make your appointment.