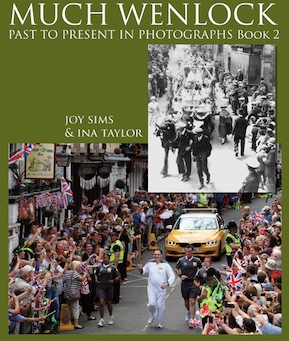 A new pictorial record of Much Wenlock has just been published, following the history of the town from the turn of the last century to the current day.
This illustrated publication is the second book in the 'Much Wenlock Past to Present in Photographs' series, compiled by local historians Ina Taylor and Joy Sims.
"We have gathered around 1,500 historic photographs of Much Wenlock, so we have a great pool of interesting images of life in the town over the years to choose from and we are grateful to everyone in the community who has come forward with pictures and information." explained Ina
"The book features street scenes, schooldays and festive occasions but we also allowed ourselves to travel a little further afield by including images of agriculture and quarrying, which were important occupations for many of Wenlock's inhabitants."
Also featured are the Barnardo's home and local schools which have closed down, and a 1906 picture of Wenlock Lawn Tennis Club showing ladies wearing the long dresses and hats they played in.
"The history of the town's football clubs is another interesting tale we uncovered. Not many people seem to remember Wenlock Villa, but we were given their photograph featuring the team all sitting there proudly holding a football bearing the team's name.
"The book also focuses on the present as well as the past, celebrating what an amazing year Much Wenlock has had in 2012 with its Olympic connections," concluded Ina.