Two years on from London hosting the Olympics and the What's What! area seems to be awash with events and clubs springing up all promoting a fitter way of life – with sport taking centre stage. So from energetic triathlons, to mucky mud runs and marathons, here's a round-up of events coming up if you fancy a challenge.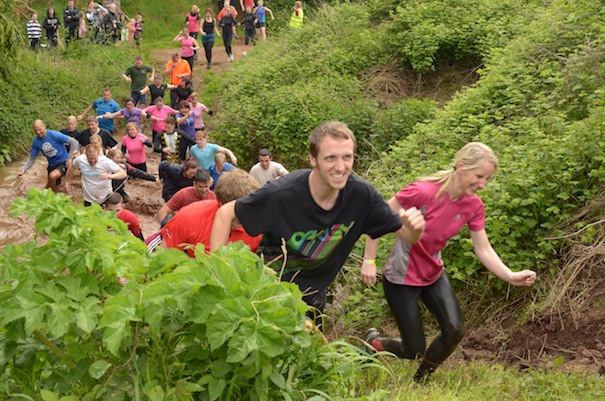 Bridgnorth launches triathlon club
Formed by a group of local running, swimming and cycling enthusiasts, the brand new Bridgnorth Triathlon Club will be holding a launch event at 7.30pm on Monday 16 March at the Bell and Talbot. Chairman Alison Lamputt said, "Everyone is very welcome to come along and hear all about it, from beginners to seasoned athletes. I've been doing triathlons for nine years – starting at the age of 50 – so you're never too old to start. In our first year we'll be hosting a range of events aimed at total beginners, over shortened courses."
Entries open for Bridgnorth Walk
Entries for this year's 22-mile Bridgnorth Walk, which will take place on Monday 25 May, are now open. "The online entry system enables us to open entries six weeks earlier than ever before, giving people more time to train for the walk, which should not be undertaken lightly," said chairman Peter Davison, "Most importantly, it also gives more time to raise more money for valued causes."
Starting in 1967, the Bridgnorth Walk has established itself as one of the most successful charity fundraising events in Shropshire and is organised by a volunteer committee, last year raising over £112,000 for good causes. Visit bridgnorthwalk.org to register. There is an entry fee of £15 for the senior walk and free entry for the 7-mile junior walk.
On your bike for the Shropshire Hills Sportive
The fifth Shropshire Hills Sportive will take place on Sunday 5 July starting and finishing in Bridgnorth High Street, and riders are urged to get their entries in early to what has become a 'must-do' event on the cycling calendar. Cyclists undertake 50, 70 or 100-mile routes, which take in some glorious countryside including Clee Hill and the Long Mynd. Organiser Richard Smith from Bridgnorth said, "Fifty miles is a great starting point for new riders, whereas the 100-mile route is a serious challenge even for experienced riders. The High Street will be packed with both cycling and non-cycling related traders ensuring a colourful backdrop." Entries for the event are available via mamilcycling.co.uk.
Highley makes a dash
Now in its third year, the sprint triathlon at Highley's Severn Centre, consisting of a 400m swim, a 17.5km bike ride and a 5km run on trails and paths along a scenic Severn Valley route, attracts competitors from across the region. On the day before, the Centre will host the inaugural Junior Aquathlon, with distances varying according to age. Aquathlon Saturday 16 May; triathlon Sunday 17 May. Entries from £27 for adults, visit severncentre.co.uk to register.
Night run at Attingham
For those after a bit of nocturnal adventure, Attingham Park will host its first ever night run on Saturday 14 March at 6.30pm. Suitable for adults and children with 2km and 6 km routes. Visit nationaltrust.org.uk/nightrun to enter. Entries £7.50 for children and from £15 for adults.
Run or ramble at the Severn Stride
Participants can run or ramble in a sponsored hospice-to-hospice event between Shrewsbury and Telford on Saturday 25 April organised by Severn Hospice. Starting in Shrewsbury, the 17-mile route takes in some of Shropshire's most scenic views. Places in the event are £10 for adults and £5 for under 16s, which includes a free shuttle bus service back to the start; limited spaces. Dogs are welcome. Visit severnhospice.org.uk or call 01952 221351.
It's mudtastic!
Back for its second year the Mudtastik mud run will take place on Sunday 19 April at Chirbury Farm, Marchamley near Shrewsbury. Organiser Danny Budd said, "Test your endurance, physical ability and determination with a range of challenging climbs, drops, muddy tracks and deep water pools, all whilst raising money for Perry Riding for the Disabled as it re-locates to a state of the art facility in Much Wenlock." Choose from a 5km or 10km route. Entry £25; you must be over 18 to enter and must book in advance at muddyrace.co.uk/shropshire or cavaliercentre.org.
A range of Wenlock runs
It's not too late to enter the Wenlock half or full marathon which will take place on Sunday 17 May, or the 7-mile Road Race on Sunday 12 July or the Wenlock Triathlon, also on Sunday 12 July. Visit wenlock-olympian-society.org.uk for entry forms and details. If you don't fancy competing, why not join the supporters along the route to cheer on the hardy runners?