David and Charlotte Bailey serve nutritious, unrefined wholefoods from their street food van, Wholefood Heaven, as they travel the world in search of new and exciting flavours. A celebration of naturally healthy, unprocessed ingredients and flavours from around the world, their new book, Fresh Veggie Heaven, features over 65 recipes for vegetarian and vegan meals, including breakfasts and drinks.
We bring you recipes for a bowl of goodness that will take you to nirvana, and a simple dessert – bon appetit!
Buddha bowl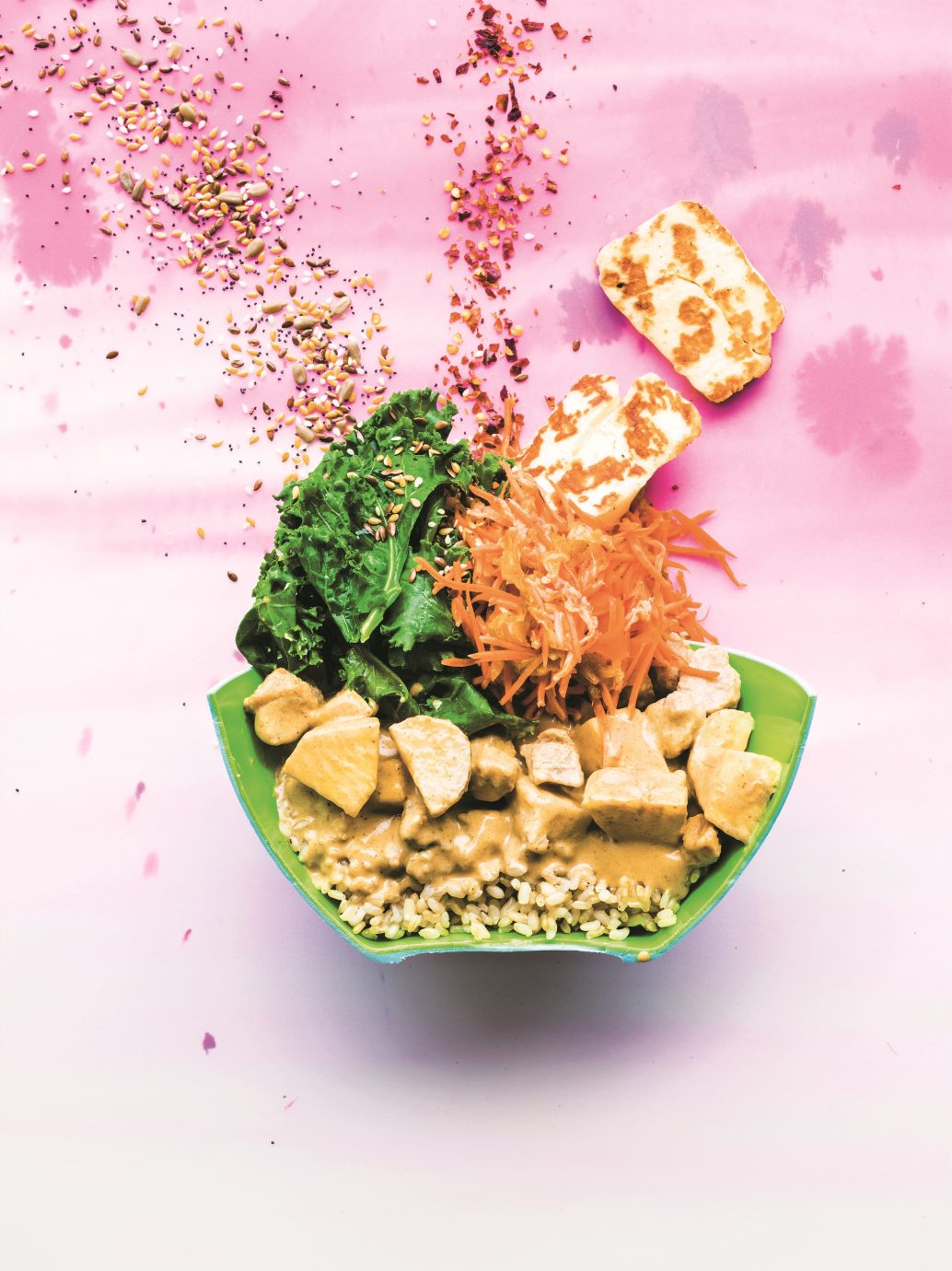 Ingredients (Serves 4)

For the Massaman-style paste
2 cloves
1 tbsp coriander seeds
6 black peppercorns
½ cinnamon stick
4 green cardamom pods, seeds only
1 tsp cumin seeds
¼ tsp freshly grated nutmeg
1 tbsp vegetable oil
2 sticks lemongrass, chopped
5 garlic cloves, crushed
2 tbsp chopped galangal
5 dried red chillies, deseeded
2 tbsp chopped coriander (cilantro)
100g/3½oz shallots, roughly chopped
For the curry
1 tbsp coconut oil
20g/1.5 tbsp palm sugar
800ml (2 cans) coconut milk
2 tbsp tamari
2 star anise
400g new potatoes, boiled and cut into chunks
400g canned pineapple chunks in juice
75g soya chunks, soaked in hot water until soft, drained
To serve
short-grain brown rice, cooked
kimchi pickle
4 tbsp omega seeds (we use a mix of golden and brown flaxseeds and poppy, sunflower and sesame seeds)
225g/8oz halloumi, cut into 8 slices and grilled (optional)
steamed seasonal greens (optional)
Method
1. To make paste, put cloves, coriander, peppercorns, cinnamon, cardamom and cumin in a hot dry wok. Lightly toast for a couple of mins. Transfer to coffee grinder or pestle and mortar; grind to a powder. Add nutmeg.
2. Heat the vegetable oil in the wok, then add the lemongrass, garlic, galangal, dried chillies, coriander and shallots. Sauté about 10 mins over high heat until mixture starts to turn golden, adding a splash of water if it gets too dry. Transfer to a blender, add spice mix and 4 tablespoons of water; blend to a smooth paste.
3. When you're ready to get the curry going, gently melt coconut oil in a pan; add paste and cook for a minute or so, stirring regularly. Add palm sugar and cook for a further 5 mins.
4. Pour in coconut milk, add tamari and star anise. Bring to the boil; reduce heat. Simmer for about 10 mins, stirring occasionally.
3. Strain and return to pan along with potatoes, pineapple (including juice) and soya. Bring to the boil. Reduce heat; simmer for a couple of mins.
4. Serve over rice and top with generous spoonful of kimchi, some steamed greens, a tablespoon of omega seeds and two slices each of grilled halloumi, if using.
Blueberry cobbler with lime and coconut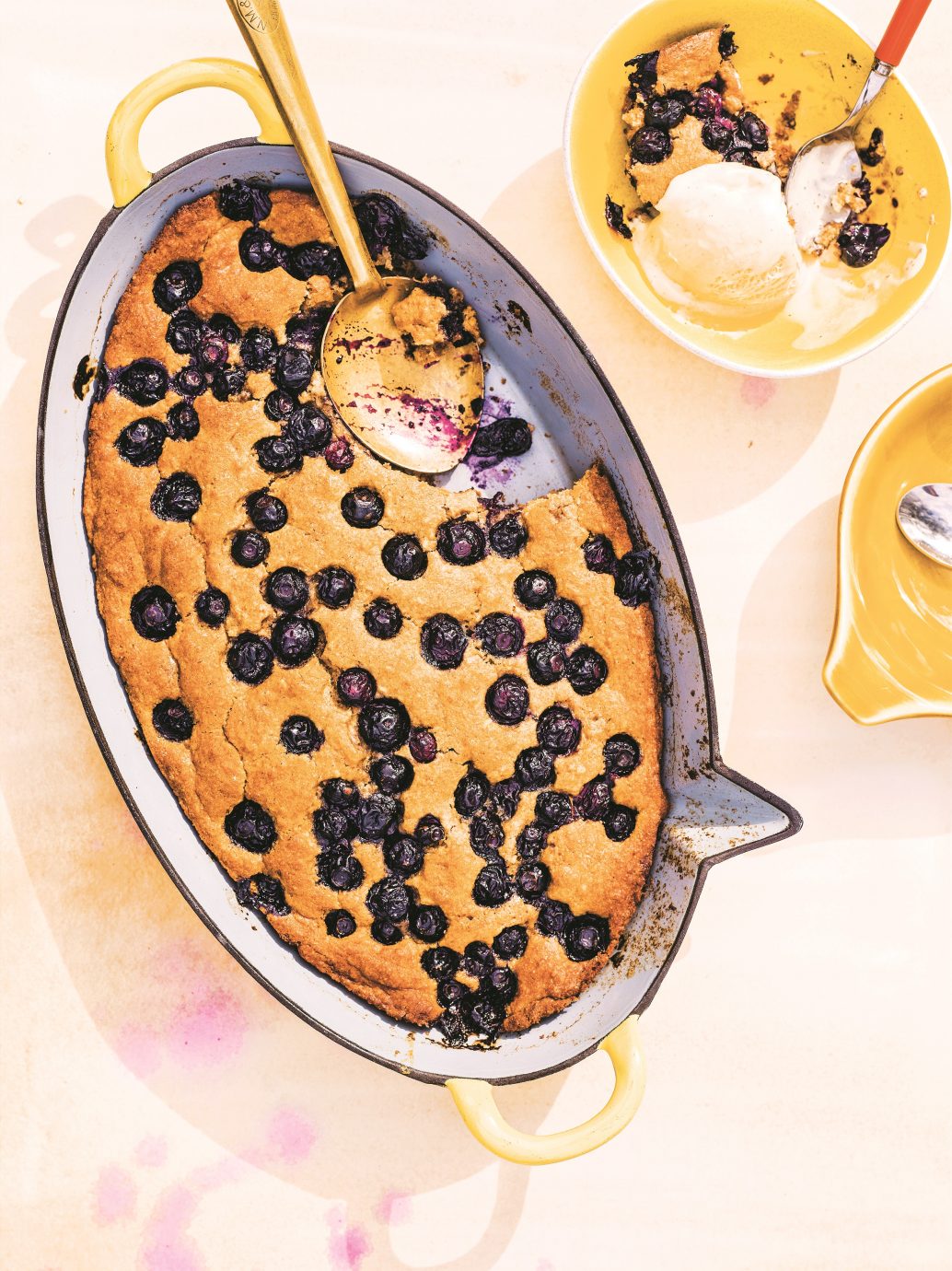 Ingredients (Serves 6)
240g wholemeal self-raising flour
1 tsp baking powder
45g desiccated coconut
100g light muscovado or other unrefined brown sugar
115g unsalted butter
grated zest and juice of 1 lime
½ tsp vanilla extract
250ml whole milk
150g blueberries
cream or ice cream, to serve (optional)
1. Preheat oven to 180°C/Gas 4. Put flour and baking powder in a mixing bowl. Add coconut, half tsp salt and 85g sugar.
2. Melt butter in skillet (if using) or a pan, then add to bowl along with lime juice and zest, vanilla and milk. (Don't clean skillet as butter will prevent sticking.) Mix thoroughly; transfer to skillet, or cake tin if using.
4. Put blueberries in a bowl; add remaining sugar. Add sugared blueberries to skillet or cake tin.
5. Bake for 35-40 mins or until golden brown around edges. You can check whether it's cooked by poking with a toothpick or skewer: if it comes out clean, it's ready. Serve with cream or ice cream, if desired.
Fresh Veggie Kitchen (Pavilion Books, RRP £12.99) by David & Charlotte Bailey. Images courtesy of Haarala Hamilton.