The River Cottage library of simple recipes that use the best of British produce, continues to expand, with the latest handbook, Outdoor Cooking, now available. In it, Gill Meller explains every aspect of cooking in the open, from building the perfect fire to making the most of your barbie. There are also pizza oven recipes – and even tips on spit-roasting meat over a live flame.
With an introduction by Hugh Fearnley-Whittingstall, this beautifully photographed book will spark new ideas for creative cooking in the wild.
Fire-roast mackerel with aubergine and tomatoes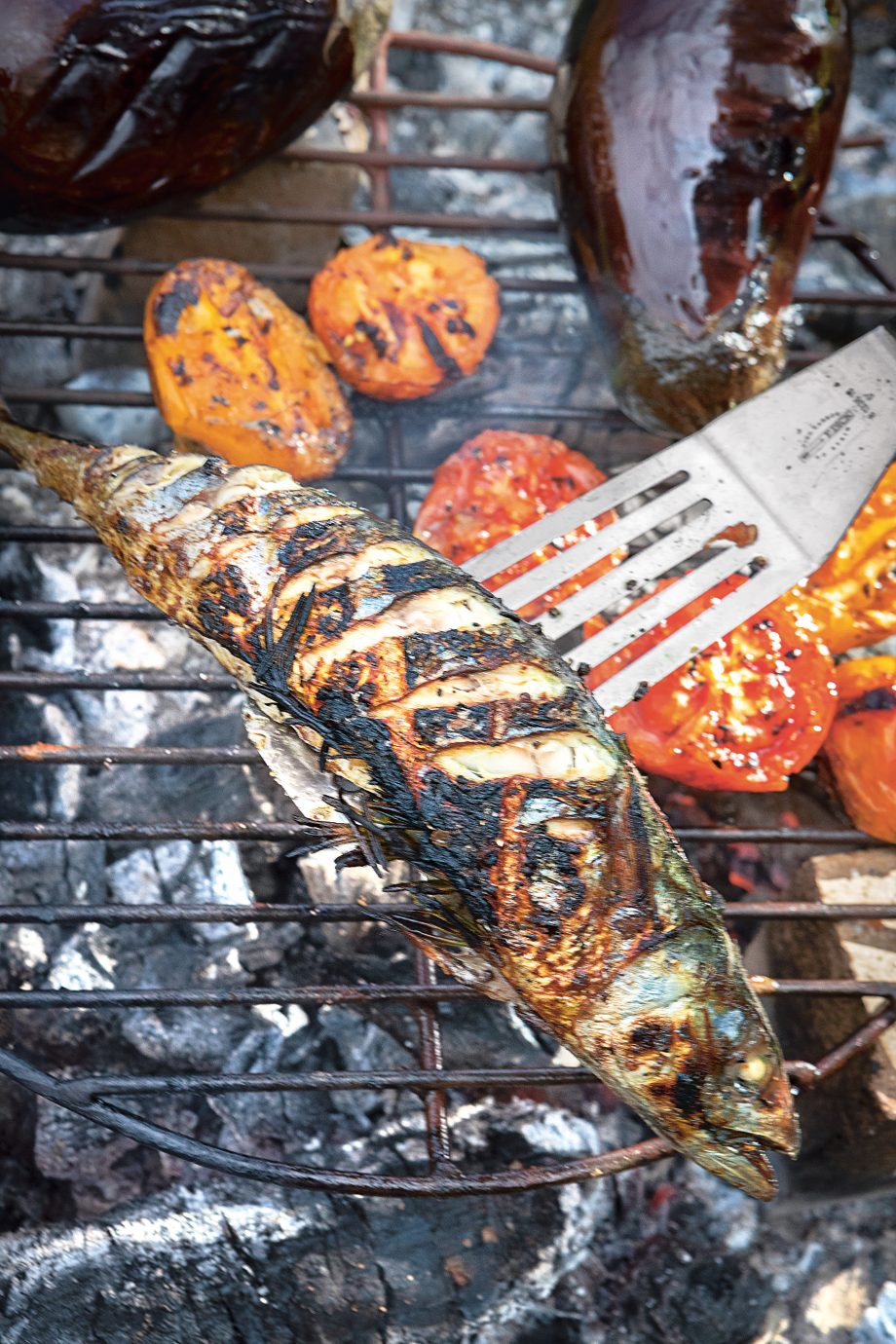 Mackerel skin crisps beautifully while underneath the oily flesh stays moist and tender. The fresher the mackerel, the more delicate and delicious its flavour will be, so select fish with nice bright eyes and vibrant, colourful skin.
Ingredients (Serves 4)
4 good-sized, super-fresh mackerel, gutted and cleaned
2 tbsp olive oil
4 sprigs rosemary
250g large, ripe tomatoes, halved
2 medium aubergines
2 garlic cloves, peeled, grated
1 tbsp tahini (sesame seed paste)
Pinch of dried chilli flakes
Handful of basil leaves, chopped
2 tbsp extra virgin olive oil
Method
Prepare your fire or barbecue. When the fire is hot, set a grill over it, making sure it's clean so your fish is less likely to stick to the bars. You'll know the temperature is right when you can hover your hand above the grill for a maximum of 3 seconds.
Lay fish on a board and, using a sharp knife, cut several shallow slash marks on both sides. Trickle over 1 tbsp olive oil, and rub in salt and pepper, getting right into the slash marks. Place rosemary in each fish cavity. Set fish on grill. Season tomatoes. Place, cut side up, next to fish. Place aubergines (uncut) on grill.
Turn aubergines every few minutes, to ensure they cook evenly. The fish will take 6–8 minutes on each side, depending on size. Don't worry if the skin tears. Once mackerel are cooked, remove and keep warm. Turn tomatoes after 10–15 minutes and keep cooking until they are soft and caramelized. Remove them to a plate.
When aubergines are soft (this will take about 20 minutes), slit open and scoop the soft flesh out into a bowl. Add the garlic, tahini, chilli flakes, basil, extra virgin olive oil and some salt and pepper. Mix and mash the aubergine with the seasonings.
Divide aubergine purée between four plates. Add tomatoes and fish. Serve.
Barbecued courgettes with dill, goat's cheese, mint and yoghurt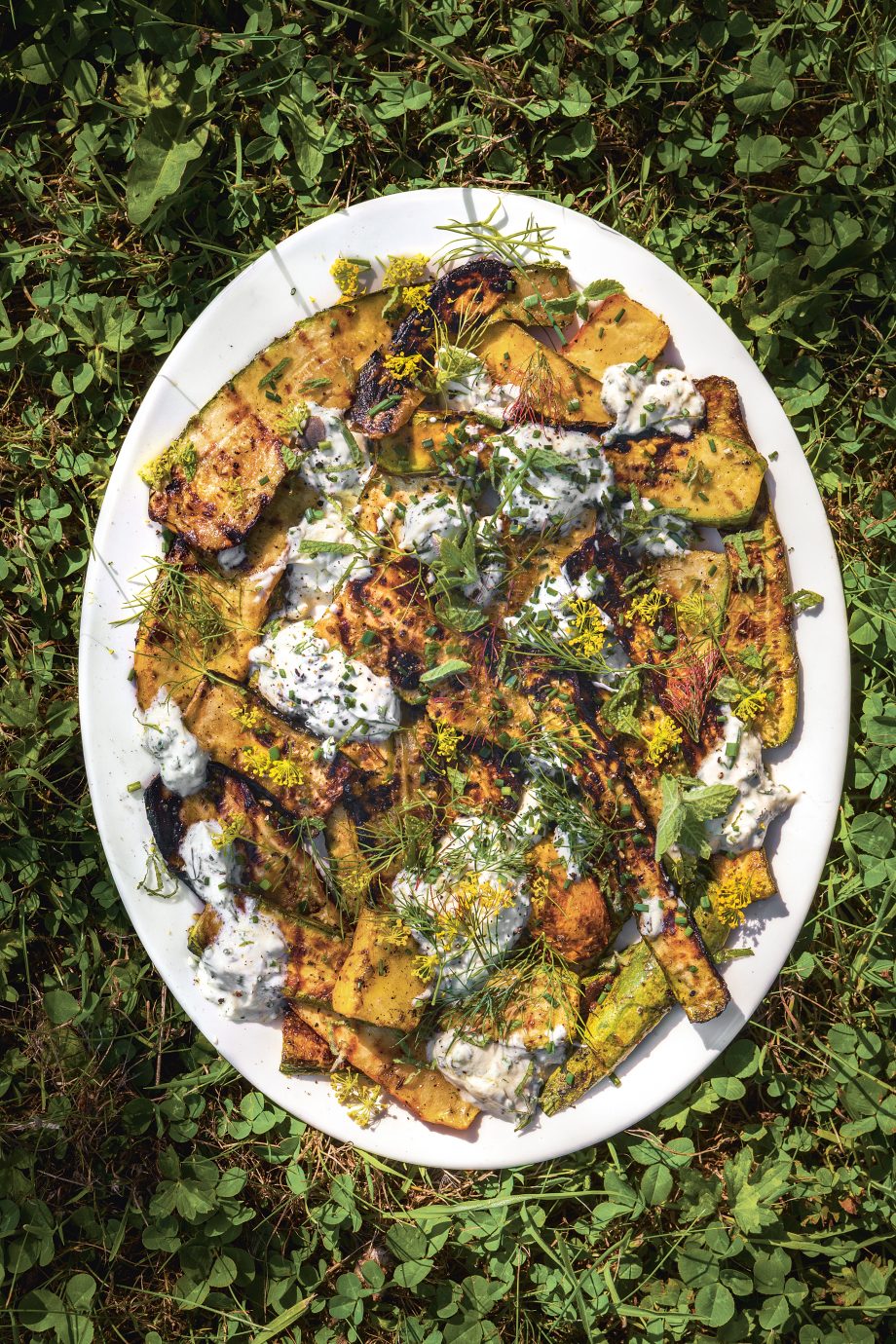 Courgettes cook beautifully over fire. The heat chars their surfaces and the smoke gives them a wonderful savoury depth.
Ingredients (Serves 4 as a starter)
4–6 medium courgettes
4 tbsp olive oil
Grated zest and juice of 1 lemon
½ tsp dried chilli flakes
2 tsp fennel seeds, toasted and crushed
3 tbsp natural yoghurt
150g soft goat's or ewe's cheese
½ small garlic clove, peeled and grated
Small bunch of chives, thinly sliced
6–8 sprigs of dill, chopped, plus extra to garnish
2 tbsp chopped mint, plus whole leaves to garnish
Method
Prepare your fire or barbecue. You want a glowing bed of embers with no real flames to speak of.Set a grill over the fire; it will have reached the right temperature when you can hover your hand above it for no more than 3 seconds.
Top and tail courgettes and slice lengthways into strips, 3–4mm thick. Place in a large bowl and season. Add 2 tbsp olive oil along with zest, chilli and fennel seeds. Tumble together.
Lay courgettes across the grill. Cook 8–12 minutes on each side, or until lightly and evenly charred, with some caramelisation.
Meanwhile, combine remaining 2 tbsp olive oil with yoghurt and crumble in goat's cheese. Add garlic and half dill and mint. Season and mix well to combine.
Arrange grilled courgettes over a large platter. Squeeze over lemon juice. Spoon on goat's cheese dressing. Scatter remaining herbs to serve.
Baked peaches with vanilla, butter, thyme and brown sugar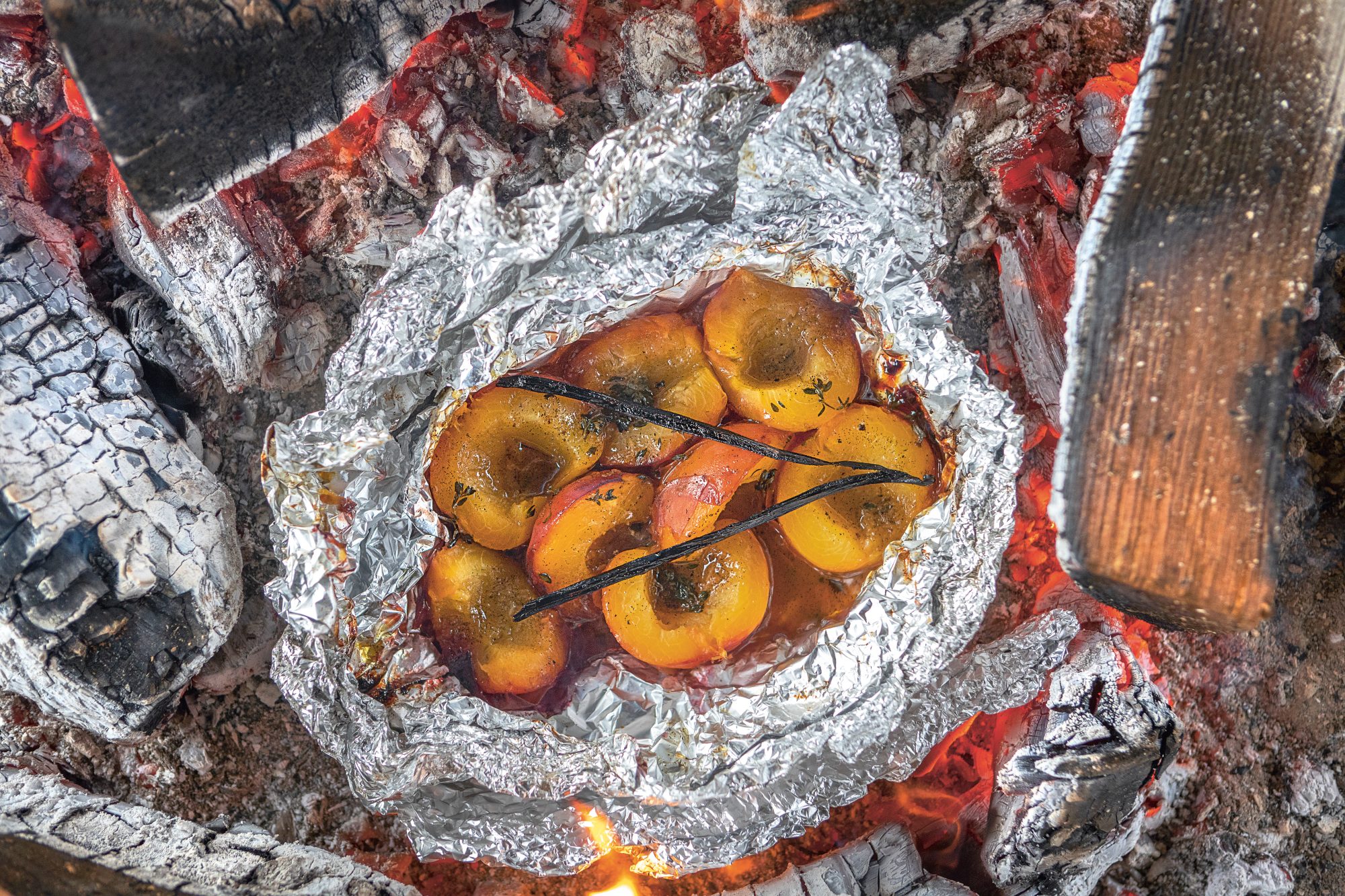 This wonderful late-summer dessert is easy to assemble and incredibly delicious. It's the perfect thing to cook as the flames die back and you are left with a nice bed of chunky embers. Apples or plums are equally good.
Serves 4
4 ripe peaches, halved, stoned
50g unsalted butter, softened
1 vanilla pod, split lengthways
2 tbsp soft brown sugar
Grated zest of ½ lemon
4 sprigs thyme
Cream, to serve (optional)
Prepare your fire or barbecue and let it die back a bit. You want a nice bed of moderately hot embers – a little flaming wood and smoke is fine.
Lay peach halves, cut side up, on a double layer of foil, large enough to encase them in a parcel.
Put butter in a bowl. Scrape vanilla seeds from the pod and add, along with sugar and zest; mix well. Dot a little butter on each peach half. Top with thyme and throw in pod for good measure. Fold foil over peaches to create a sealed parcel.
Set parcel carefully down in embers. The peaches need to be cooked in a gentle, glowing heat, so don't let them come into contact with any super-hot embers. Bake for 20–25 minutes, rotating parcel occasionally to ensure peaches cook evenly.
Remove parcel, open it and check if tender by prodding it with a knife. If not quite ready, rewrap and return to fire for a little longer. Once tender, serve hot, with all the buttery sweet juices, and cream, if desired.
Outdoor Cooking, River Cottage Handbook No 17 by Gill Meller (Bloomsbury, £16.99)